It might sound crazy for a dog to use a treadmill to some people, but we think otherwise. A dog treadmill is a great solution for any owner who struggles to give his or her dog the necessary exercise.
They're actually more types and products in this space than you might expect. And this means that it can be difficult to find the correct one. Below, we're going to list our the best dog treadmills for your dog and situation.
We'll also take a look at how to choose. Some dog treadmills are more suited for your pup than others. It all comes down to size, activity level, and the character of your dog.
But why would you need a dog treadmill in the first place? Here are the top benefits of treadmills for dogs.
Benefits of dog treadmills
The main benefits of dog treadmills are related to providing a better way to exercise your pup. We all know how important regular exercise is for humans, and dogs are no different. In fact, I believe it's even more important for them.
Benefit 1: Keep your dog active and healthy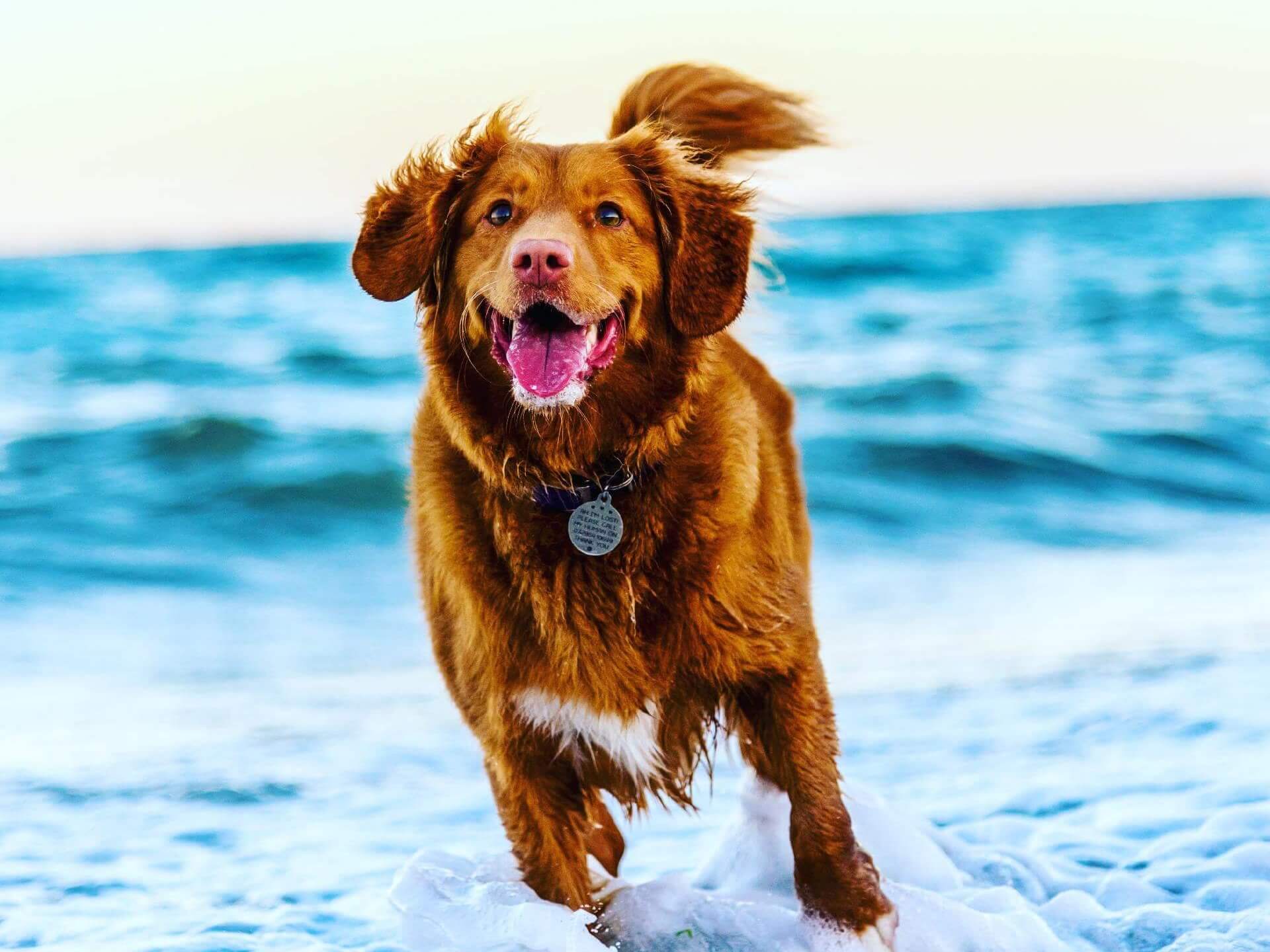 The biggest reason why people buy dog treadmills is to increase their dog's activity level. If you have any time constraints or physical issues that keep you from exercising your pup the way it should, you could really use a dog treadmill.
Benefit 2: Allow an Energetic dog to blow off steam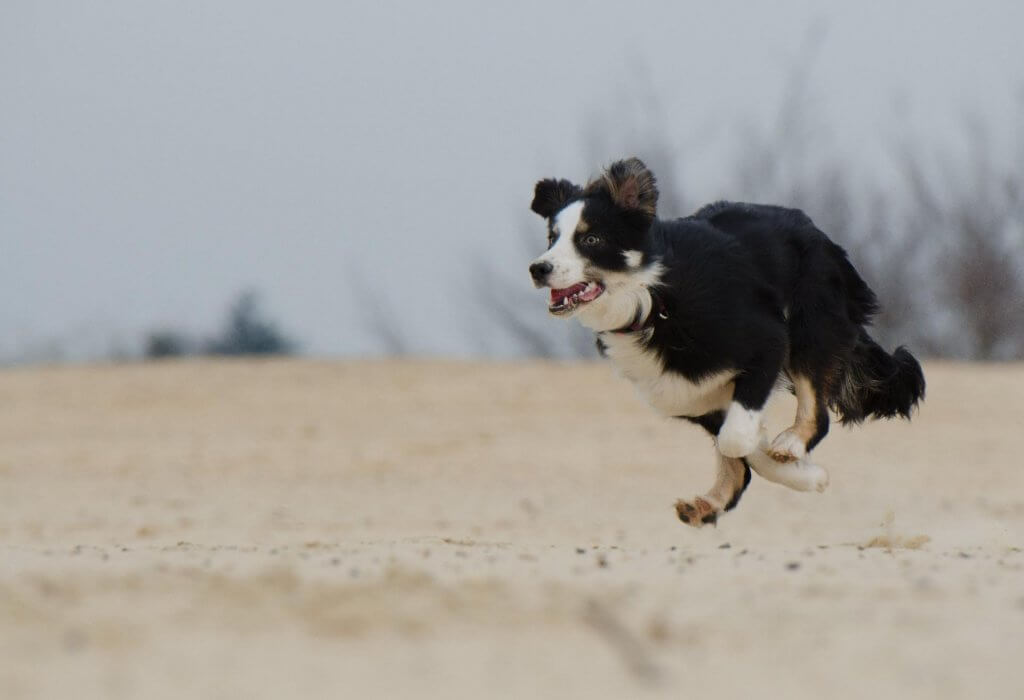 Some dogs have so much energy by nature that it is hard to wear them out at all. We know that cropped up energy can easily result in anxiety and stress.
Benefit 3: Help With Weight Loss.
Obesity is a common problem for canines and leads to all kinds of health issues. Together with a healthy diet, exercise is the best method for weight loss. Letting your dog run on a treadmill every couple of days is a great way to achieve sustainable weight loss.
Benefit 4: Allow you to take your dog for a walk if you can't go outside.
In some regions, the weather conditions don't allow you to go outside during part of the year. And being cooped up with an energetic dog that can't get enough activity is not a great situation, not for you and not for the dog.
So, in this case, a dog treadmill could be a lifesaver that allows you and the dog to come out stronger after the dark months.
Benefit 5: Help with achieving specific training goals.
If you want to train your dog, the most effective way is to have a clear structure. With a precise fitness plan, you can maximize the gains just like human athletes do.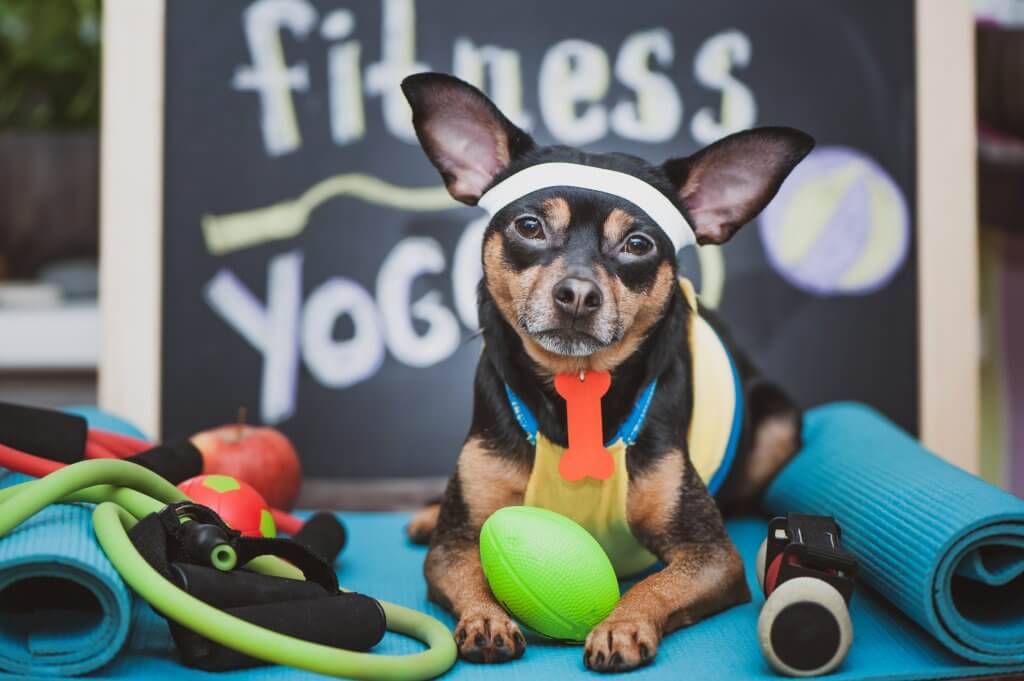 But that requires precise distances and speeds, which is hard to achieve when letting your dog run. Sometimes, there might be other dogs that cause him/her to overexert. Sometimes, it could be the other way round.
So, in that case, a dog treadmill will let you follow clear fitness plans and achieve extraordinary results.
Benefit 6: Rehabilitation after injury.
Rehabilitation after an injury or operation can be difficult with a dog. You either have to keep it on the leash or risk overexertion when letting it off the leash.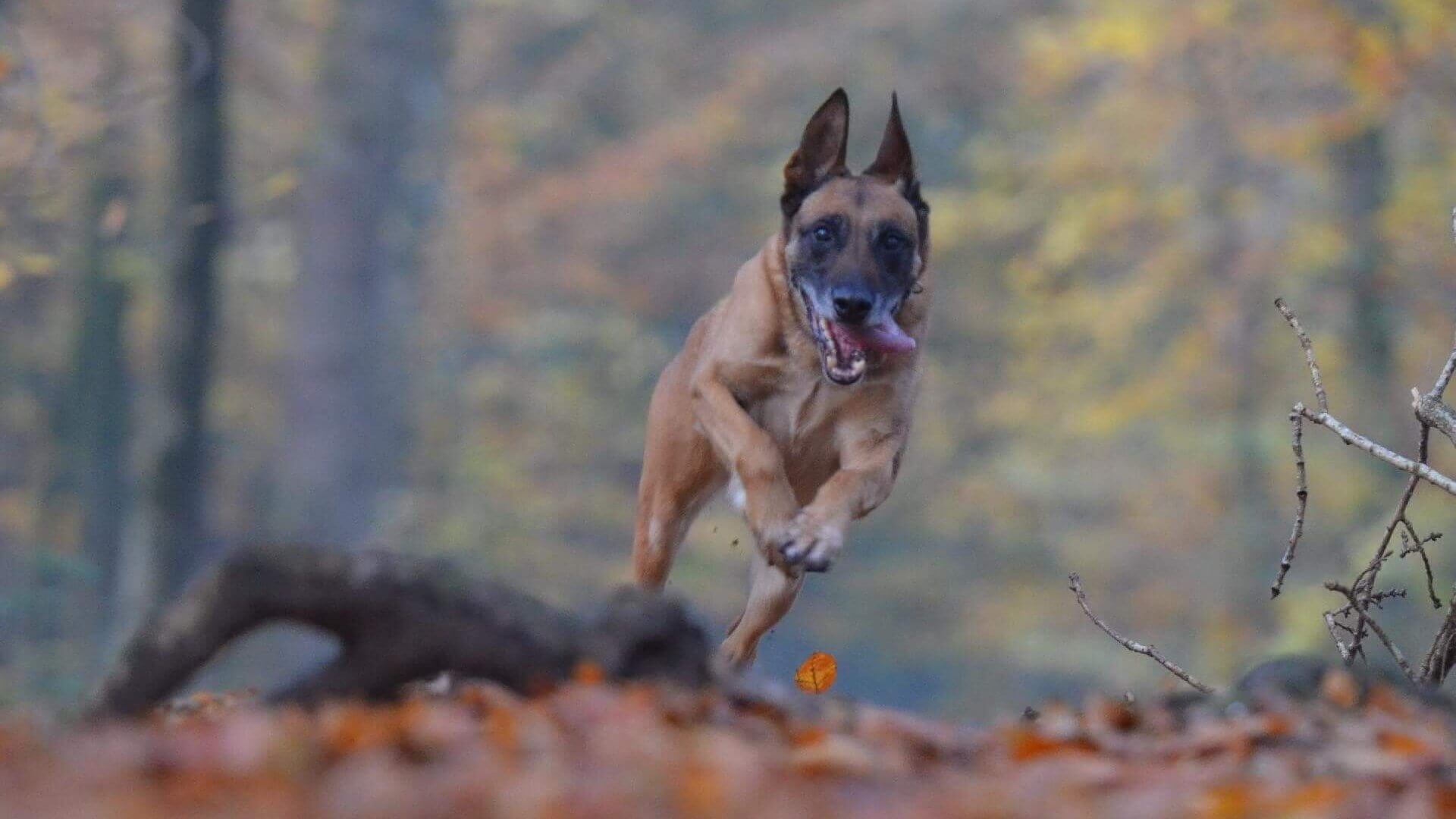 With a dog treadmill, it's easy to keep your dog running at this steady pace or walking slowly. You can stay nearby and make sure he or she doesn't overexert itself. You can also easily detect issues with her movement.
Human treadmills versus dog treadmills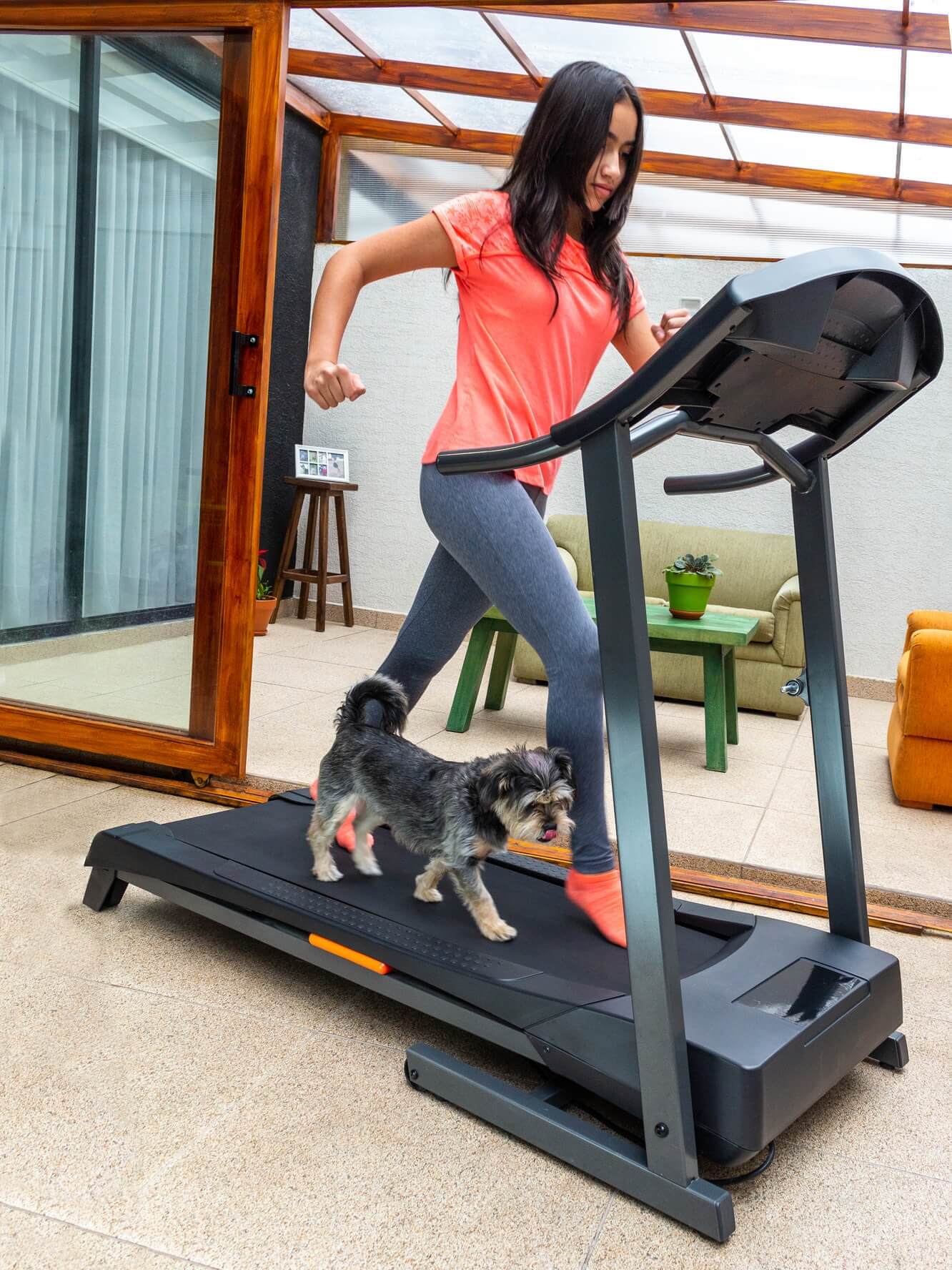 If you already have a human treadmill at home, it's very tempting just to let your dog walk on that. And you are definitely welcome to try. But when you do, you might find that human treadmills are not that suitable for dogs. So let's take a look at some of the differences between human treadmills and dog treadmills.
Human treadmills tend to make more sound the dog treadmills. Dogs are very sensitive to sounds. Dog treadmills are designed specifically to avoid the high pitch noises that create anxiety or stress. Human treadmills are not designed for that and have motors or parts that can be really noisy.
Dog treadmills provide specific safety measures that human treadmills don't have: Dog treadmills have raised fences besides the running platform to make sure your pup can't jump off and injure itself. Human treadmills don't have these. Now, you can always build something yourself. But if you do, make sure that it's stable and keep your dog safe. Especially when your pooch is running at high speed on the treadmill, jumping off can be dangerous.
Dog treadmills come with dog-specific speed settings and training programs. Dogs can run quite a bit faster than humans. They also require a different type of training. That's why dog treadmills offer different settings.
The 5 Best Dog Treadmills Reviewed
The best overall: DogPacer Mini Pacer Treadmill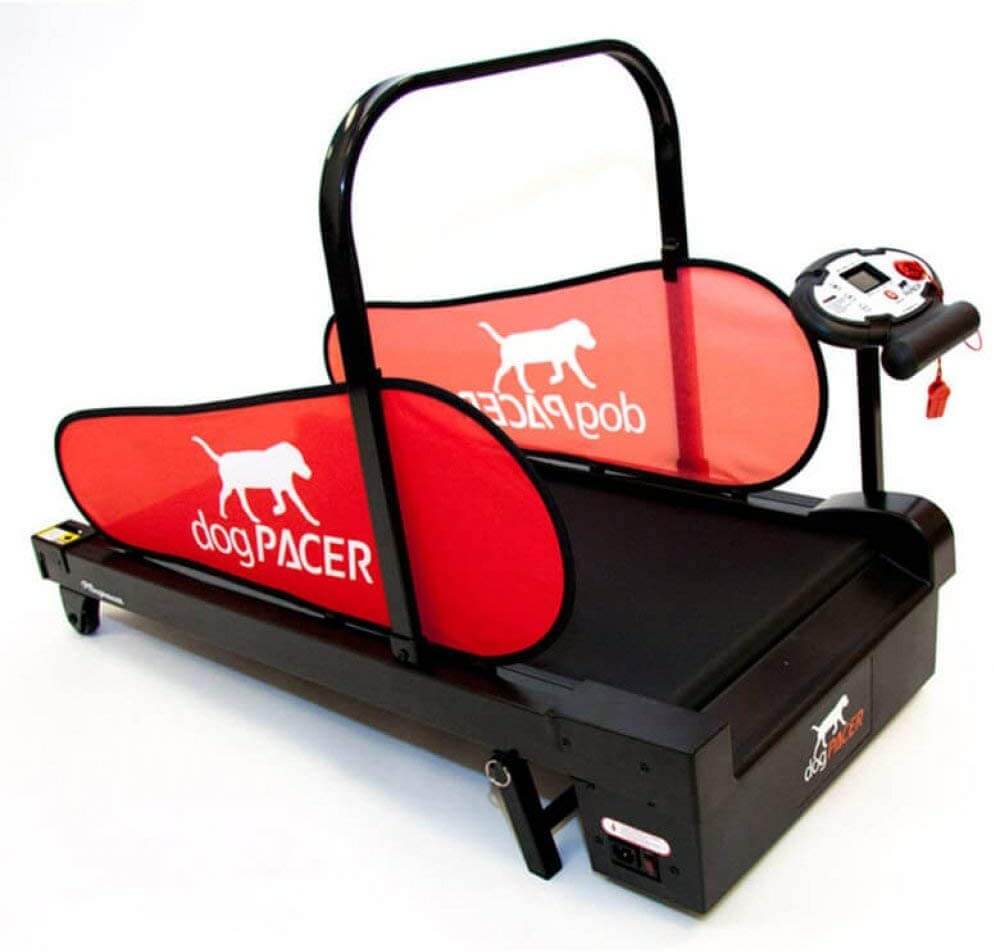 If you're looking for the best dog treadmill for nearly any situation, the Dogpacer Mini Pacer Treadmill is your best option. It scores strongly in all the important categories, from value for money, to durability, to adjustability and noise level.
Designed to be completely collapsible for easy storage, this machine is built out of high-quality steel and will last forever. It will be easy to store it out of the way when you're not using it due to the folding mechanism.
The running belt on the Mini Pacer is a generous 38 inches long and 16 inches wide. It can comfortably accommodate dogs up to 55 pounds. The treadmill itself comes in at only 48 pounds, so you won't have to worry about moving and storage. Dogpacer offers a lifetime warranty on the frame, clearly standing behind their product.
The Dogpacer treadmill really shines in its ability to adjust to any dog in any situation. The incline can be changed between 0 and 4.5 degrees, allowing you to create different levels of resistance for your pup.
With speed settings between 0.5 mph all the way up to 7.5 mph, and a 0.1 mph speed increments, you can always find the perfect speed.
If you have an injured dog that needs to rehabilitate, you will really love this feature. It's also a great way to create a progressive dog exercise program.
Another reason that we chose this as our top pick is the extremely low noise level. As we discussed before, noise can really upset a dog. This treadmill runs very quiet and doesn't create any high pitched frequencies that tend to annoy dogs.
All this makes it very easy to get your pooch accustomed to using this treadmill.
Easy to use, combined with nearly endless adjustments, make the Dogpacer Minipacer our best overall dog treadmill. Check price here.
A Strong Second: Gopet Treadmill Small to Medium

The Gopet Treadmill is also a great option. It's a little bit more expensive and also slightly bigger and heavier than the Mini Pacer. But it has some great features and solid construction.
The overall dimensions are 12 by 123 by 74 inches, and it weighs 123 pounds. But don't let that scare you, because it comes with easy transport wheels that allow you to move it around and in and out of storage.
Gopet offers different sizes to accommodate different sizes of dogs. However, the small-medium option that we listed here will suit dogs of up to 132 pounds. And since there aren't many dogs heavier than that, we can recommend this for almost anyone. If your dog is bigger, take a look at our "Best for heavy dogs" recommendation.
The treadmill is clearly aimed to be heavy-duty and last for a long time. Speed can be adjusted between one mile per hour up to 8 mph, which should be enough to challenge even the most active runners. The motor has a generous 1 horsepower. You also get an adjustable incline so you can increase the resistance and help your dog burn more calories.
The Gopet also has some unique features to make it easier to get your dog used to it. It runs extremely quiet at all speeds and features a special eyelid to dangle a dog toy.
Having his favorite dog toy with him, your pooch will feel more at home and more motivated to run.
If you happen to have a dog with long hair, you can rest assured that it won't get caught. Great care was taken during the design to eliminate any possibility of fur getting caught.
With a one year warranty on the whole machine, great functionality, and high-quality components, the Gopet treadmill is a great option for nearly any dog. Check price here.
Best Value Treadmill: Dogpacer 3.1 Treadmill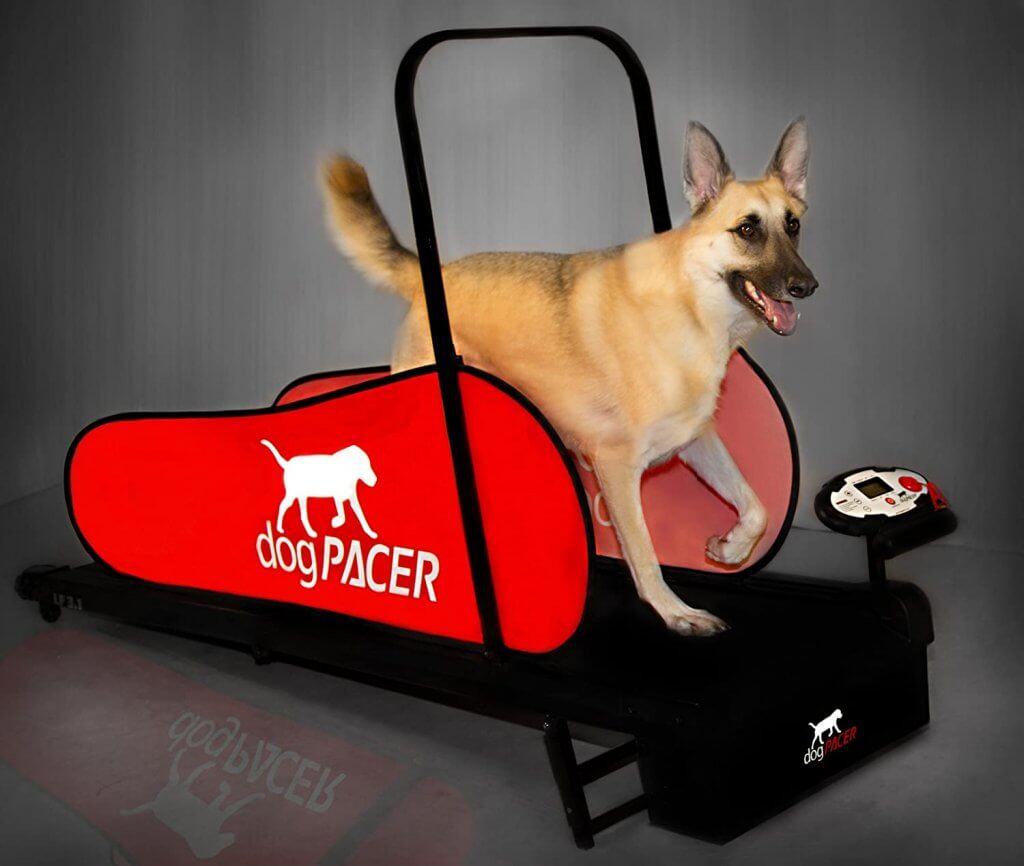 The Dogpacer 3.1 shares a lot of great features with our top recommendation but can accommodate bigger dogs. We chose it as our best value option because it comes in at nearly the same price as our top pick but can accommodate dogs up to 180 pounds.
With a weight of 97 pounds and dimensions of 10 by 26 by 47 inches, you get a lot of treadmills for a relatively small footprint. It can be folded up, making it very easy to transport and store.
Even though this dog treadmill is positioned as a budget product, it comes with a lot of features of more expensive treadmills. The motor has a generous 1.5 hp, and the running surface measure 71 inches by 16.5 inches. This provides plenty of space for your large pup. Dog pacer offers its standard lifetime warranty on the frame.
You can adjust the incline between 5 and 9 degrees and the speed between .5 miles to 7.5 mph. This range in incline and speed gives you a lot of different applications. From the rehabilitation of an injured dog all the way up to training a very active dog, this treadmill provides the best value for money. Check price here.
Best Small Dog Treadmill: PetZEN Dog Treadmill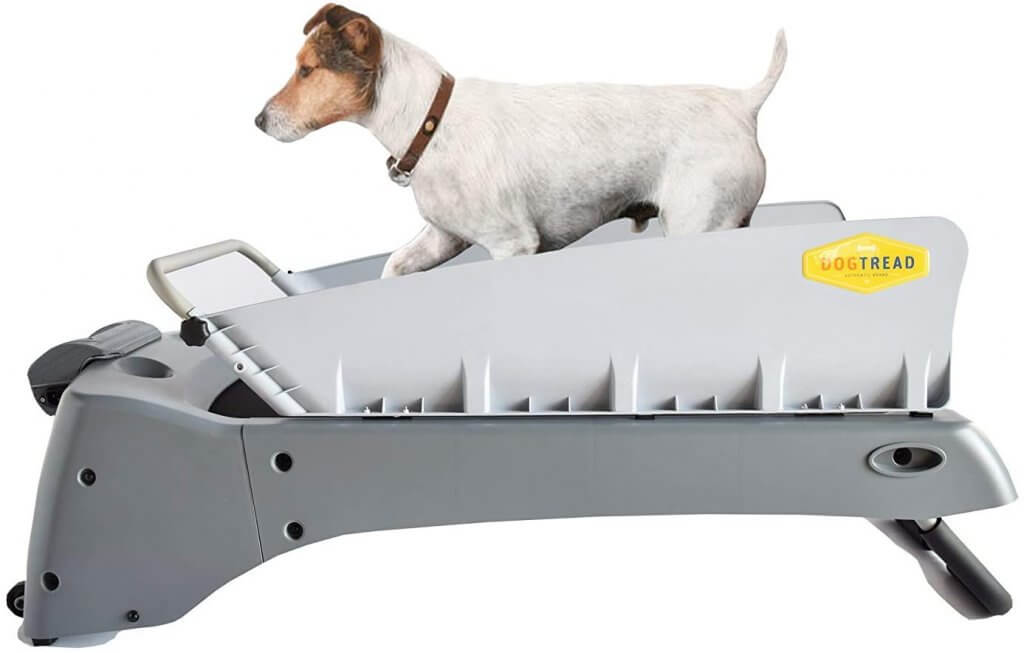 If you own a small dog, you don't need a big and heavy treadmill. The PetZEN Dogthread is specifically designed for small dogs up to 30 pounds. There are no gaps or holes that could trap a smaller dog. The motor is extremely quiet and won't stress or scare your pooch.
With an overall size of 44 by 21 by 21 inches and a weight of only 47 pounds, this machine can easily be transported and stored. It also has wheels for even more convenient transportation.
You can clearly see that the PetZEN was designed for small dogs when you look at the speed and incline adjustments. The incline can be adjusted between 0 and 14% (0 to 8 degrees). The speed is adjustable between 0.3 mph and 5 mph and can be controlled with the handy remote.
Another feature I really like is the integrated treats compartment. This is fully automated and can dispense treats at regular intervals, so your dog is always getting positive reinforcement. This is a feature that is unique to the PetZEN.
If you are looking for the best dog treadmill for smaller dogs, you can't go wrong with the PetZEN. Check price here.
The Best Large Dog Treadmill: Gopet Treadmill for Large Dogs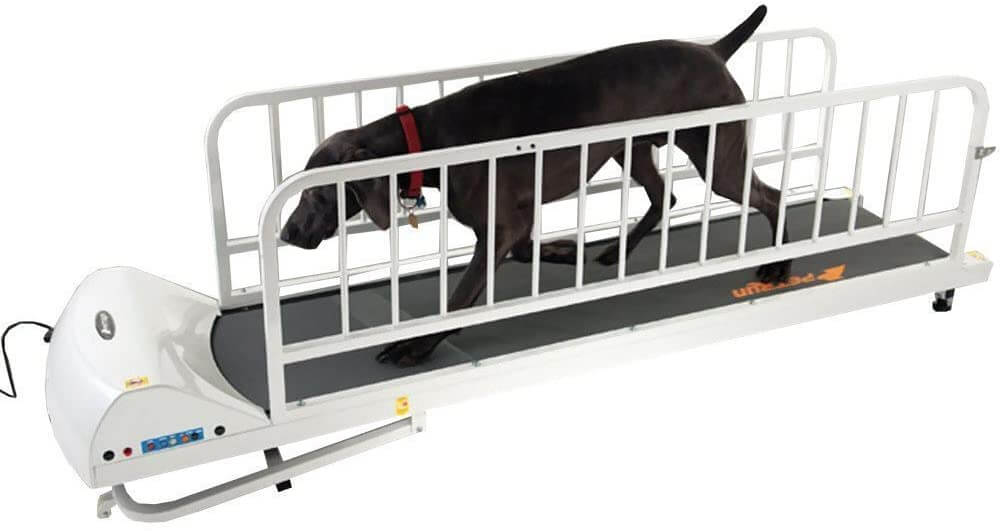 We already covered the Gopet treadmill for small to medium dogs as our close second. However, if you have a huge dog, the Gopet Treadmill for Large Dogs is clearly our winner.
This beast can accommodate dogs of up to 175 pounds. Naturally, you need a bigger and heavier machine for this.
Measuring 90 inches by 24 by 16 inches, it weighs 137 pounds. But you do get a running surface of 71 inches by 16 inches. And, to make storage and transportation easier, the Gopet has a handy folding mechanism.
With a speed range between 0.6 and 10 mph, it can easily accommodate larger dogs with a long stride. And, with an incline adjustment between 5 and 9 degrees, you can give your large dog a powerful workout.
Just like the other Gopet model, this treadmill runs really quietly, making for a stress-free environment for your dog. The access can be controlled by remote and also features a safety lock to prevent unauthorized escape.
If you have a large dog that needs to rehabilitate, lose weight or expend energy, the Gopet treadmill for large dogs is the best option for you. Check price here.
How to train your dog to use the treadmill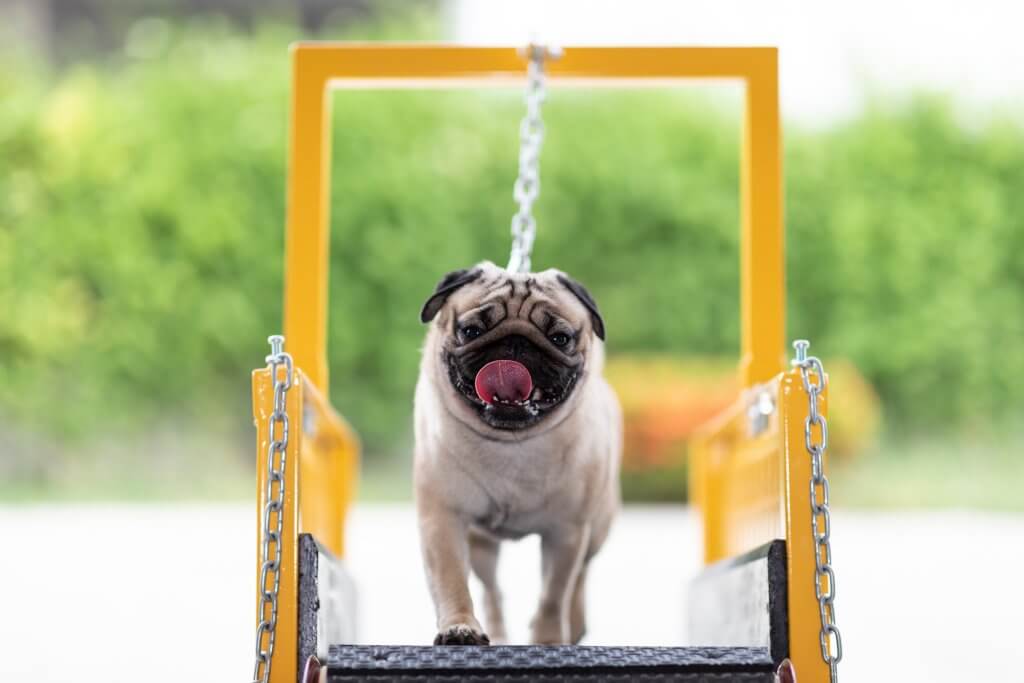 Time needed: 5 days.
If your dog is never run on a dog treadmill, he might be wondering how to get started. Don't worry; it's not as difficult as it might seem. The following steps will get you started in the right way.
Let your dog get used to the sights and sounds of the treadmill.

Bring your dog near, and let the machine run. Reward your pooch generously and let him or her get used to the machine. It can also help to talk to your dog reassuringly.

Pay good attention to your dog's body language. You want to get to a point where he/she is pretty much as relaxed as any other situation.

Let your dog get on the treadmill while it's off

Once you got your dog used to the sights and sounds of the running treadmill, you can try to get her on the running platform. Leave the treadmill off for now, and put some dog treats on it.

When your pooch steps on, give more rewards, and praise her. Practice this for several days until your dog has no hesitation.

Let your dog walk on the treadmill at a slow pace

Now that he or she is used to both the running treadmill's sounds and standing on top of the stop treadmill, it's time to move to the next step.

In my experience, it's a lot easier to start with the treadmill running at a slow speed than to turn it on while your pup is standing on it. It can be quite scary when it suddenly started moving.

So, set the machine to a very slow speed, and try to get your dog to step on the running platform and start walking. You want to position yourself in front of the treadmill and use a leash. Make sure to give plenty of treats and praise as your pooch to help build it's confidence.

Slowly increase the speed

Now your dog is slowly walking on a treadmill and getting comfortable, you can increase the speed. If he or she gets nervous, reduce the speed, and go back to walking. In general, you will find that most dogs have no problem running under build once they are used to walking.
Congratulations, you've successfully trained your pup to use a treadmill. Now it's time to make it a habit or start a workout program.
FAQ about dog treadmills
Can you use a human treadmill for a dog?
While many online videos feature dogs running on human treadmills, we strongly advise against it. Human treadmills are just not very suitable for canines. They're noisy, vibrate, and don't have good sideboards. Often, the speed adjustments are not in the right range, and the dog's fur can get caught in the moving parts. All in all, it's unsafe and stressful for a dog to use a human treadmill. You can also read our section at the start of this article for more information about the differences.
How long should my dog run on a treadmill?
This depends on your dog's fitness and familiarity with the treadmill. When you're just starting, one-minute intervals are more than enough. Your pup will be tense and easily get tired, so it's best not to push it.

Once he or she is more relaxed, you can work your way up to intervals of 10 to 20 minutes. Even moderately fit dogs can easily run 20 to 30 minutes per day.
What to do if my dog is scared of the treadmill?
Getting a dog used to anything is all about positive reinforcement. If your dog is scared, it must have somehow picked up negative associations. Now you need to replace those negative associations with positive ones.

The best way to do that is to start with something straightforward and provide lots of rewards and treats. Once you established a base, you can slowly build on it.

Make sure your treadmill doesn't face the wall because that will be scary. Dogs can't really understand that they're not moving while running on the treadmill and will feel like they're about to run to the wall.

First, go back to the initial step of our how-to on training your dog. Begin with the treadmill turned off and let him or her get used to the sight and smell.

When's that has become comfortable; you need to turn it on and get your pup used to the sound. Loud noises can really upset dogs, and that's why you want to make sure you bought a quiet dog treadmill.
From there, you can slowly work your way up to standing, and finally walking on the treadmill. Make sure there are lots of rewards and plenty of time to get comfortable with each step.
How to clean the dog treadmill?
You will find that a treadmill accumulates dirt and hairs over time. This can cause an issue for the belt, drivetrain, and motor. On top of that, the belt will also get dirty from drool, sweat, or dirt.

Every manufacturer has their own specific instructions for keeping the machine clean. It's best to follow these closely as they are tailored to your specific machine.

Generally, if you want to keep your treadmill in the best possible condition, we recommend the following:

Every couple of days, wipe the belt and top of the machine. Use a wet cloth to wipe down any stains or dirt from the belt and the sideboards.

Vacuum underneath the machine every month. Use a vacuum cleaner to get rid of any dog hair, dirt, or other things accumulated underneath the belt.
How can I keep my dog interested in the treadmill when it's become bored?
It's not uncommon for dogs to be interested and motivated at first but later become bored with the treadmill. A lot of people have the same problem with working out. And, a lot of the same solutions can be used.

The first thing you can do is to change things up. You can change the speed and incline put a workout. Just make sure you're not overexerting your pooch as you're changing things.

If you were using a low incline but higher speed, try increasing the incline but reducing the speed. If you were doing longer runs at a slower speed, you could try to do shorter runs at a higher speed.

A good training program still requires consistency, so it's important not to change things for every workout.

You want to use the same workout for a couple of weeks to get the maximum training effect. After that time, you can change the workout and do something new.

Another way to keep your dog interested is by changing its view. Where humans like to watch television when using a treadmill, dogs also like a change of scenery.

You can move the treadmill to a different room, put it in front of a window, maybe try putting it in front of the television. Dogs react differently to television, but some are definitely able to appreciate it.

So, keep experimenting and try to find the things that resonate.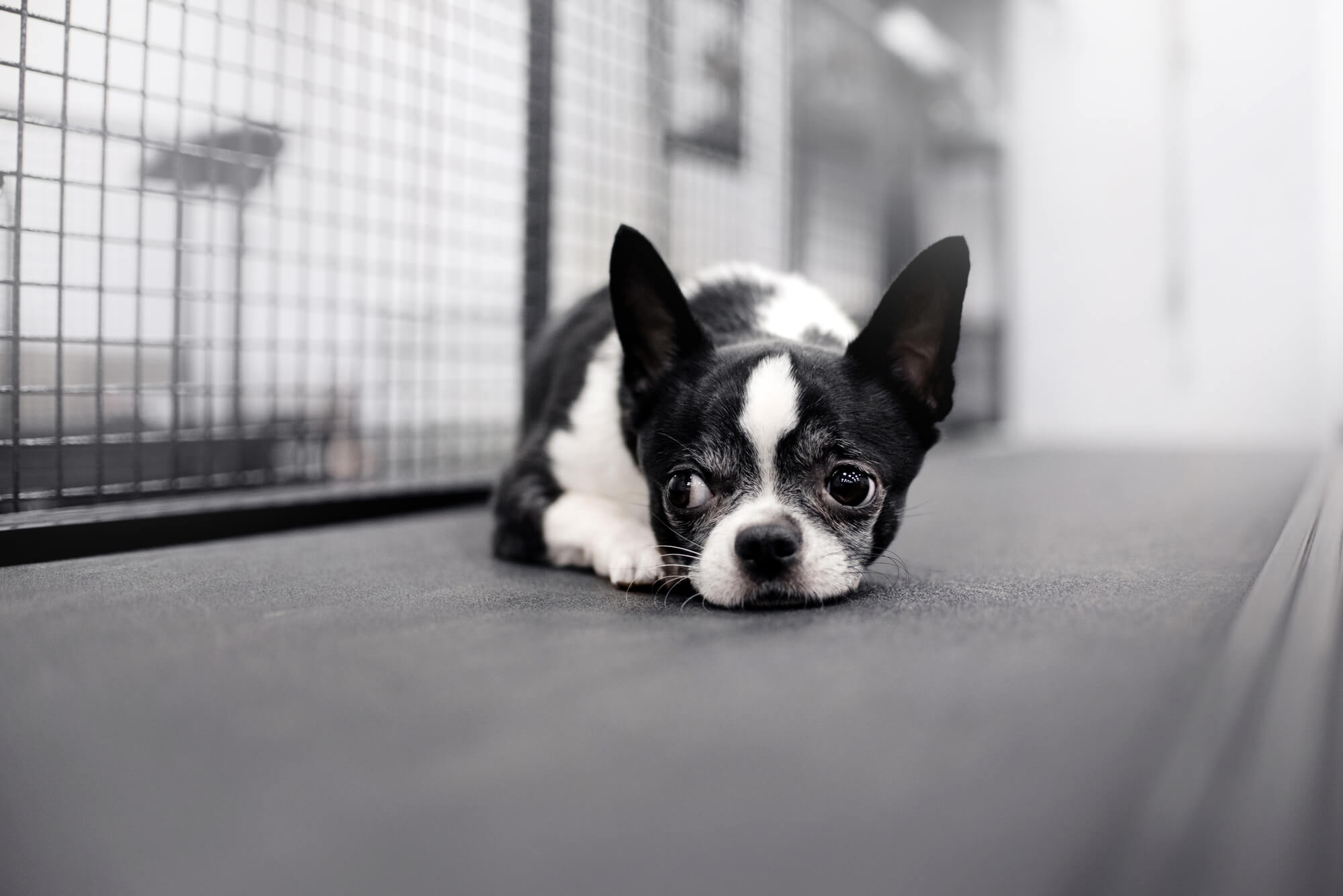 How To Choose the Best Dog Treadmill
The best dog treadmills need to provide a safe and stress-free environment for your dog to run. The following things are important to keep in mind when you are making your choice.
Speed Range And Increments
The right speed range depends on the size and fitness of your dog. If you want to rehabilitate an old or injured dog, you want to be able to use a very slow speed with small speed increments. If you have a large dog that can run very fast, you need a high-speed adjustment. Either way, always buy a treadmill with adjustable speed.
Protective Sideboards
One of the most dangerous things is for you pup to jump off while running at full speed and get injured. That's why most dog treadmills have rails or boards on the side. In the odd case that your pooch doesn't like the closed-in feeling, it's beneficial to have a treadmill with removable rails.
Silent Driving System
The noise level is a critical consideration when buying treadmills for dogs. All our top recommendations have been specifically selected to be very quiet. Dogs have a much more sensitive hearing than humans. What sounds to us as a mildly irritating electric motor sounds like a headache-inducing terrible whine to a dog. So, always look for a dog treadmill that runs quiet, whether at high or low speed.