Petcube camera is one of the first and most successful interactive pet cameras on the market today. It has helped people all over the world stay in touch with their pets at home.
Unboxing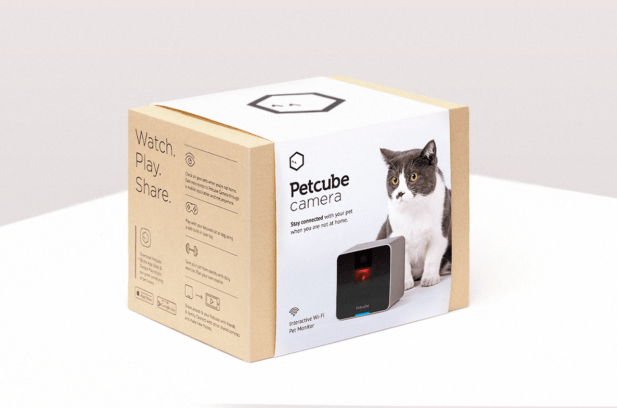 Opening the box is quite uneventful. There is only a small 4" cube inside with a cable and a quick start guide.
Setup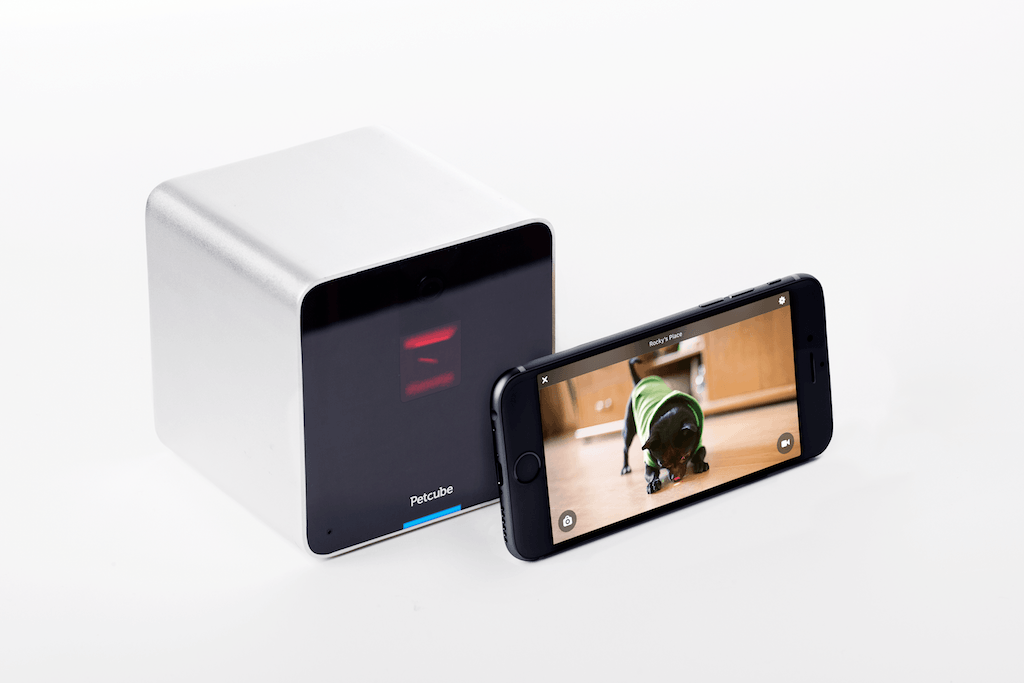 Setting up Petbox is about as easy as it gets. We plugged it in, used the app to connect to the device and entered our Wifi password. If you would run into any problems, Petcube has a very responsive support desk. We didn't get to test it because we didn't need it.
Features
Video Quality
The Petcube camera has 720P resolution and streams directly through your Wifi. The camera gave us a crisp and smooth image with plenty of colors. The only weakness is that it needs enough light. In darker conditions, the image quality decreased. You need to keep some lights on to see anything at night. The new Petcube Play has night vision.
Sound Quality
Being able to talk and listen to your pet requires a good speaker and microphone. Using our headphones on our phone, we could hear our dogs walking around. We couldn't hear our cats, but they walk very softly. We can't hear them when we are in the room either. So it's fair to say that the sound quality is good enough to make it seem that you are actually in the room. Without headphones, the sound level of your surroundings play a big part in how much you can hear.
Web Interface and Smartphone App
Petcube comes with an app for both IOS and Android. It's immediately clear that the engineers took great care to create an intuitive and stable app. We never had any problems. It's easy to start recording and take snapshots. The images and video have great quality as long as it's not too dark. This is a great way to make video's and photos of your pets that you just can't get when you are in the room.
Laser pointer to play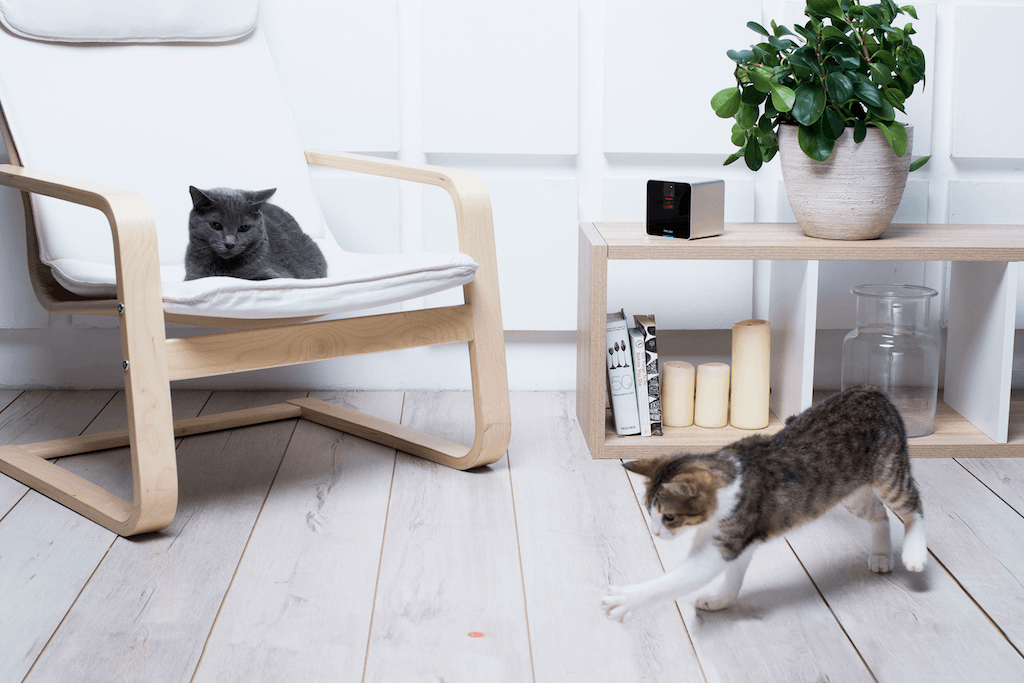 What sets the Petcube camera apart is its laser pointer that can be controlled through any smartphone or the website. It is designed and tested to be safe for pets, so you don't hurt their eyes. We had a lot of fun with this game. Our cat is pretty crazy about laser pointers. Controlling the movement is very straightforward and takes little time to learn. The laser pointer reacts responsively with little to no lag. This is essential to get your pet to chase it.
Shelter program
The Company Has Introduced A Petcube For Shelters Program This is a new, and possibly game changing way to help connect shelter cats and dogs with new owners. One of the problems with most shelters is that there are far too many abandoned pets and too few people wanting to adopt.
But, by placing Petcubes in the shelters and allowing their access to be shared freely, many more animals have a higher chance of adoption than in the past. Prospective animal adopters can play with their future pet for as long as they'd like before they decide to adopt, creating a lasting bond that will endure.
Since the access to the shelter pets is nationwide, and even worldwide, the number of pets that can find good owners should eventually soar, with far fewer being euthanized for lack of a good home.
To sum it up
Pros
The first really successful interactive Pet camera
Solid performance
Solid and intuitive app
Cool design
Cons
No night vision
No treat dispenser
If you want to have fun with your cat or dog while away from home, then the Petcube Camera is our recommendation for amazing value and solid performance.
For pet owners from the UK, we have a small post with the best places to buy a Petcube from the UK
Pet parenting is one of those things that can tend to overwhelm us, especially when we've just started out with a young puppy or kitten. They are so adorable, and they love us at least as well as anyone else in our lives. During If you keep your vet on speed dial, you just might be an overprotective pet parent.
A great invention called the Petcube can help alleviate some of the anxiety you experience as you eat dinner with your friends after work, since you'll be able to chat with your cat or dog via your SmartPhone while viewing them on the Petcube built-in camera.
It's a good way to keep your connection to your pet active throughout the day, anytime you're on a break or between meetings you can just dial up your pet and have a quick conversation. You'll be able to see your pet while you're talking, which is the most comforting part.
Petcube Setup Is A Breeze With Your iOS Or Android Device
One of the great things about your Petcube setup is that if you have any problems whatsoever, they have excellent customer service available. This is evidenced on many of the customer reviews that are available online, where customers have had problems, the Petcube staff is right there and quickly.
During our review of the Petcube pet monitor, the setup involved registering our camera and downloading the Petcube application to our phone, the application is available on Google Play or Apple App store, for free. Once you've done that, you simply must plug in your Cube and wait for it to scan for signals, about 30 seconds, then login to your Petcube account.
Once you're in your account, just head for 'home' by clicking the logo in the upper left corner and you'll be taken to the menu where you can 'Connect to Petcube Camera'. After you follow several onscreen steps, your camera's LED light will change from red to white and you should be connected and ready to chat. Of course, you should try the connection out several times while you're still at home to make sure everything is working before you head to work.
You Should Leave A Light On In The Room For Best Results
In reading the online reviews it's pointed out that for best results you should remember to leave a light on in the room where the Petcube is located in order for the camera to perform at its peak. You can use an automatically operated light that only comes on at dusk in order to save on energy.
The Petcube Also Comes With A Laser Pointer
One of the best and most innovative features of the Petcube is its laser pointer which is especially handy if you have cats. You can sit at your desk and have hours of fun letting your cat chase the pointer around the room while your office co-workers look over your shoulder. Luckily the camera provided comes with a wide-angle lens that is able to see a lot of the room in order to make playing with the laser easier.
In reading the online pet toy reviews it appears that many people are especially pleased with the sleek aluminum case which is about 4 inches square and looks good sitting about anywhere in the home.
The other cool feature is that you can put your account on public share, then complete strangers can entertain themselves and your pet while you're busy doing other things. This is like having a free babysitter ready and able nearly all hours of the day.
If you're in need of seeing, chatting and playing with your pet several times a day while you're away, there is nothing more fun that a Petcube. Your pet will love it, but it will also relieve some of the anxiety you and your pet share while you are separated each day.
hen you shop at Petcube, you can purchase incredible gadgets that will help you to keep your pet safe and secure. When you have one of their cameras, you can monitor your pet at any time, no matter where you are.
Petcube expects that most of their customers will be very pleased with the products that they order. With that said, they don't want anyone to be stuck with a product that they are unsatisfied with. That's why they offer a pretty good warranty on Petcube products.
Here we look at the most important elements of the Petcube Warranty Policy and how they affect customers.
It Lasts For A Year
A lot of warranties are very limited; they only last for a few months. Thankfully, that's not an issue with the warranty for Petcube hardware. It lasts for an entire year after the date of purchase.
When you buy from Petcube, you don't have to worry about your product breaking down. For one full year, you'll have complete protection.
The Warranty Offers Full Protection
Have you ever tried to have a product repaired, only to learn that the warranty doesn't cover those kinds of issues? That's a problem that you won't encounter with Petcube. Their warranty covers both workmanship and material defects.
If you encounter a problem with the product you've purchased, you will be able get that issue resolved. Petcube wants their customers to be happy, and they will work to make sure that any issues are satisfied.
Petcube Also Offers A Return Policy
Petcube's warranty isn't the only kind of protection that they provide consumers with. They also have a detailed return policy. If someone orders a product that they are ultimately unhappy with, they can return it for a full refund.
Petcube allows customers to return products for any reason as long as it is within 30 days of the date of purchase. If your product doesn't live up to your expectations, you can ship it back to Petcube and get a full refund.
Minimized Risk
A lot of people hold off on buying products that they want because they worry it is too much of a risk. However, when you opt to buy from Petcube, you're not taking on a risk at all. Your product will be covered under a strong warranty, and you can return it if you are unsatisfied. If you run into an issue past that point, you can purchase a new part from Petcube and repair the item yourself.
Take the time to check out the gadgets that Petcube offers. See our Petcube review here If you're a proud pet owner, they probably have a few items that you would like to purchase. A remote wi-fi pet camera is the sort of thing many pet owners have been dreaming about for years!
If you see a Petcube item you'd like to own, take the plunge and make a purchase. The Petcube warranty is comprehensive, and if you do decide to buy something, you will be well protected.