Most people don't immediately think about nail trimming when they get their first dog. And even though it's only a small part of the grooming process, it's more important than you think.
When a dog's nails get too long, they can get caught, injuring the nails or paws. Another reason why you want to keep up your dog's nails short and smooth is that it reduces the damage to your furniture and floors.
Going to a salon to have your dog's nails trimmed is not cheap, and when you have to do it every couple of weeks, you end up with quite a bill. With a nail grinder, you can trim and smooth your dog's nails at home for no cost but a couple of minutes of work. This can also be less stressful for your dog if it doesn't like to go to the salon.
After studying and testing every nail grinder available, we've nailed it down (see what I did there ) to a list of the best dog nail grinders for you.
The Top Seven Best Dog Nail Grinders Reviewed
1.Best Premium: Dremel PawControl 7760-PGK Nail Grinder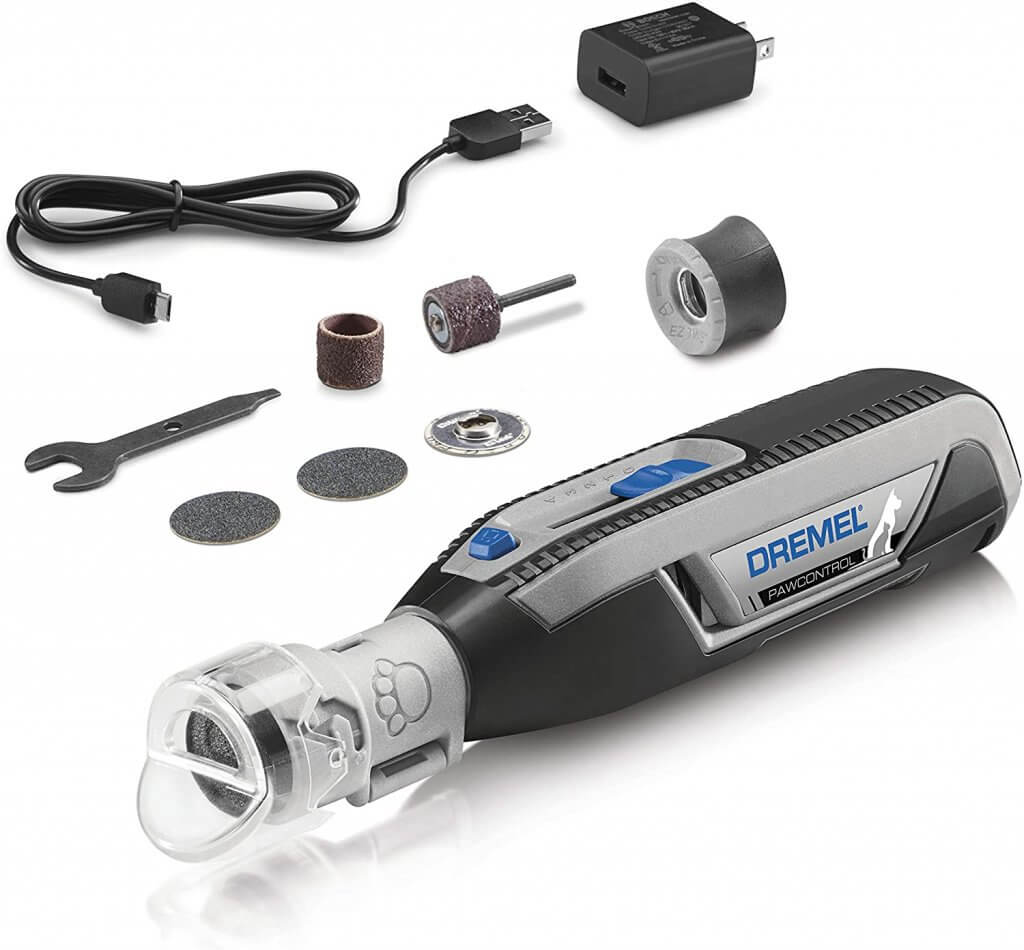 Our top choice for a premium dog nail grinder is the Dremel Pawcontrol 7760. It offers a complete grooming kit based on the very successful Dremel 7300 PT tool.
The Dremel 7300 PT has consistently been among the top picks of amateur and professional nail groomers. Now you can get it with an extensive set of accessories.
The accessory kit consists of a nail safety guard designed for an optimal cutting angle of 45 degrees, 9 pieces of grinding stones, and four different speed ratings starting at 8000 all the way up to 25,000 RPM.
Many professional salons use Dremel grinders. They are known for their quality and precision. The PawControl 7760 features a rechargeable lithium-ion battery that will last for several hours of grinding.
This grooming tool is powerful enough but also precise enough to work for all types and sizes of dogs. Whether you have a small Chihuahua or a massive mastiff, you won't have any problems cutting their nails.
While it's a little bit pricier than other grinders and can be noisy at the highest speeds, this dog nail grinder works like a charm. If you pair that with an extensive set of safety guards and accessories, you get a winning choice. Check price here
2. Best With a Cord: ConairPRO Dog Nail Grinder

If you don't need your dog's nail grinder to be cordless, the Conair Pro is an excellent choice. This is the best dog nail grinder with a cord, in our opinion.
Often used in professional nail salons, the con air pro extremely quiet. A quiet grinder is especially important if your dog gets scared easily. He will get accustomed to the grinding noise a lot easier if the tool is quiet.
This dog nail grinder comes with a full set of finishing attachments and a high-quality safety guard. It is powerful enough for large dogs yet precise enough for small dogs. The Conair brand is recognized worldwide for making excellent appliances.
One thing to know is that the Conair only comes with one grinding speed. With the power of the machine and different grinding stones, we never felt like we needed a different speed setting.
So, if you don't mind plugging your grinder into the wall and dealing with the cord, this is the model for you. Check price here
3. Most Portable: Casfuy Rechargeable Dog Nail Grinder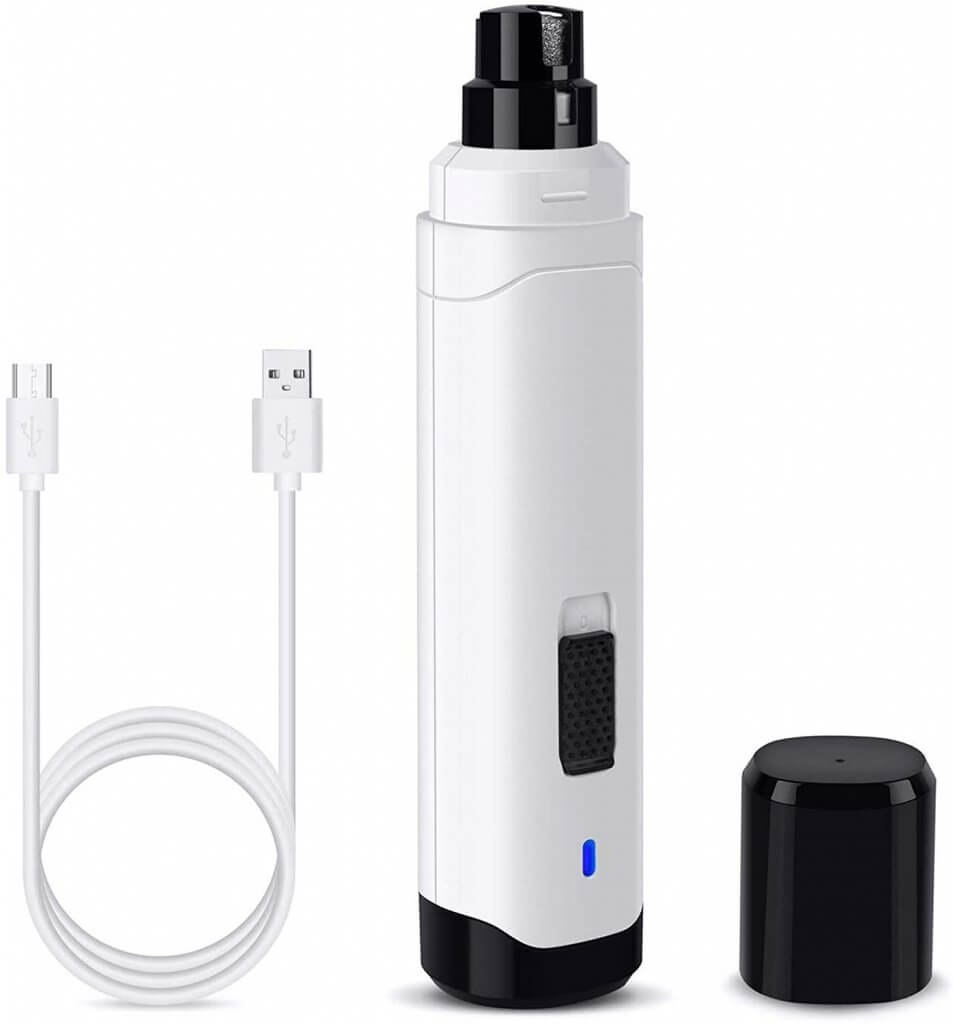 The Casfuy is our top choice when portability is crucial. It comes in a compact and convenient package with a rechargeable battery that can be charged through any USB charger.
If you've ever found yourself searching high and low for a specific charger, you know that having a USB universal charger it's a great thing.
With two different speed settings and 3 grinding ports, the Casfuy has plenty of options. Even though it has the options, we don't recommend this grinder for very large dogs. The motor and battery don't have the power to cut large nails consistently.
You can grind for about 2 hours with one battery charge. Something we really like about this grinder is the very low noise level. With only 50 decibels, it's a great option for dogs that are sensitive to sound!
One thing to know is that this dog nail grinder doesn't come with a product warranty. We've never had or seen any complaints about the durability, but it's still good to know. Check price here.
4. Best Value: FURminator Pet Nail Grinder

If you are looking for the most affordable quality nail grinder, the FURminator it's a great option. It comes at about half the cost of other grinders but still provides a complete dog nail grinding solution.
You will need to use separately bought AA batteries, but those can give you close to 100 hours of use. You won't run the risk of over-grinding either because this model comes with an included nail guard and LED light to see what you are doing clearly.
While this grounder comes with two different speed settings, we did find that the lowest speed was too slow for heavier nails. In that case, you will need to use a high-speed setting, which is considerably noisier.
The FURminator delivers a lot of value for money with a solid grinder at an incredible price. And if you need replacement grinding tools, it's good to know that those are extremely affordable too. Check price here.
5. Best Stepless Adjustable: Casifor Dog Nail Grinder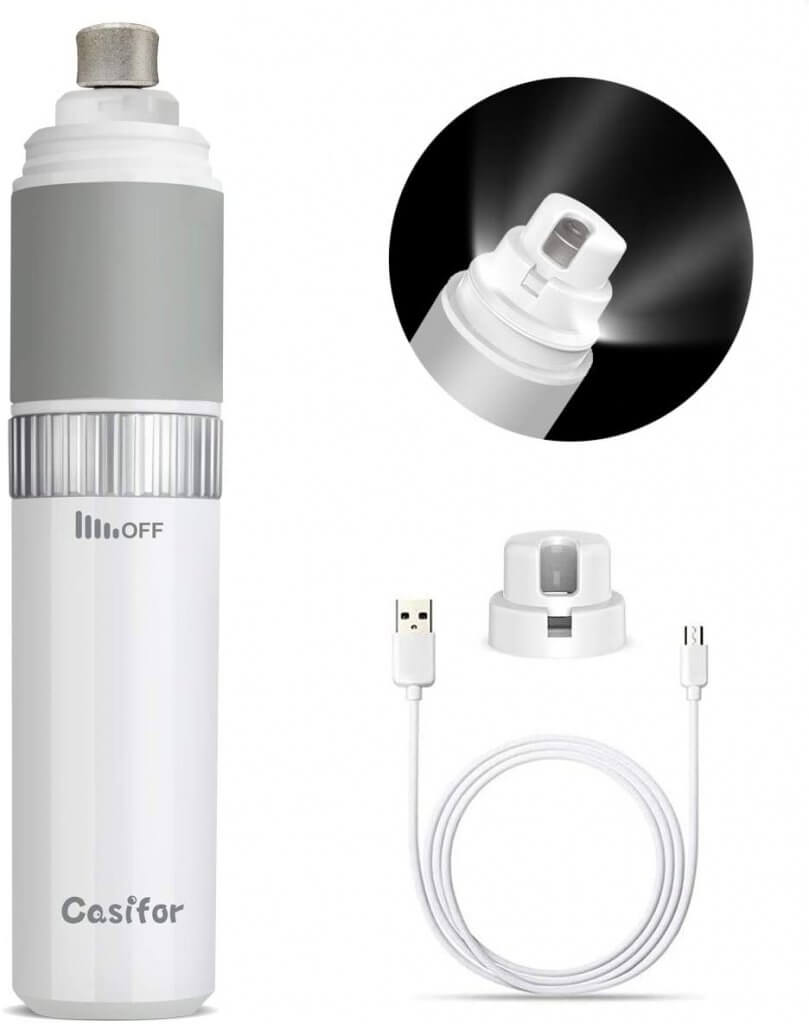 Other grinders always come with one or several speed settings; the Casifor sets itself apart with a completely step-less adjustment. Regardless of the speed required by your dog's nails, you are sure to find the perfect setting.
This nail grooming tool can also be charged through a USB port and has a great battery life of up to 20 hours on a single charge.
The grinding head offers three different port sizes for small, medium, and large dogs. This model runs very quietly and produces only 40 decibels.
It is a bit underpowered, though: While it's strong enough for small to medium, you might end up struggling to cut thick and large nails.
If you are looking for a convenient nail grinder for small to medium-sized dogs, this is a great choice. Check price here.
6. Best professional: Andis EasyClip 2-Speed Nail Grinder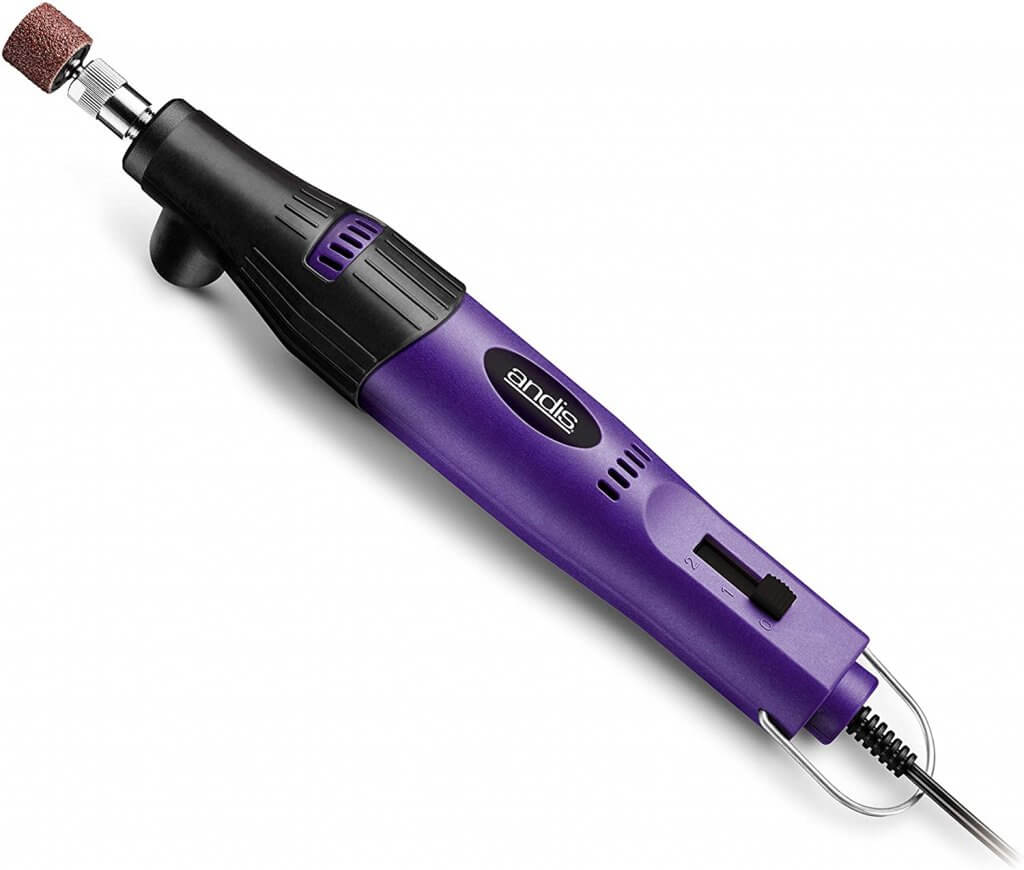 If you need the best dog nail grinder to deal with thick nails, you will love the Andis EasyClip. A favorite with professional groomers, the EasyClip comes with 13 attachment pieces to cover many use cases.
You can switch between two different speeds to match your dog's nails. You also get a full range of grinding wheels, each with several replacements.
This nail grinder has an ergonomic design and soft silicone outer material, making it easy to operate under even the most stressful conditions. If you ever plan on opening your own dog grooming salon, you won't need to buy a different grinder.
It's not as cheap as some of the other models on this list and does need to be plugged in, but everything else is absolutely top-notch. Check price here.
7. Best Value alternative: Oster Gentle Paws Dog & Cat Nail Grinder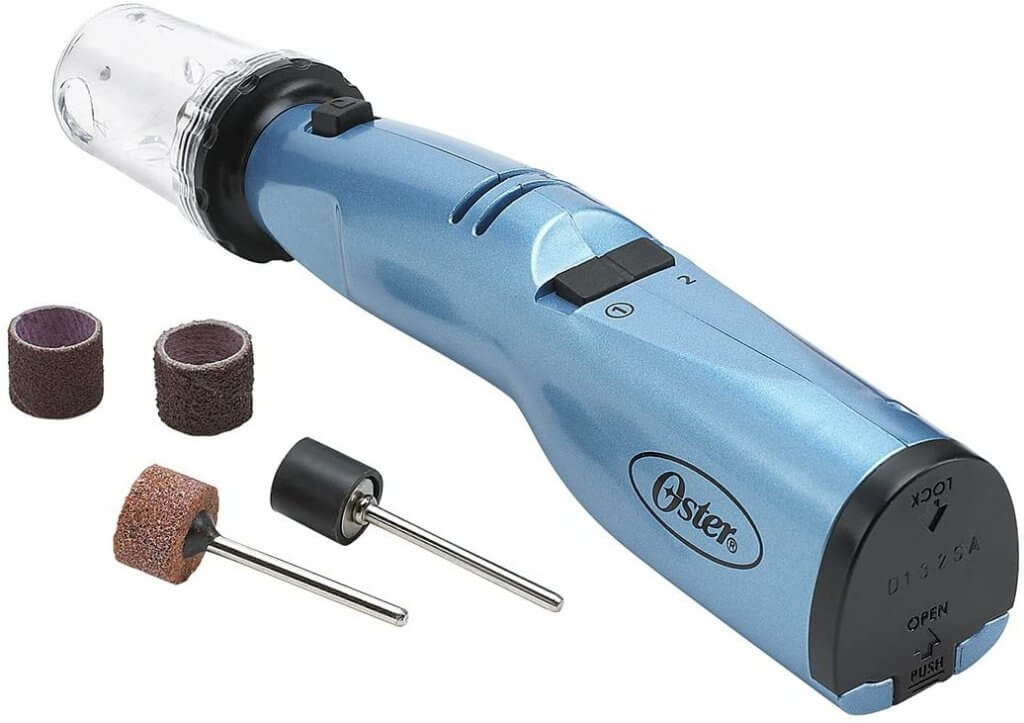 Another grinder that offers incredible value for money and solid quality is the Oster Gentle Paws. Not only is it extremely affordable, but it also comes with an adjustable safety guard and two-speed settings.
This grinder is battery powered, so you won't have to worry about dealing with a cord. The batteries are not included, and you can use either regular or rechargeable variants.
The Oster Gentle Paws is quiet during grinding, which is great if you have a sensitive dog. You can also use it for cats. While this grinder doesn't have the power of a corded grinder, it's more than enough for most dogs.
And you don't have to worry about durability since the manufacturer offers a full year warranty. Check price here.
Buying guide for dog nail grinders
If you thought that nail trimming was difficult and dangerous and should only be done by professional salons, think again. With a good electric pet nail grinder, you can easily and safely take care of your dog's nails.
There are many options out there, from professional grinders with powerful motors to cordless and extremely compact models that can be charged through any USB.
Regardless of your dog's size and the needs of your household, there is a great tool for you.
Finding the best dog nail grinder is another thing.
That is why we've created this buying guide to help you make the best choice. Before you know it, you will be cutting your dog's nails like a pro.
How Do Dog Nail Grinders Work?
Before we dive into the nitty-gritty of dog nail grinders, let's take a look at how they actually work.
Nail grinders are all based on the general concept of a Dremel rotary tool. If you've never seen one of those before, they are used extensively in the DIY and hobby circles. It's basically a rotating head with a grinding disc or grinding wheel that allows you to trim anything you like.
Most of them have an adjustable speed and come with a variety of grinding tools to work on different materials and with different levels of precision.
With one of these, you can quickly trim your dog's nails to the right length and make sure that they are smooth and rounded.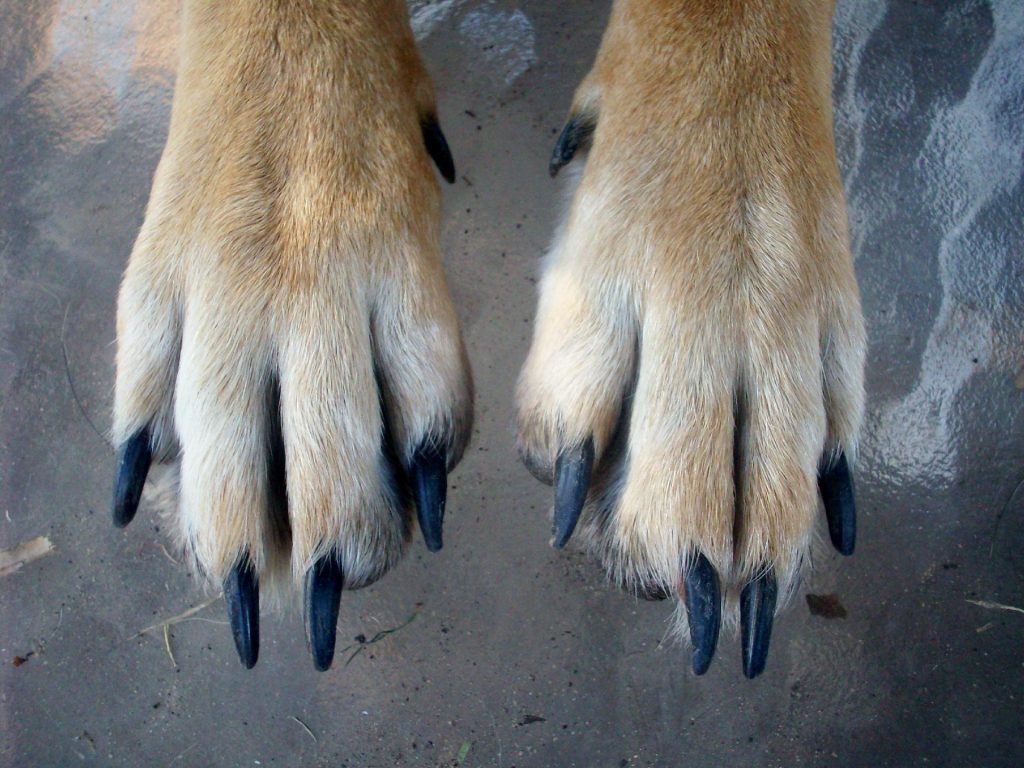 You can also do this with traditional clippers, but it's a trickier process, and you end up with sharper edges. When your dog's nails are smooth, he or she is much less likely to tear a nail or trash you're sensitive couch upholstery. So it's basically a win-win for everybody.
A pet nail grinder tends to make a high-pitched noise and cause vibrations in your dog's paw. Most dogs don't like this at first. They much prefer to have their nails cut with normal trimmers.
If you're able to get your dog used to the grinder, you'll be able to do your nail grooming much faster and with a smoother edge.
Now don't get me wrong, this is going to take some time and patience. If you buy a quiet grinder and use positive reinforcement, I'm sure you could get your dog to a place where they are fully comfortable with it. It worked for all of my own dogs.
If you've never used a dog nail grinder before, you'll be amazed at how fast they work. In most cases, it's faster than using traditional nail clippers.
You'll need to make sure you don't cut too deep because the nail contains a nerve and blood vessel.
Why do you need to trim your dog's nails in the first place?
Wild dogs or wolves never cut their nails, yet you never hear about them having issues with it. So why do dog owners need to worry about nails?
Normally, the nails are worn down when an animal walks over rough surfaces. Since many of our dogs spent most of their time walking on soft surfaces like grass or indoors, their nails wear less than that they grow.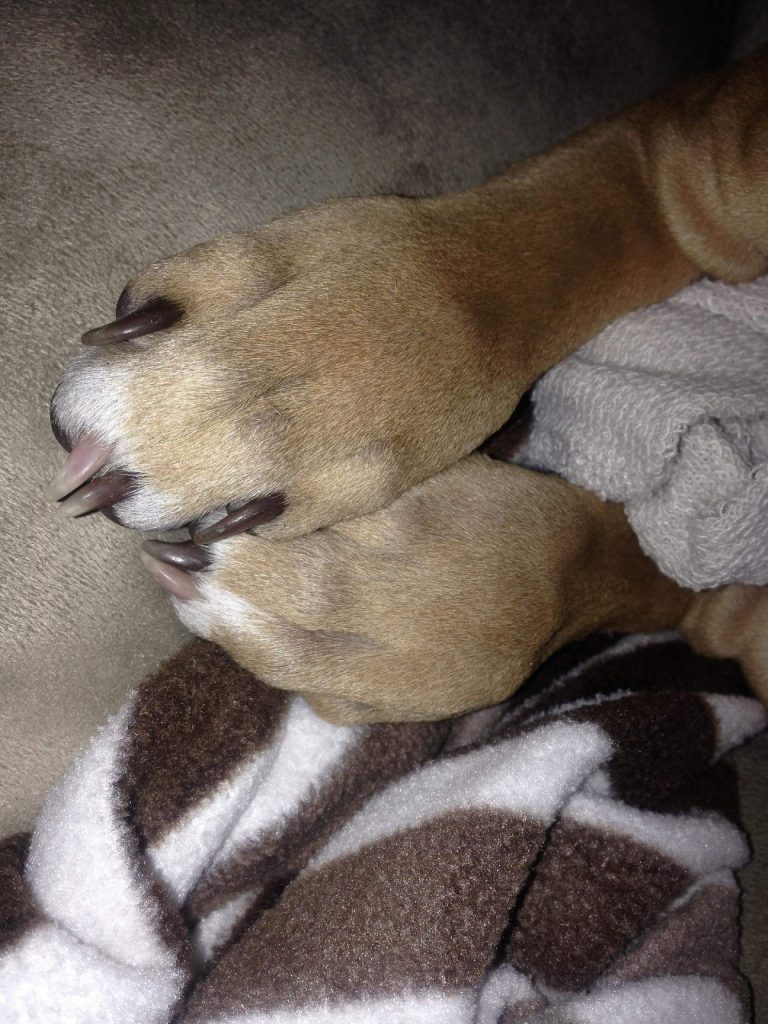 After a while, the nails become too long and cause all kinds of problems. To avoid this, your dog needs a regular nail grooming session. If you do so, he will get the following benefits:
Less damage to your floors: Long nails scratch sensitive floors. A dog walking around the house can easily damage wooden floors. And while most of these scratches will be shallow, some can end up quite deep and be very difficult to remove.
**Prevent discomfort: **If you've ever noticed your dog chewing at his own paws, it's possible that he was experiencing pain because his nails were too long. Long nails will drag as your dog runs or walks. This is not only because of pain but can also lead to joint problems as your dog tries to adjust its movements. If the nails become very long, they can also start to grow back into the paw. This is extremely painful and will often lead to infections.
**Reduce the chance of damage and injuries: **When your dog's nails are too long, they can easily get caught on furniture, dog beds, bushes, and vines. And, most dogs don't try to carefully remove their nails when they get caught. They tend to panic and pull as hard as they can, causing damage to your house or themselves.
All these issues can easily be avoided by regularly trimming your dog's nails. So I can highly recommend taking a few minutes and getting it done.
How to choose the best nail grinder for dogs?
Now that we know all the benefits of having a pet nail grinder, let's take a look at some of the things to consider when choosing the best electric pet nail grinder for you.
Noise level.
Most dog nail grinders are relatively quiet, but there are still many differences in noise level. Sound-sensitive dogs can easily get scared by a loud grinder. In that case, you want to look for a quiet grinder that produces less than 50 decibels. This will greatly reduce the stress and make it easier to get your dog used to the process.
Safety guard
If you trim the nail too deep, you can cause nerve damage or bleeding. In most cases, this will heal, but it will be painful for a while. One of the most critical things to check when looking for a new grinder is the included safety guard. The safety guard will sit on top of the grinding wheel and ensure that you can't trim too deep.
A good safety guard can also make sure that you are trimming the nail at the right angle. This will greatly benefit your dog's comfort and safety.
Speed settings
Dogs come in all shapes and sizes and still do their nails. If you attack tiny nails with high-speed grinding, it will be very easy to overshoot. Most dog nail grinders come with several speed settings.
If you are just starting, running slower will give you more time to make adjustments.
So, check if a grinder has different speed settings and look at the maximum and minimum speeds.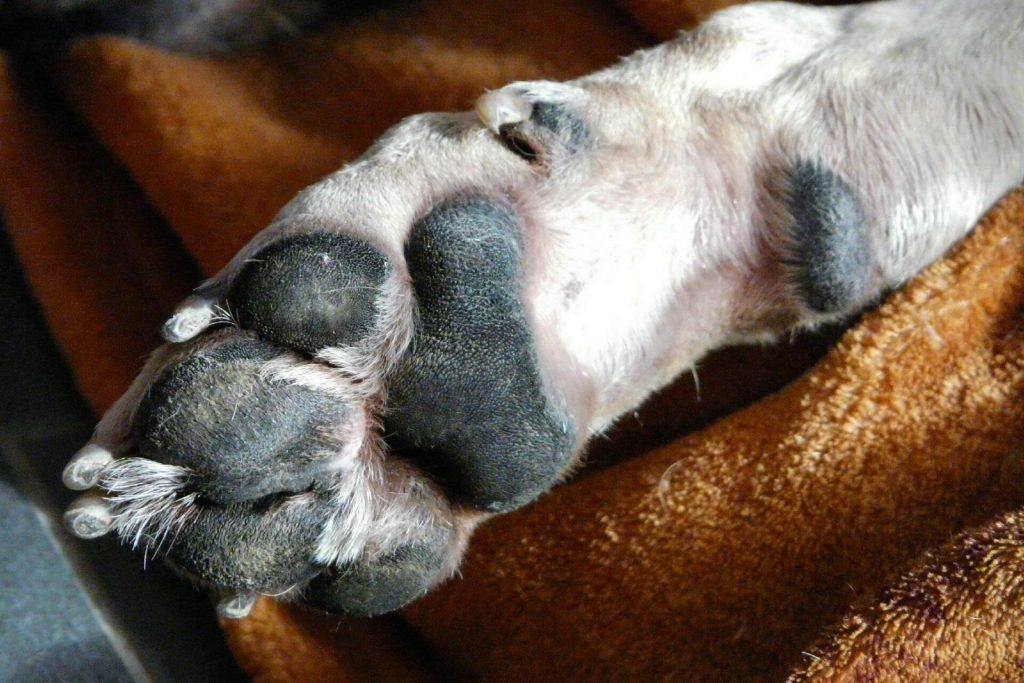 Generally speaking, you want a speed between 5000 and 15,000 RPM. Some grinders offer a lot higher speeds all the way up to 25,000, but that's only suitable for thick large nails or very experienced groomers.
Price
You can get grinders from very cheap to very expensive. Many people associate a high price with better quality, but that's not always the case. Interestingly enough, professional groomers are often seen using pretty standard grinding tools.
We've selected our list of best dog nail grinders based on a solid value for money. That's why you won't see any extremely expensive models on this list. It's just not necessary to spend that much.
Tips for getting the perfect result when grinding a dogs nails
You might feel anxious if you've never trimmed your dog's nails before. You want to make sure that you don't hurt him or her, and your dog may get stressed or anxious in the beginning. With the right approach, you can avoid most of these problems. So let's take a look at how to use a dog nail grinder best.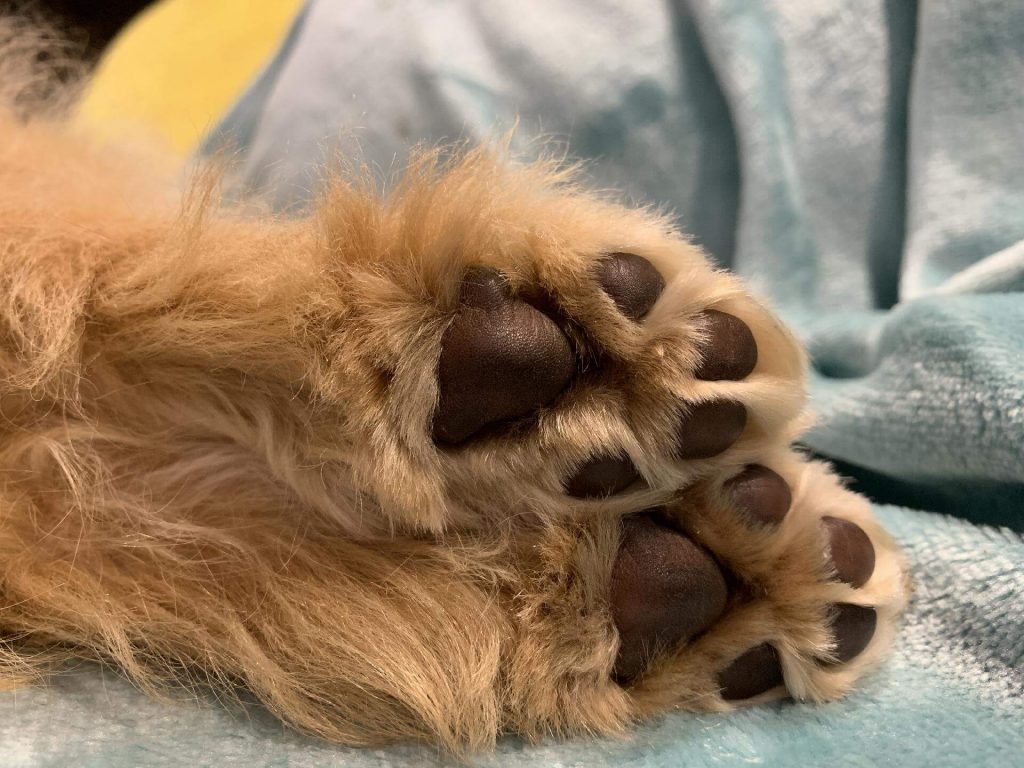 Help your dog get acquainted with the tool and the noise. Dogs are usually apprehensive of new and strange electric tools. That's why you want to introduce the electric grinder to your dog slowly. You can start by just turning it on when they're in the room. The next step is to bring your dog close to you and hold the grinder while it's running. Always make sure to reward your dog and have some cookies nearby. When you do this, you will notice that he or she becomes more relaxed. You can also try to run the grinder near your dog when it's eating. This doesn't always work, though, because some dogs are agitated near their food.
Keep the hair short on the paws: Long hair around the nails can get caught in the grinder during nail grooming. When it does, the grinder will pull it out, causing pain. To prevent these problems, it's good to make sure there are no long hairs around the nails.
Stabilize your dog: One of the biggest problems when trimming nails is your dog not keeping still. When he or she tries, they pull away; you are much more likely to cut too deep or hit other things. You can bring in a friend or family member to help keep your dog still. That will allow you to focus on operating the grinder fully. Once you and your dog get more used to the whole process, it will become easier, and you can do it alone. If you are doing it alone, make sure to keep your dominant hand free to handle the tool.
Move carefully around the nail: As you grind, start at the end of the nail and slowly move up and around the tip. Always work on one nail at a time.
Go layer by layer: Don't try to cut everything at once. Instead, move up and down the nail several times while trimming down the layers. This way, you will always end up with a nice smooth tip and prevent going too deep in any one place.
Check your depth: While you're going layer by layer, check how deep you are. If you focus just on one spot and it's easy to end up with an uneven result. It's also possible that you will cut too deep and damage your dog's nerves. The nerves run through the middle of the nail and are extremely sensitive. Damaging one can easily cause problems with walking and also scare him or her of the grinder.
Polish at the end: When you've reached the correct depth, make sure to smooth out the nail. With very little pressure, move around the tip in a circular motion and leave a silky smooth finish. This is the best way to prevent any hang-ups or torn nails.
Rinse and repeat: Now you've done one nail, keep going and do the other ones too. You might have to take a small break now and then if your dog is getting squirmy. Always keep his or her favorite treats close by and treat generously. The more you can give your dog a positive association with the nail grinding process, the easier it will become.
Most dogs should be able to get used to having their nails ground within 4 to 5 sessions. If yours remains extremely anxious, you might have to consult with your vet. He or she may have some tips to solve this particular problem. Some dogs can have youth traumas that cause them to remain anxious.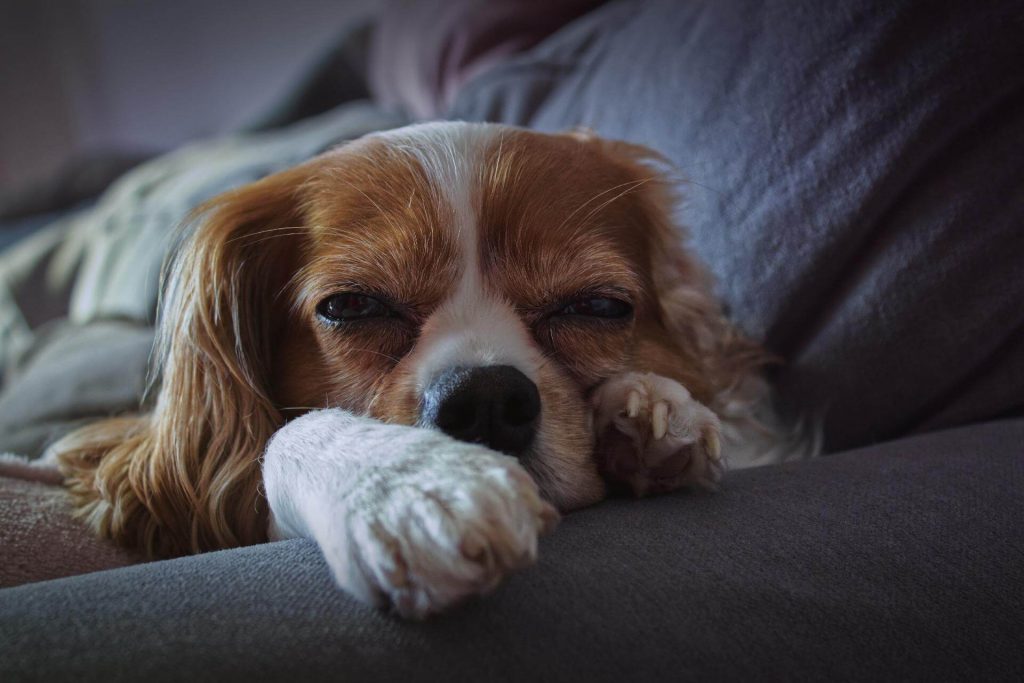 Dog Nail Grinder vs. Dog Nail Clippers
Nail Clippers are the traditional way to trim down dog nails, and if you are looking for a trimming solution, you might be trying to decide between the two. It's not a question of better or worse; it's a question of which is the best option for your dog. Let's take a look at some of the advantages and disadvantages.
Nail grinder advantages
Many people like to use a pet nail grinder because they find it more convenient and faster. Grinders can be preferable over clippers because:
Personal preference by your dog: Some dogs really don't like nail clippers. Maybe they had several bad experiences in the past. Or maybe it's just a weird phobia. Either way, changing to a nail grinder can be a great way to circumvent any of these negative associations. Since grinders tend to work faster and provide a better result, you also won't need to do it as often.
The best trim result: With a high-quality dog nail grinder, you will end up with perfectly smooth and rounded nails that never get stuck. Nail Clippers, on the other hand, cut the nail all at once. In most cases, you end up with sharp edges. The greatly increased the risk of getting caught on fabric or furniture. The nails of older dogs can be tough and brittle and split when cut with a clipper. These splits can cause the nail to tear as your dog walks, causing pain and risk of infection.
No limitations when it comes to nail thickness: Some breeds of large dogs have very thick nails. It can be difficult to cut these with the clipper because you need to go through the entire nail all at once. A nail grinder doesn't have this problem. You won't have to have strong hands or a large clipper.
More safety: When you use nail clippers, you basically have one chance to do it right. Once you've cut, there's no going back. If it were too deep, your dog would be bleeding and hurting. When you use a nail grinder, you can see the progress as you work your way down the nail. For most people, this is a lot safer way of working.
The downsides of nail grinders
Most professional dog groomers consider a grinder to be the perfect tool for the nails. However, in some cases, they might not be as suited. Let's take a look at some of the possible disadvantages.
Increased noise: A nail grinder will always be noisier than a clipper, simply because it needs to have a motor. The motor will cause noise and vibrations. Your dog will hear the noise and feel the vibrations in its paw. Some dogs will never be able to get used to this, and for them, a nail clipper will remain the best option.
Harder to clean up: Nail clippings are easy to sweep up and throw away. Grinders produce a lot of fine dust. If you are working indoors, this can be difficult to clean. I personally like to have a vacuum cleaner nearby and work on a tile floor. You can also choose to do your grinding outside, but that might require a cordless tool.
Nail dust: As we've said before, the grinder produces fine dust. You want to avoid getting this dust in your eye or inhaling it. When you're working indoors, some eye protection and maybe a face mask could be needed.
FAQ about dog nail grinders
How does a nail grinder work?
You can think of a nail grinder as a rotating nail file. As it rotates, it cuts tiny bits of the nail, leaving a smooth finish. Even though it only cuts small parts at a time, the grinder rotates really fast, so it still goes through the nail pretty quickly.
What is better, grinding or clipping nails?
In most cases, I would advise using a grinder. Sometimes you might still want to choose nail clippers for your dog. You can read more about the specific advantages and disadvantages of dog nail grinders and clippers in the section above.
Are nail grinders safe for dogs?
Yes, a nail grinder tends to be safer than clippers. With a grinder, you work your way through the nail layer by layer. With a clipper, you take your best guess and snip away. Only after it's already done do you find out if your aim was good. On top of that, grinders also come with built-in safety guards that prevent you from cutting off too much of the nail. We think dog nail grinders or the best way to trim nails.
What is the best angle for grinding a dog's nail?
Most professional dog groomers like to trim nails to a 45-degree angle. This is the best angle for comfort and smoothness. You can eyeball the angle to get it to about 45 degrees. You can also use a safety guard that is designed or a certain angle.
How often should you grind a dog's nails?
The frequency depends on how fast the nail grows and how fast it wears down. The nails wear when walking on rough surfaces such as concrete or asphalt. The speed at which the nail grows also depends on your dog breed, the food it eats, and its overall health. For most dogs, you end up trimming the nails every four to six weeks.
Is nail grinding painful for a dog?
Nail grinding should never be painful. It should feel the same as when you are having your own nails cut or ground. A dog's nail is different from a human nail because it contains a nerve and blood vessel. That is why you want to be careful about going too deep when either cutting or grinding. Hitting the nerve or the blood vessel will cause your dog to bleed and hurt.

You can also cause pain to your dog while grinding their nails when the hairs get caught in the wheel. Some dogs have long hair on their paws, and this can easily wrap around the grinding wheel. If this is the case for your dog, it's best to first deal with the hair.
How long should I cut my dog's nails?
The way to judge the nail's length is to look at the paws when they are flat on the floor. When you're looking at it from the side, the nail should be clear of the floor, ending just slightly above the pads.