It seems that the only way to avoid complete depression about the current political situation is to make fun of it. And a trump dog toy is one of the best ways to lighten the mood.
Dogs are not restricted by elitist lawmakers, and chew, shake, or even hump their toys.
But what started out with only a single manufacturer has evolved into a small industry. There are quite a few models to choose from. We reviewed them all and selected the most durable, safest, and funniest models for you.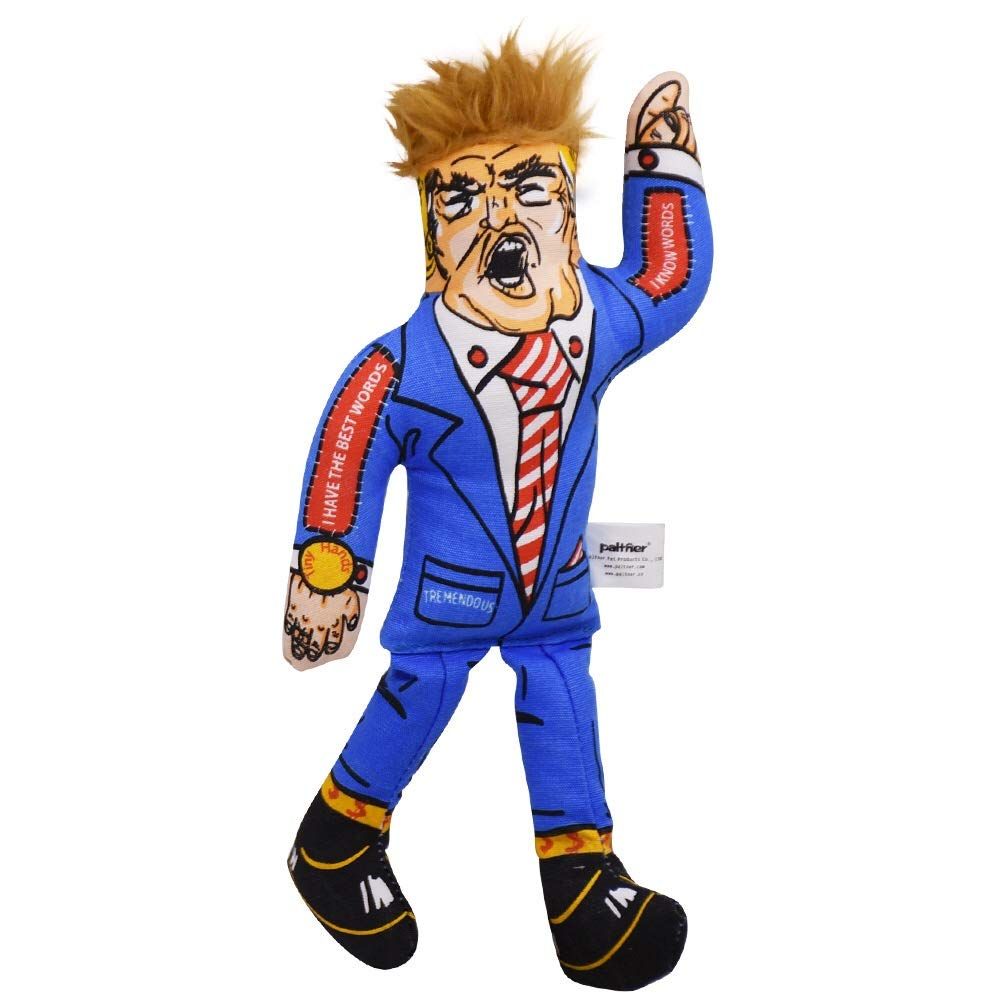 This toy is the biggest in our list and the best choice for bigger dogs. It measures 12 inches from head to toe but comes with extremely small hands. It's made of durable canvas, and nicely soft to the touch. The squeaker makes a very funny noise when our dog sinks it's teeth into it. Check price here.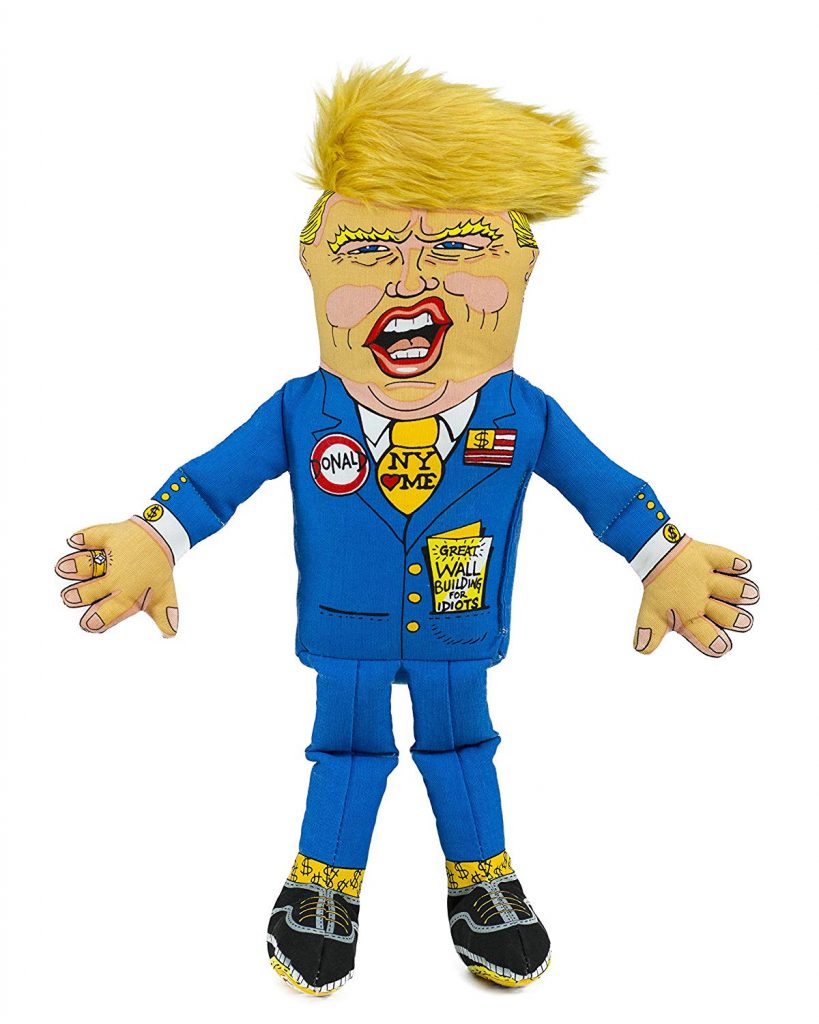 Fuzzu was the second company to produce a Trump dog toy after the Barkbox introduced the idea as part of their subscription box.
This toy has been tried and tested by thousands of dogs. It is very durable because of the high quality materials and has a battery powered squeaker. We really liked the durability and ability to prop it up for photo opportunities. It doesn't have some of the funny features of number ​5 such as the cap and small hands. Check price here.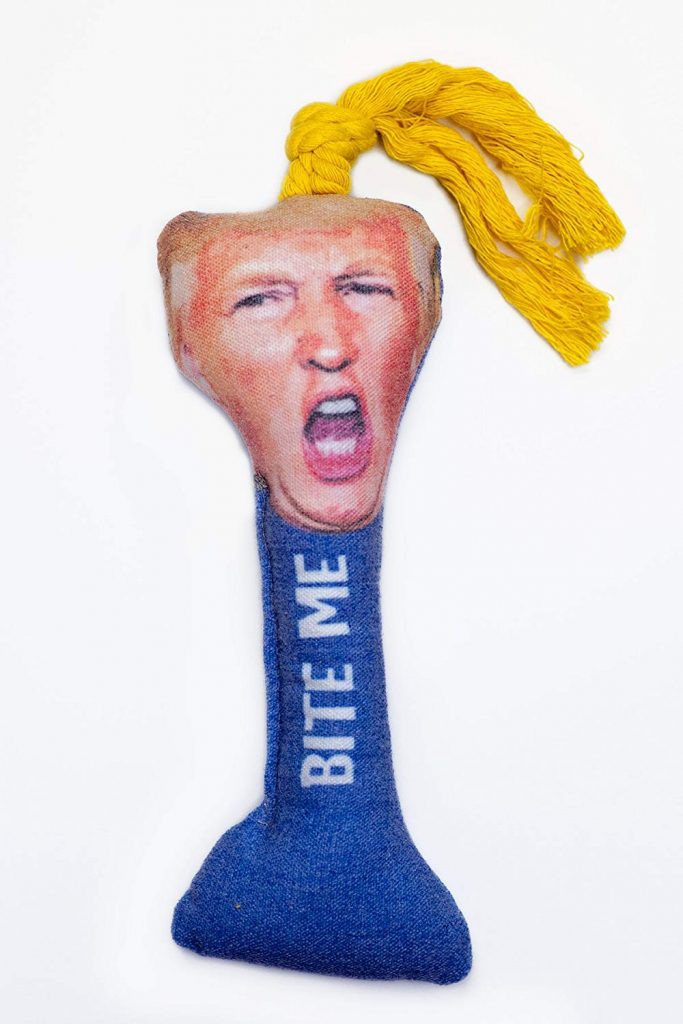 ​​Very simple trump dog toy but very durable. This toy lacks (small) hands and feet but makes up for it in durability.
It can take a lot of abuse and is very safe for your dog. Simple, fun, and cheap! Check price here.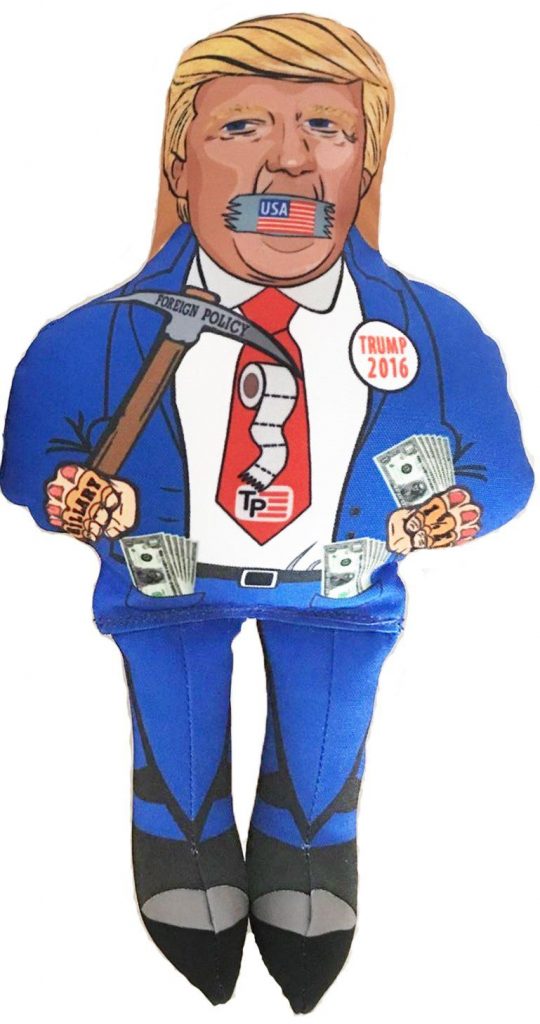 Our favorite Trump dog toy! This one is just too funny and the dog loves it. The attention to detail is amazing, the material is durable and safe, and it has a presidential squeak to it. The toy is 10″ long and can be used for almost any size dog. Only very small and very large dogs will not enjoy it. ​Can also be given as a gift to friends with the right color. Check price here.
How Trump Dog Toys Started Out
​The idea of a political chew toy for your beloved pets is so obvious that multiple companies struck on the idea more or less simultaneously in 2016. BarkBox, a subscription box company in New York, introduced the Dognald toy and collected a fair amount of social media attention in the process.
This is far from the only Trump chew toy available to you this year; Vermont-based FUZZU introduced a complete range of political doggie chew toys this year that includes not just Trump but also Bernie and Hillary.