The GoBone Dog Toy is the first dog bone that ​can play with your dog when you are not around.
Other apps and devices let you play remotely through a smartphone. Gobone ​allows you to program playtime and provide stimulation and activity for your dog both when you are and are not at home. ​​That would be perfect for those times when we get too busy and our furry friends suffer the consequences.
But with pioneer technology and a relatively high price tag, is the toy as great as it sounds? ​Especially when our dogs are true artists at ​ripping ​toys apart. Read all about this and other pros and cons in our Gobone review.
What is GoBone?
​The GoBone is an interactive dog toy that is multi-functional. It can roll around on its motorized wheels for the dog to chase, dispense treats, and is made of chewable nylon material. ​It can be programmed to move and treat your dog automatically, or you can use the app to direct the toy. You can adjust the activity level of the toy and also set programs, such as play for 10 minutes and rest for 20 minutes, to schedule automatic playtime for your pet.
​How Do You Set It Up?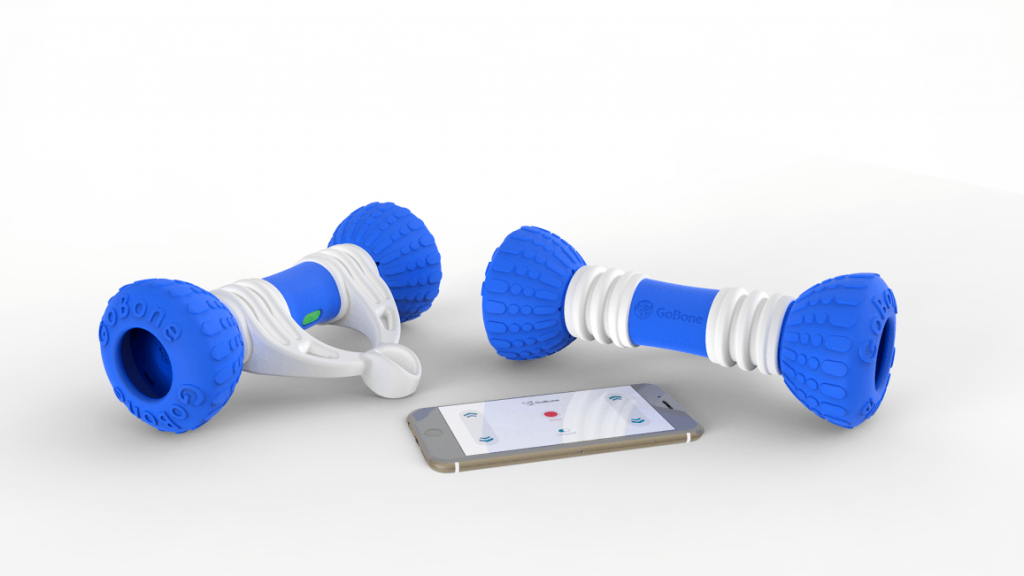 The GoBone toy can be assembled and taken apart in a few steps. The core holds the rechargeable battery and is slid into the center of the toy. Small, rugged wheels are attached to each end of the toy. In order to control the toy, the coordinating app must be downloaded and open on the phone. Once the GoBone dog toy is completely assembled, tap it twice to wake it and it will connect to the smartphone automatically. When using the toy for the first time, there are a series of steps provided through the app to help acclimate your dog to the toy and peak their interest.
How ​To Maintain The Toy?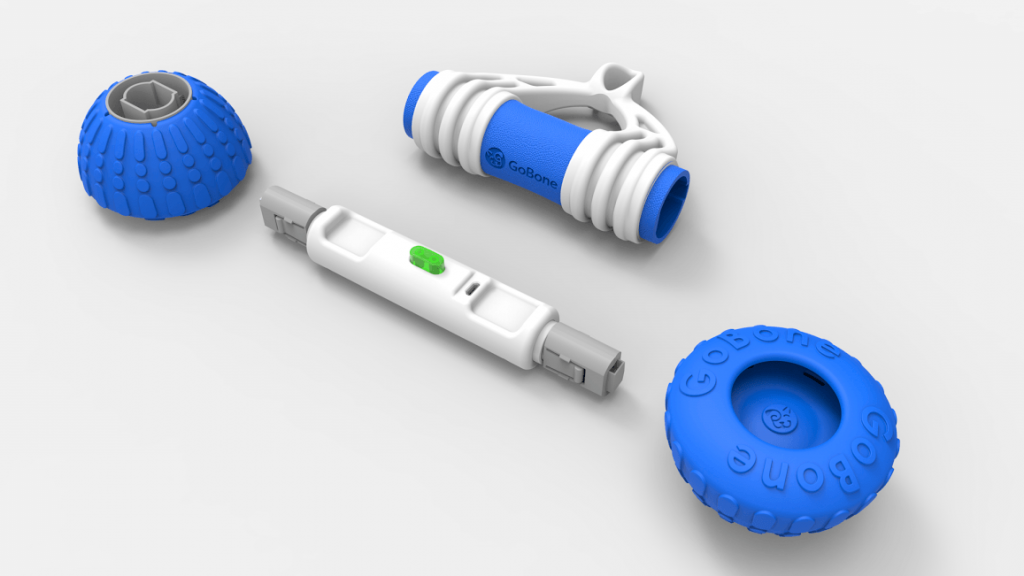 As mentioned above, the GoBone can be taken apart. Each time you recharge the battery, you will need to disassemble the toy in order to do so. This also allows the individual parts of the GoBone to be cleaned and inspected. If the exterior of the toy becomes damaged in any way, the parts can be replaced without needing to purchase another toy.
​How do our dogs like it?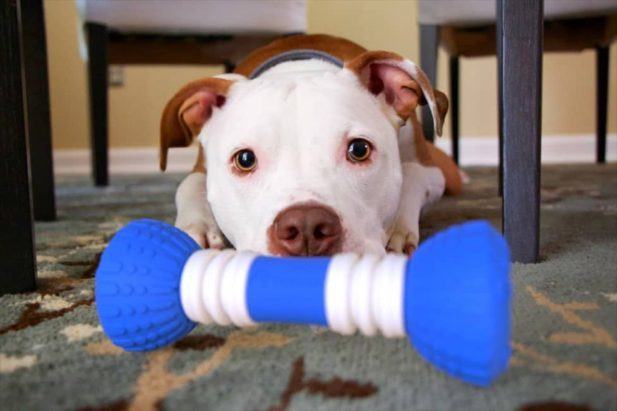 The interest level in the toy can be dog-dependent. The GoBone toy is most ideal for dogs who enjoy playing with their toys and who are food motivated. Small dogs may have a hard time chewing on the bone, but can still chase and retrieve treats from it. The toy is not too loud, with only some mechanical sounds such as whirring and whizzing, so it is unlikely to bother the dog's ears. Some dogs may be scared or skeptical of the toy at first, as the movement may startle them or put them on alert. Following the protocol for introducing the toy to your dog, especially getting down and playing with it yourself, will help the dog to acclimate more quickly.
How durable is it?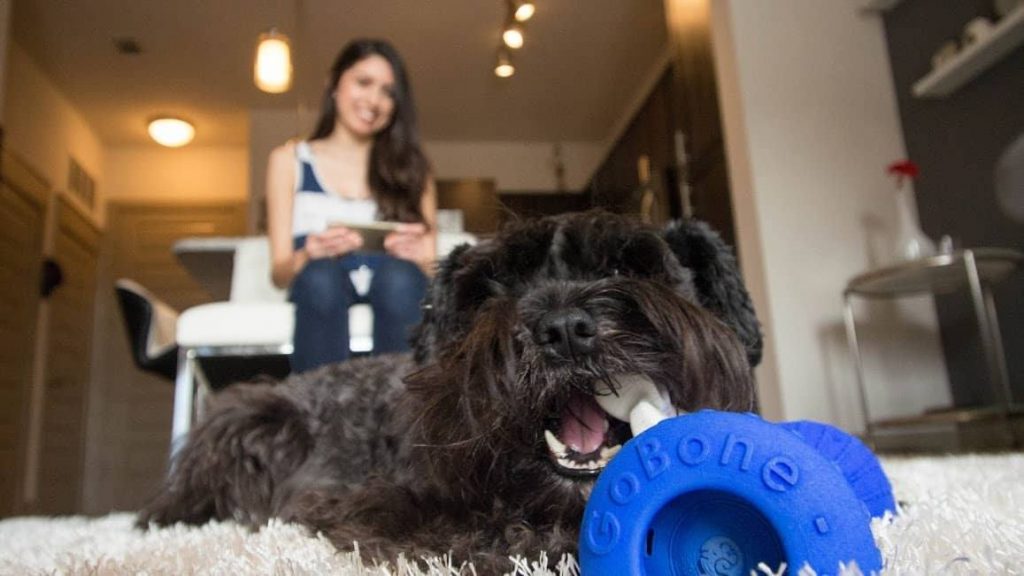 ​While the company advertises that the GoBone is very durable, they also acknowledge that the toy is not intended for dogs that typically destroy chew toys quickly. While the toy is sturdy overall for less powerful chewers, replacement parts are relatively expensive if your dog tears them significantly. It is best to supervise your pup initially while playing to get a sense of how rough they will be on the toy, and whether it is safe to be used without you around to play referee.
How much Does it Cost?
Right now you can pre-order your very own GoBone for you and your pet today for $169 on Kickstarter (see embed below). You will make a worthwhile investment that is going to offer many hours of interactive play and enjoyment for your pet when you are not able to be right there with them. We have a separate post with more information about the best places to buy the Gobone once it becomes available.
How is It Going to Work?
The way that GoBone works is by using algorithms that will adjust to the behavior of your dog to help keep your pet playing and moving until the time that you can return. This technology uses patent pending algorithms that work to learn the behavior of your dog. The system processes inputs such as their weight, age, breed and how it seems that he or she likes to play. With all of this information coming in, the GoBone toy can train the software in your app to keep track of how long it should engage to keep your dog interested.
Check our smart dog toy videos to see this very cool product in action.
How it Will Benefit You and Your Pets Life
Created by a dog owner, this is the type of toy that will pay for itself within just a short period of using it with your pet. You will have the added peace of mind in knowing that your dog never feels alone and that he or she can remain stimulated and active when you are away. You can take control and navigate the GoBone either indoors or outdoors, all while your dog stays in playful pursuit. While you are using the GoBone technology, you can record video of your dog playing and then share it with friends and family on social media or save it off for your enjoyment later on.
This is a smart pet toy that offers playtime with your pet when you are away, to interact with your pet with exclusive games or to even schedule playtime at chosen intervals during the day for up to a period of 8 hours. Gobone promises a dog proof design that is easy to take apart and wash should it become soiled or you can even replace some of the parts if they become worn out.
Unexpected Benefits
The GoBone is fun and will keep your pet entertained but it could also make a difference for your dog's health. Inactive dogs can develop a number of health issues and can also develop problematic behaviors due to boredom. The GoBone is the perfect answer if your dog is inactive during most of the day.
You should think about getting a GoBone for your dog. This is a fun toy that is designed to be safe and durable. Your dog will love it, will be more active during the day and will be less likely to get bored while you are away. Besides, you will get to play with your dog when you are away!
Summary
Pros
​Design: The exterior of the GoBone is easy to clean and replace if needed. The pieces of the toy also assemble and disassemble quickly.
​Battery Life: The battery life of the GoBone allows for about 8 hours of play before needing a recharge.
​Modes of Play: The ability to choose between an automated play routine and the use of the controls lets you entertain and play with your dog any way that you choose.
​Activity Levels: The GoBone toy allows you to set the speed at which the bone moves depending on the size of your dog and the amount of activity they need.
Cons
​**​Price: **The cost is understandably high due to the technology involved, but it may be prohibitive for some.
**​​Auto-Play: **The auto-play option, though handy for when you aren't available to play directly with your dog, can be insufficient for their needs. Over time it may become too slow for your dog, or not vary its movements enough to keep your dog entertained.
​**​Toy Gets Stuck Easily: **If the dog picks the toy up and carries it into its bed or onto the couch, the toy will not work until you can move it back to the floor.
​**​Controls are Difficult: **The manual controls require precise dexterity and can be difficult for some users to operate efficiently.
​Conclusion
​Overall, we ​highly recommend the Gobone for small and medium dogs. This dog toy ​will become a great playmate for them. It will help your dog develop better health, more agility and prevent apathy.
​This toy is the coolest interactive dog toy that we have seen. We can only hope that ​Gobone will make a more durable model for bigger and more aggressive dogs.
Right now we recommend that people with big and/or aggressive chewers don't buy this toy. It will more than likely get destroyed in minutes.