You want your pet to have a comfy place to rest at night, but if they're big chewers you may discover that finding a bed that lasts longer than a few weeks seems impossible. However, you're not alone. Pet parents everywhere often face multiple trials before finding the perfect bed for their four-legged friend.
However, if you'd rather find the best choice right off the bat, continue reading. Here are the best indestructible dog beds fit for even the most heavy-duty chewer.
1. PetFusion Ultimate Pet Bed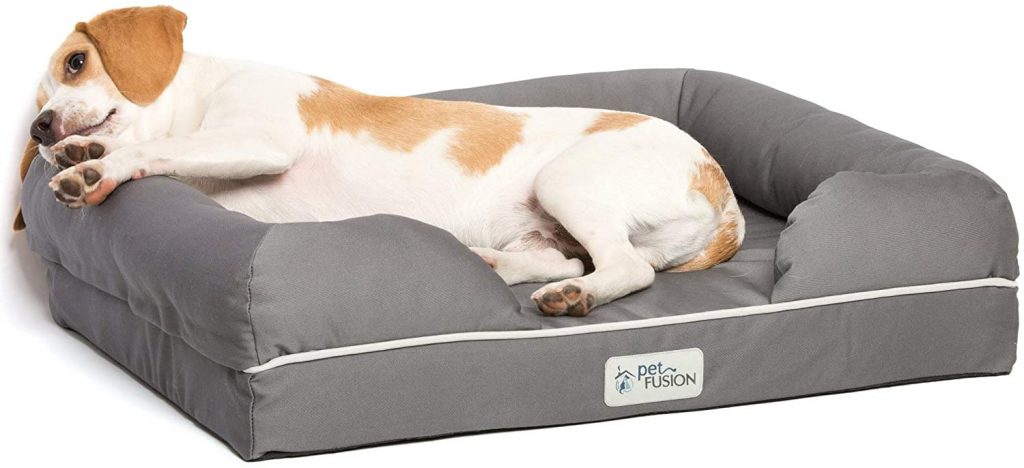 Details and Summary
This bed comes in three neutral colors including sandstone, chocolate brown, and slate gray. It's 35 percent cotton, skin contact safe, and has a three-year warranty. It also comes in four sizes (small to XXL Jumbo). While this bed is a bit pricier than most, it offers a lot of value. It is well-structured and will match your home's gorgeous decor. The bolster pillows on the side will also offer your pet additional comfort when snoozing the afternoon away after playing fetch in the yard. Check price here.
Pros
attractive design
solid 2.5 memory foam base
low VOC emissions, so it won't compromise air quality
non-skid bottom
machine washable cover
you receive a coupon code for a dog walking service in your area
Cons
2. Ruff n' Tuff Dog Bed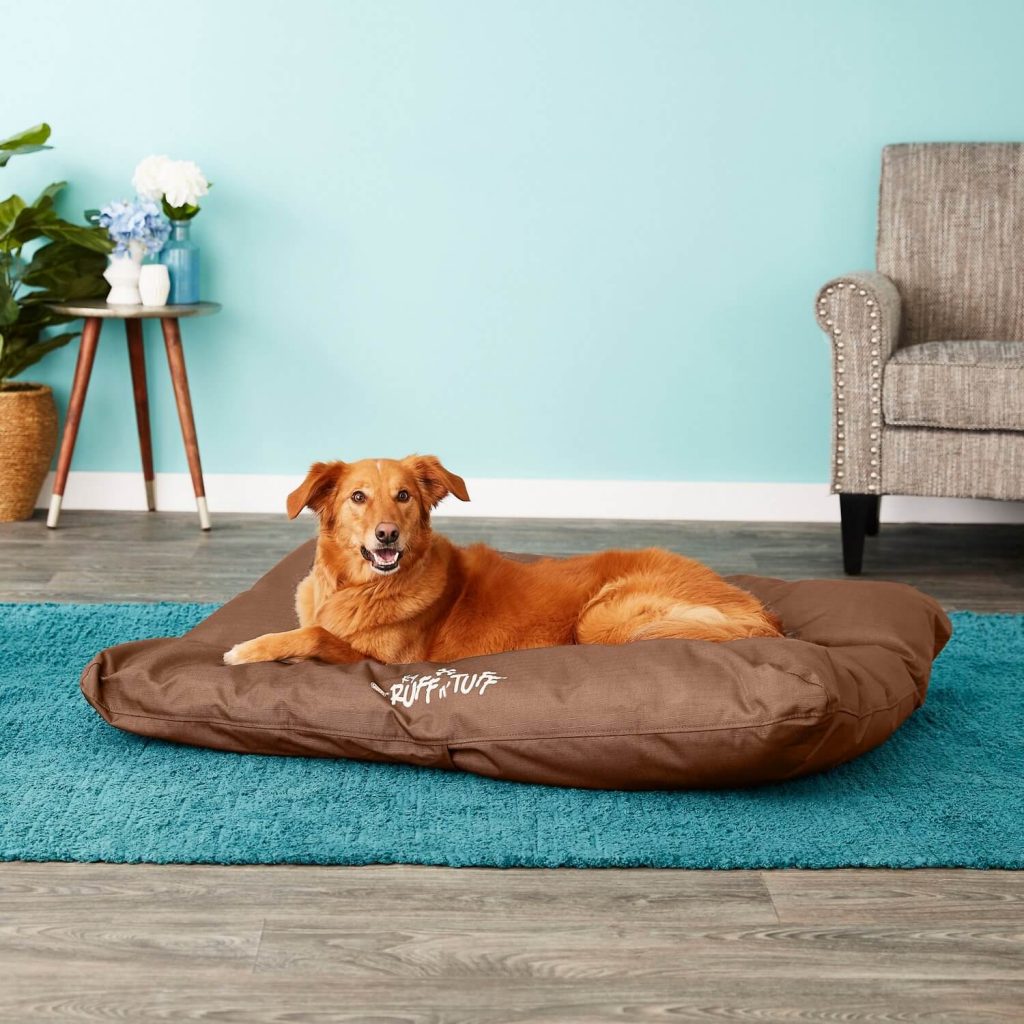 Details and Summary
Pick between neutral navy, or creamy chocolate when selecting this dog bed. Though it only comes in two colors, the Ruff n' Tuff bed is optimum for heavy chewers with larger teeth — think Pitbulls and German Shepherds. This bed also contains a liner that keeps the polyfill stuffing in place, eliminating uncomfortable lumps. The manufacturer also offers a one year warranty with your purchase. It's also a great option for an owner on a budget. Use this indoors or outdoors, and never worry about stains, as it's machine washable. Check price here.
Pros
affordable
has hidden zippers, making this bed safe for even the most curious chewer
versatile as you can use it indoors or outdoors
Cons
limited color options
limited sizing options
Kuranda Elevated Beds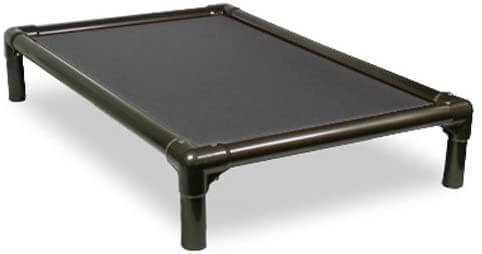 Details and Summary
Surely, even the toughest dog bed must wear down after a while, right? Not the Kuranda Elevated bed.
This option may not resemble the cushy dog beds you're accustomed to seeing. However, it works just as well, keeping both comfort and durability in mind. What makes it so different?
It switches out all the plush for a more genius design. It resembles a trampoline, however, since it's elevated, it takes the strain off of your dog's most sensitive pressure points, allowing him to sleep without winding around in circles, looking for the best spot.
This bed comes in four colors: burgundy, smoke, brown, and forest green. You can also purchase this unique dog bed in six sizes, starting at mini and going up to XXL.
Lastly, it's made from walnut PVC and Cordura fabric. Check price here.
Pros
easy to clean
does not collect dirt and dander
will not rust, even when left outdoors
suspension may ease achy joints in pups with arthritis and hip dysplasia
Cons
can only hold dogs up to 100 pounds
K9 Ballistics Tough Rectangle Bed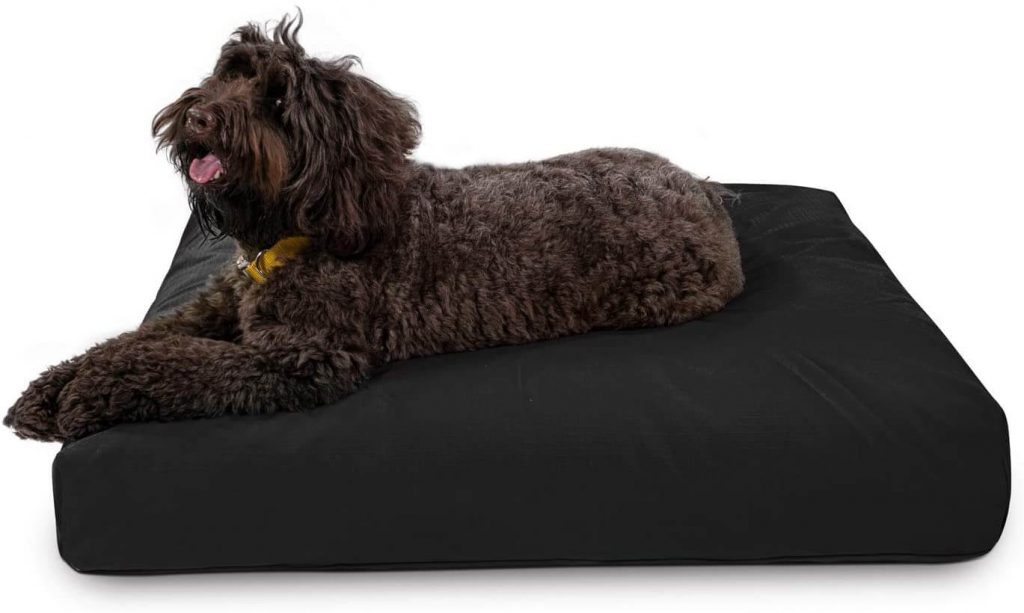 Details and Summary
If you're looking for a colorful and comfy bed for your dog, K9 Ballistics offers a wide range of durable pet beds in 12 unique colors. This manufacturer also offers a 'chew proof' promise, where you can return the bed 120 days after your date of purchase if your rambunctious pup manages to tear it up. This pet bed comes in five sizes (small to XXL). Check price here.
Pros
hidden zipper closure
water-resistant material
high-quality foam mattress
Cons
not completely chew-proof, but still strong enough for medium dog breeds such as Border Collies
Durable Orthopedic Dog Bed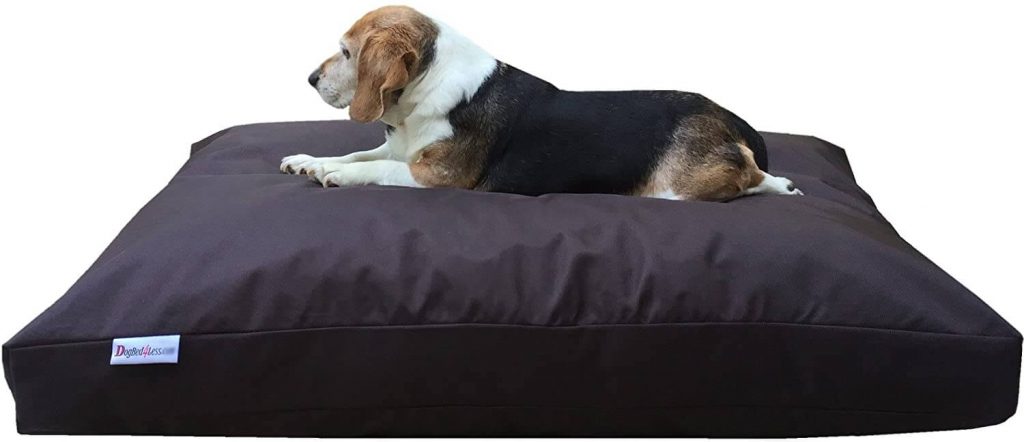 Details and Summary
This orthopedic dog bed is another model that won't break the bank. It's cushy with its 6-inch thick insert, water-proof, and is huge for maximum comfort! If your pup spends a lot of time playing outdoors, this is an excellent choice as you won't have to worry about getting soggy or dirty.
The bed is available in four sizes and comes in five colors. Its only downside? It doesn't cater to smaller pups, but if your dog is 25 pounds and up, then you're in the clear. Check price here.
Pros
heavy-duty nylon cover
shredded foam stuffing makes it more supportive than polyfill stuffing
the cover resists scratching and even odors
Cons
limited sizing and not suitable for smaller breeds
K9 Ballistics Tough Dog Crate Pad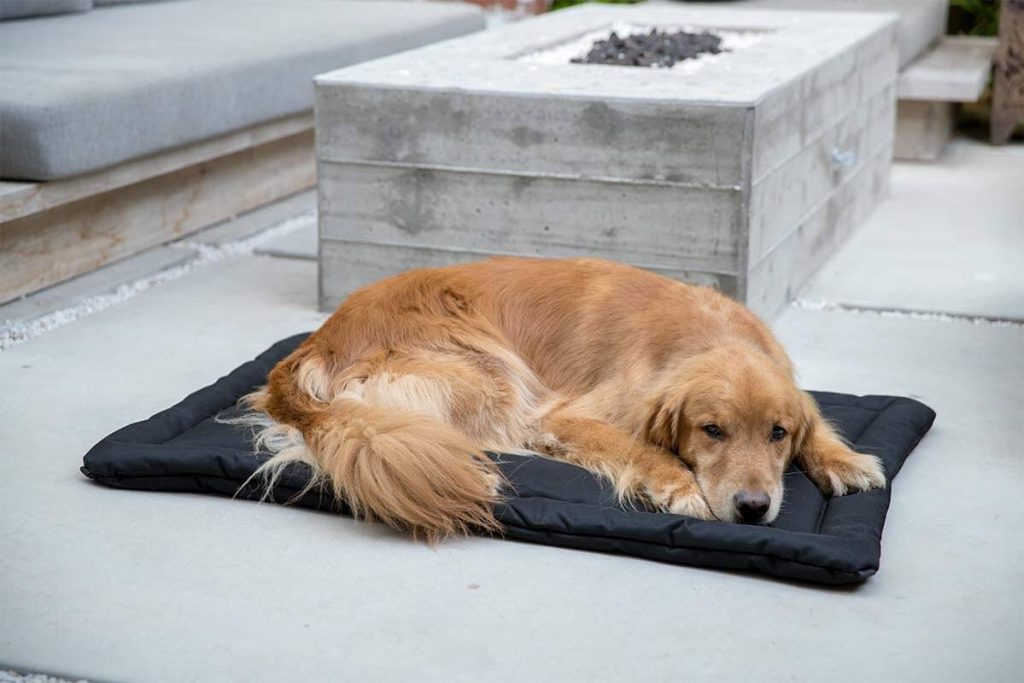 Details and Summary
This pad is meant for adult dogs who sleep in a crate, or puppies in the process of being crate trained. Additionally, it's waterproof, serving as a great bed for puppies who are learning early potty training skills.
However, the K9 bed also provides a lot of variety in terms of sizing — you can even choose from 'toy' sizes for your teacup pooch. They even offer a chew proof armored pad for, especially persistent chewers. Check price here.
Pros
you can tie it down for extra security
the thick fibers resist dirt, hair, grime, and odors
Cons
quite thin as this is just a pad/crate liner
A Final Note
In conclusion, we highly recommend these options if you're tired of your dog tearing his bed to shreds. Keep in mind, if your dog refuses to quit chewing, they may be bored or anxious while you're out of the house. To help keep him entertained, make sure to leave behind some of his favorite toys and treats until you get back. However, a durable dog bed is a must, and we are sure you'll find the best one for you and your pup on this list.