Like many people, you probably head off to work on a daily basis, and you leave your pets behind at home.
We miss our pets when we are not with them during the day, and sometimes, it can even be problematic when they are left on their own. How many times have pet owners come home to severe issues, such as a couch being torn apart by a dog that was missing their owner?
This is not only a problem that causes us financial woes; it can be harmful to the dog as well. Petchatz HD takes care of this problem with a feature called Pawcall. ​We think this is the most exciting development in pet cameras.
​Let's dive right in…​
​The Petchatz HD with Pawcall is a small device that is mounted on the wall, and you can mount it close to the outlet so that there aren't any exposed wires. It is more than simply a small box that gets the attention of your pet. However, it is a two-way device that allows you to see your dog or cat and allows them to see you as well. The only things you need to operate this unique item is an Internet connection and a computer or smartphone. All you have to do is log in, and before you know it, you will be having a perfect conversation with your pet, just as if you were right there with them.
Review And Rating
​The PetChatz the best option for keeping track of your dog or cat while you are not at home. Rather than having to put them in a crate and keep them confined during the day, you can simply let them know that you are checking in from time to time and keeping an eye on them.
The PetChatz box is highly durable, and that can be beneficial if you have a pet that tends to paw at the box aggressively. It can stand up to a lot of abuse from the animal, so there is no need for you to protect it further.
If you're looking for a solution to monitor your pet while you are away from home during the day or at night, this is the ideal solution. Although it would be best if we were there and to give them a scratch behind the ears, this is the next best thing.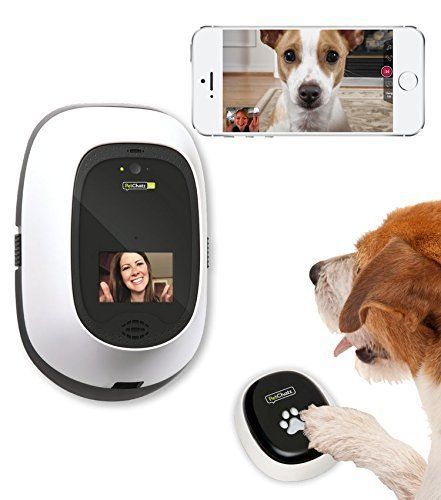 Full Breakdown Of The Petchatz HD Features
​Petchatz HD with pawcall has ​more features for interacting with your pet than any other device. We have listed them all below.
Full HD Video
​Perhaps the most beneficial feature is the high definition video available through this device. It allows you to see your pet. In fact, you can even watch them coming up to the device and sit in front of it while you speak to them. It's the next best thing to being there.
​Treats
​This is a fascinating option, and it is perhaps something that makes a difference in how much people love this product. From a remote location, you can signal the box to release a treat for your pet. These can either be treats that are provided by Petchatz, or you can buy your own.
​App
​You can access the application from your browser, or you can download the app for your Apple smartphone. They are working on an app for android now.
​Pawcall For Full 2-Way Video Calling
You can train your pet to call you by pressing a button on the PetChatz box. If they get lonely during the day and want to see you, it's just a matter of them coming over and letting you know.
​Motion/Sound Detector​ For Alerts Of Unusual Activity
​One of the unique features is that you are notified when any strange sounds or movement is detected near the box. Not only is this good for your pet, but it's also a fantastic security option as well.
​Calming Scentz ​To Help A Stressed Animal
​Is your pet a little nervous and anxious while you're away? You can signal the box to release some aromatherapy to calm your pet's nerves.
See It In Action
Have you used the Petchatz HD? We'd love to hear how you like it in the comments below.