If you are a dog owner, you know how some dogs are completely terrified of a thunderstorm, or fireworks around the Fourth of July. And no matter what you do to attempt to comfort your pet the thing seems to work and they wind up in a corner shaking and whining. Also loud noises such as a car backfiring or even someone knocking at the door system into a frenzy.
How Zencrate Helps Out
Now there is just the remedy for our sensitive and precious canines which comes in a form of a Wi-Fi equipped Zencrate doghouse. Two enterprising Florida residents have come up with the ultimate solution in his brilliant, yet simple doghouse that has all the comforts of home and then some. The Zencrate is full of sensors which determine the proximity of your dog. It also has sensitive anti-vibration feet which stops the negative vibrations of storms and loud noises create for dogs. The Zencrate is designed to be a quiet comforting hideaway so that when things get a little too scary with the noise and all, your dog a retreat and ignore all the commotion.
The Smartest Crate Ever?
Sensors will detect immediately when your dog crawls inside the stylish and sturdy doghouse. And just as soon as your dog settles inside a quiet fan start up and give your dog a nice cooling breeze. Simultaneously the Zencrate starts a playlist that comes out to the built-in speakers with melodic tunes that have been tested to reduce a dog's anxieties.
Temperature control and music are the only tools that are used to calm your dog fears as just the inviting environment of the creative self is just right for your dog as it will fit into any decor in any home. And if there are times when you have to leave Fido alone at home, you receive a text message when your dog climbs into the crate giving you that satisfaction that he or she is calm, even if the storm is raging outside.
The Zencrate will continue to operate regardless of whether the power is on or off, so there's not a chance that if the storm knocks out the power lines your Zencrate won't be operational. Another concern that pet owners might have is that all this power might be harmful to your dog, but never fear because the voltage is at a safe level and there are no electronic omissions that can harm your dog.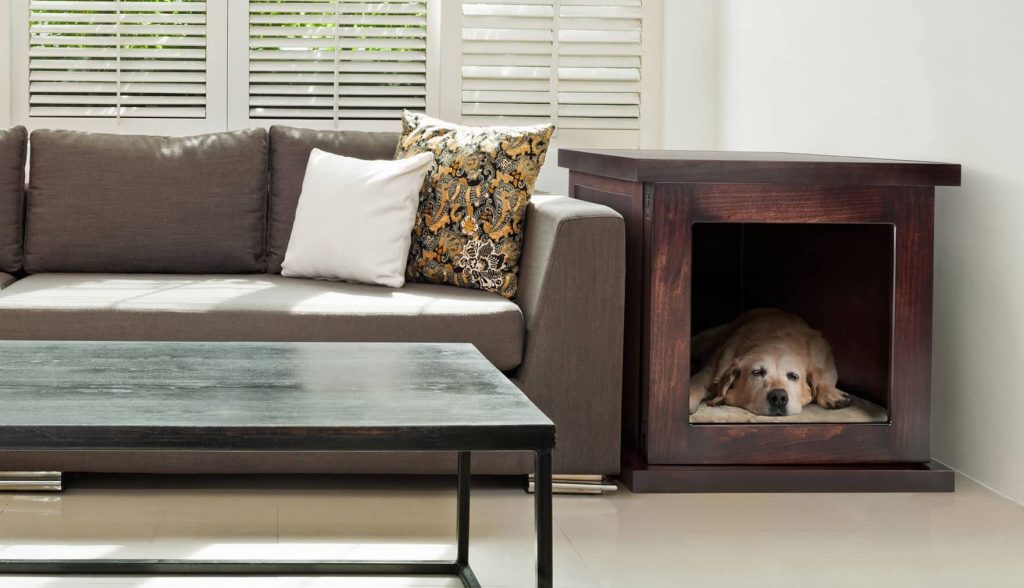 What About The Dog Itself
Dogs are essentially pack animals and they like to go to their "Den" as a matter of course, so the Zencrate concept works very well with dog's natural instincts. Most people find that their dogs just like to hang out inside the Zencrate anyway, because where else can you get Wi-Fi piped in and a nice cool breeze all the same time?
The Zencrate will accommodate dogs up to 90 pounds, which is about the size of the average Labrador retriever. Once your dog finds out about Zen crate he will probably want you to get another one for the other end of the house. After all something this good ought to have two locations.