Anybody who thinks they own a Husky realizes quickly that this is not the case; any self-respecting Husky owns themselves. The dogs just happen to live in your house, rent-free, and steal your food. They sport such intelligence, wit, and wisdom (with a hint of sarcasm), peering out at you from a handsome white coat, it's impossible not to fall in love with these animals instantly.
Their curious, sociable, and mischievous nature is the ultimate in intelligent canine companionship. Finding the best toys for Huskies can be an effective method of channeling their curiosity and stubbornness.
Using effective toys for Huskies can channel their boundless energy into fun, active play, and puzzle-solving to keep them occupied. Given no Husky toys, they may channel their energy into chewing on your sofa. In their defense, they're built for pulling sleds across rough, snowy terrains, so sitting on the couch all day watching re-runs of Oprah is not their preferred lifestyle choice.
What to Look for in a Husky Toy
Huskies are intelligent and independent, and they need toys and activities to reflect this temperament. Here are a few features to look for in Husky toys:
Challenging toys with adaptable levels of difficulty will hold their attention over repetitive use
Durability is crucial in the best toys for Huskies. Typical Huskies will wreck stuff, enjoying nothing more than tearing a new toy apart in the first sitting
Safety is paramount to ensure there are no significant choking hazards
You know your Husky best. All dogs have individual personalities, and there are some toys they will prefer over others.
So, with those guidelines in mind, let's explore the Top 5 Best Toys for Huskies.
Food-based chess—what's not to love about the idea? Your dog doesn't need to be a mastermind for this one, but it's intended for the more patient Husky playmate. The game lets you hide doggie treats under moveable pieces. It has an adjustable skill level to change it up and keep them interested.
After one or two coaching sessions, your pooch should be able to play all by themselves.
Pros
It's ideal for developing fine motor skills and encouraging problem-solving
It's machine washable to clean all the slobber off easily
Cons
It's on the small size for a large Husky and may end up as another chew toy
It doesn't burn a lot of physical energy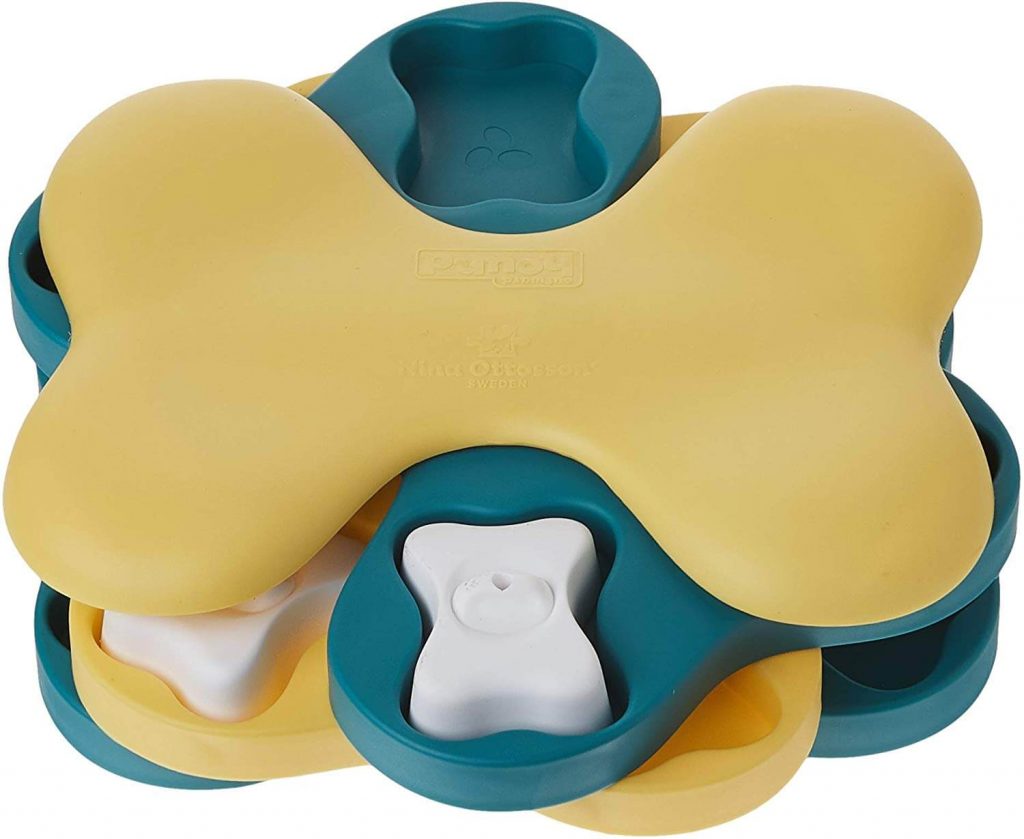 As it sounds, this is an interactive dog "tornado" puzzle. Relax. It doesn't cause as much mess as the name implies.
It is a spinning tower with twelve different treat compartments for hiding tasty (healthy) doggie snacks. Dogs love objects that move on their own, so they'll experience a reasonable degree of entertainment from interacting with this toy to win the treats.
Pros
Engaging and interactive
Lots of treats to be found, so it will hold their attention for a while
Cons
More complicated than other games. Your dog might become frustrated and clamp down on the whole thing to get to the treats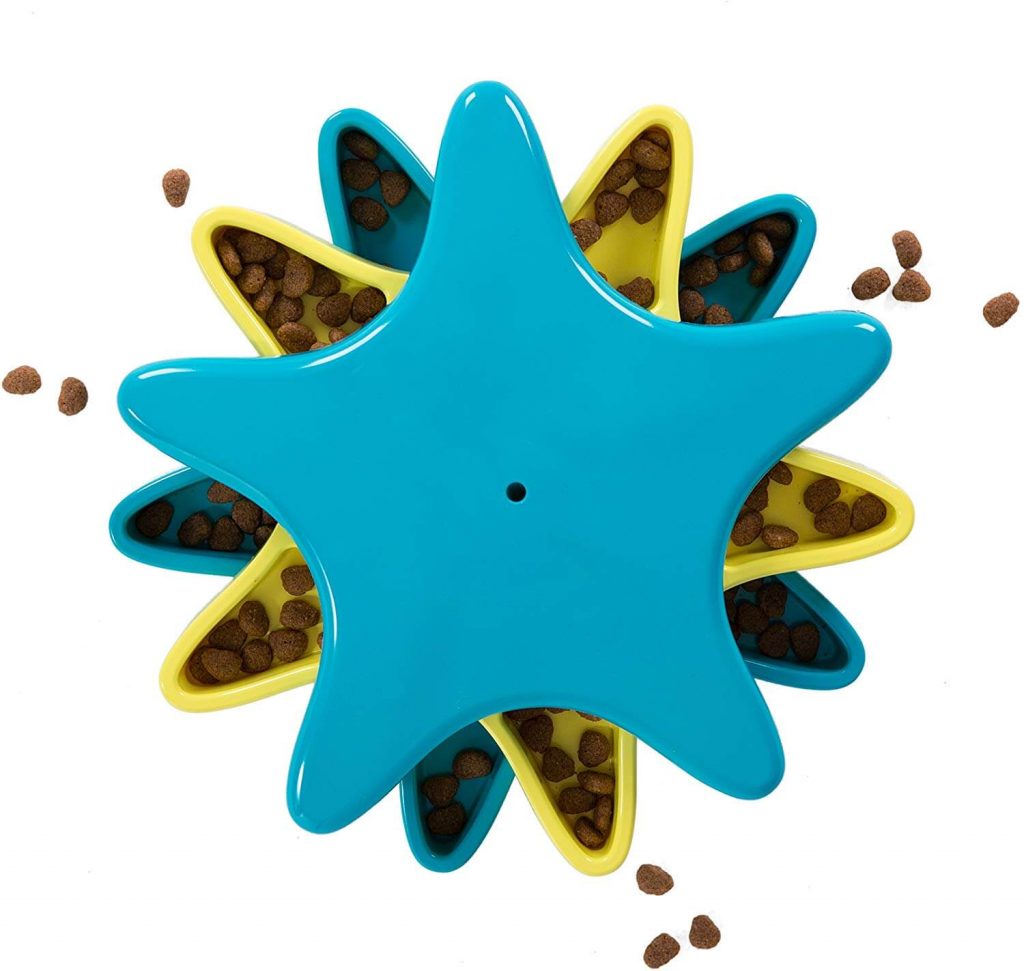 It is another spinning dog toy, but less complicated than others on the market. There are multiple chambers to fill with treats and kibble, so your dog will learn to explore and manipulate the toy for the rewards.
Pros
It is easy to adjust the difficulty levels
BPA, PVC, and phthalate-free
Cons
Great for puppies and early-learners, but it may be too simple for Mensa-level Huskies.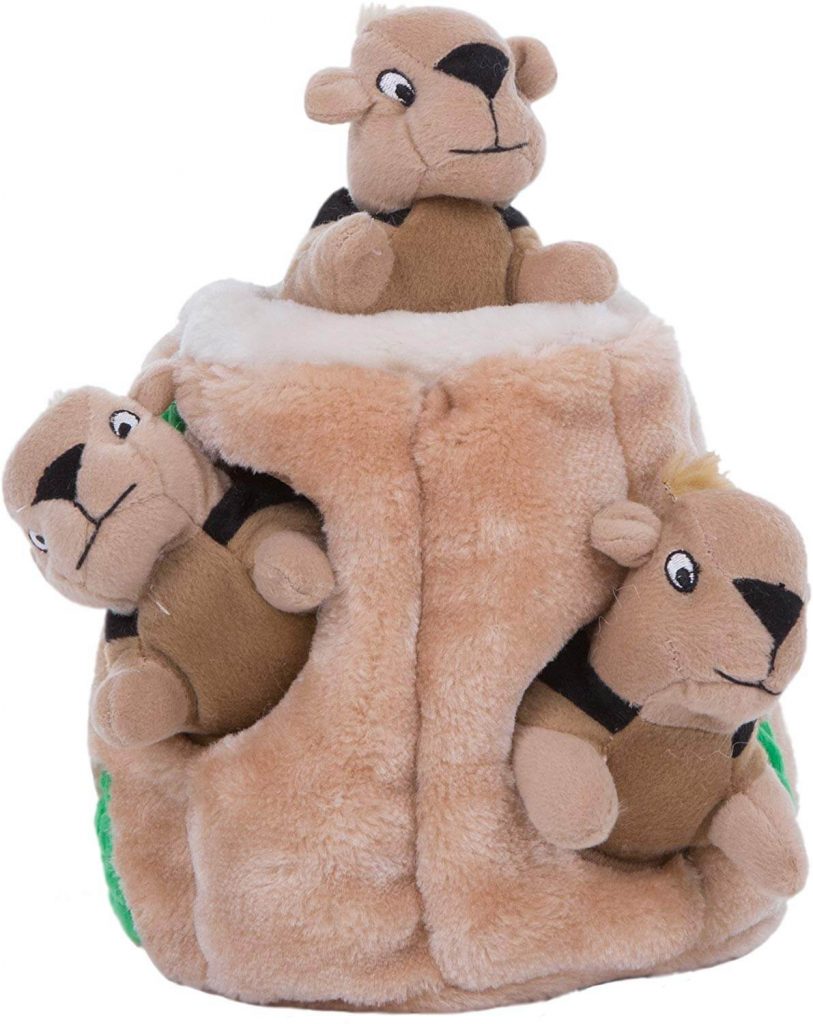 Available in a range of sizes and themes, this cute little hide-and-seek toy consists of six squeaky toy squirrels hiding in a tree trunk. It is durable enough even for Huskies that chew more vigorously. If your dog doesn't like squirrels, he can also choose from birds or hedgehogs.
Pros
An excellent game for physical activity and motor skills
Durable
Available in different sizes to match your pet
Cons
Squeaky toys can become incredibly annoying
The squirrels may become irreversibly covered in slobber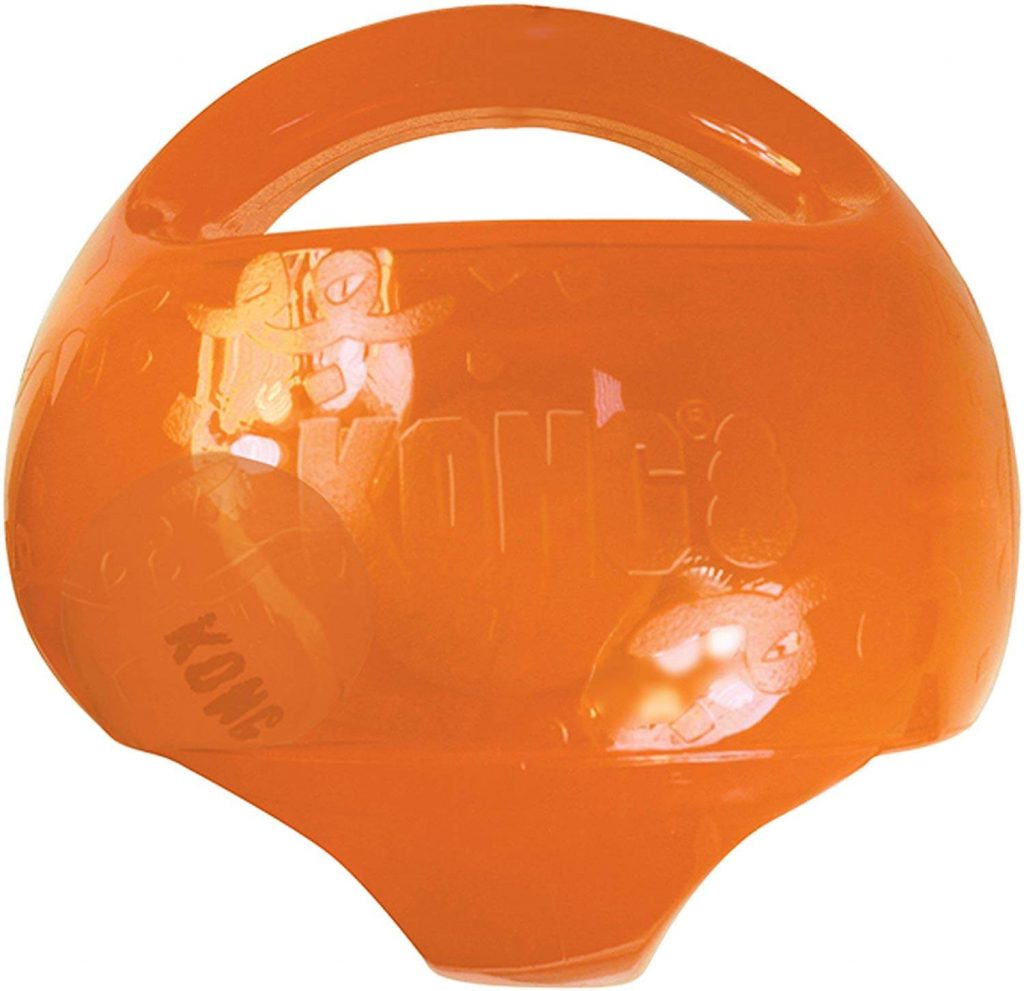 The KONG Jumbler Ball Toy is the old-fashioned dog favorite of a tennis ball, but with a modern twist. The tough rubber toy with a tennis ball inside it suggests that sometimes less is more. It is simple enough to promote a diverse range of activities, from fetch and hide-and-seek to throwing it around for a game of chase, as every dog loves to do.
Pros
Incredibly durable and a simple toy with few parts to break
Available in two sizes, M/L and L/XL, to suit all size jaws
Cons
Little mental stimulation. It's more of a just-for-fun toy, which is important, too.