It's normal for dogs and puppies to chew seemingly everything they see. Chewing is their way of exploring the world around them. There are times, though, when chewing can be a destructive habit, especially when it costs you your new loafers or throw pillows.
Best Dog Muzzles for Chewing
There are a lot of great muzzles on the market. It may be overwhelming scrolling through a catalog and seeing all of the potential options. So, to make your life easier, we have come up with a list of what we think are the five best dog muzzles to prevent chewing.
Mayerzon Dog Muzzle, Basket Breathable Silicone Dog Muzzle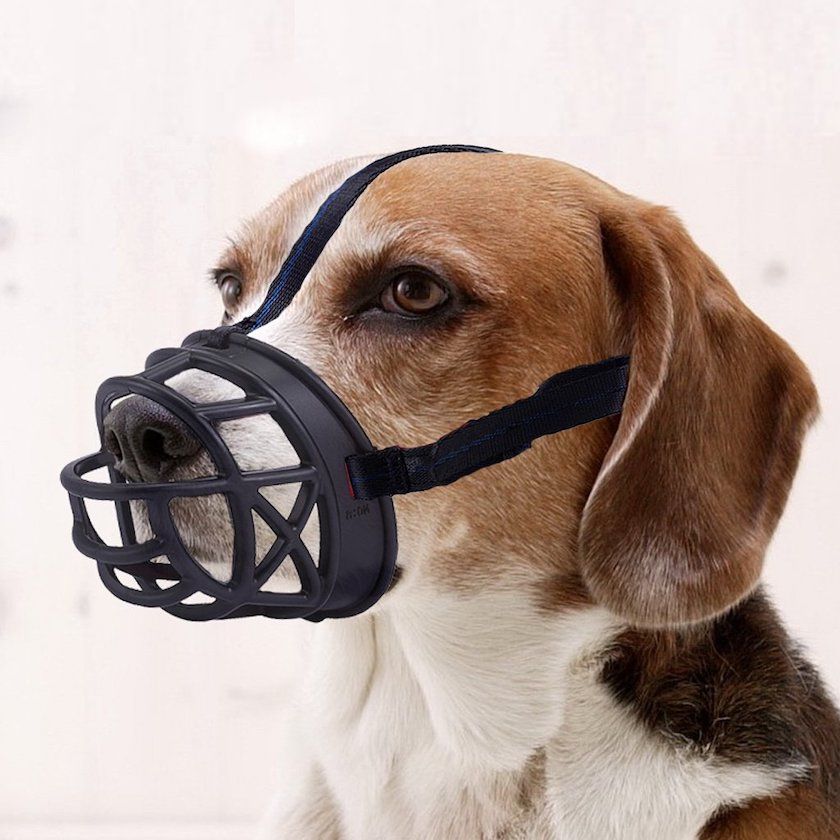 The Mayerzon Dog Muzzle) offers the best of both worlds when it comes to comfort and security. Each one is made of pliable rubber that can be made wider or narrower depending on the size of your dog's snout. The straps are also composed of neoprene padding to make them soft to the touch.
Its balance of flexibility and durability makes this muzzle one of the best available. The basket ensures maximum ventilation so your dog will be able to pant, drink, and even eat treats. There are even strap loops you can thread through your dog's collar to make sure your dog never gets free of the muzzle.
The Mayerzon Dog Muzzle comes in six different sizes ranging from 2.7 inches to 5 inches in circumference. This means you can find the perfect fit for your four-legged friends from Dachshunds to Danes and Mastiffs to Miniature Pinschers. The muzzle even comes with a 12-month warranty and 60-day money back guarantee. Check price here. )
The Company of Animals Baskerville Ultra Muzzle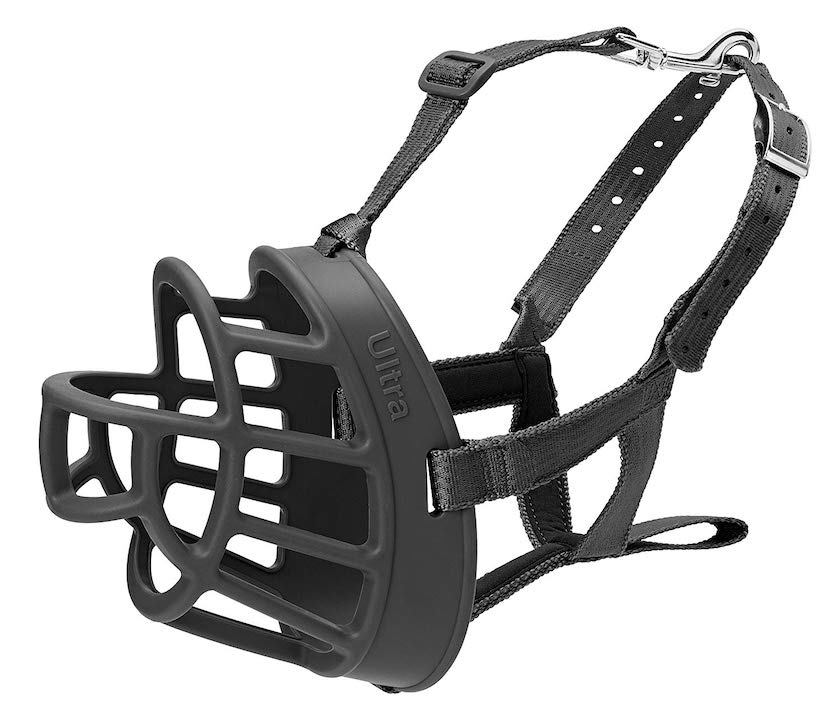 Not only is this one of the most highly rated muzzles, but the Baskerville Ultra Muzzle is also one of the cheapest too. That's because it strikes a perfect balance between durability and safety. The beauty of the balance starts with the shape.
The muzzle has large holes, so your dog has flexibility and comfort to drink, eat, and pant while still being constrained. The large holes are made possible thanks to malleable thermal plastic rubber. Not only does the rubber stand strong against the elements, but also it allows you to heat it and shape it for a personalized fit.
The Baskerville Ultra Muzzle features an ergonomic design with easy-to-use safety straps that offer maximum security. Just connect the two attachments points with the attachment loop, and the muzzle will remain securely in place. And similar to the Mayerzon muzzle, it comes in six different sizes ranging from 2.5 inches to 5 inches in length. Check price here.
Mayerzon Breathable Basket Muzzles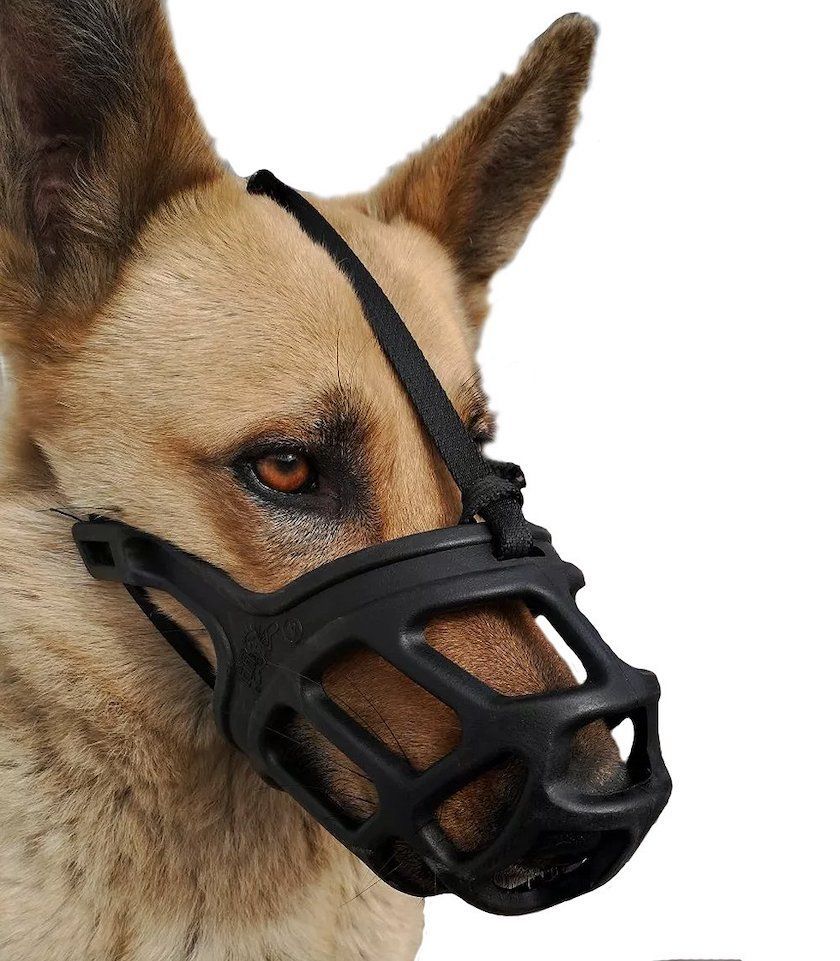 Compared to the first Mayerzon muzzle on this list, the Breathable Basket Muzzle is significantly thicker and more spacious. That's because this muzzle is specifically designed for aggressive dogs. If you own a dachshund, Rottweiler, or German shepherd, take note.
When you think of a quintessential dog muzzle for chewing, this muzzle probably is what you are envisioning. The rubber basket is thick, with enough large holes for your dog to breathe and eat. The nontoxic rubber is reliable in its durability while being soft to the touch.
The Breathable Basket Muzzle also features an adjustable nylon neck strap to ensure a snug fit for your dog. If necessary, you can even adjust the muzzle to be wider or narrower, depending on the size of your dog's snout. Sizes range from 2.75 inches to 4.3 inches in length. Check price here.
Barkless Soft Basket Silicone Muzzle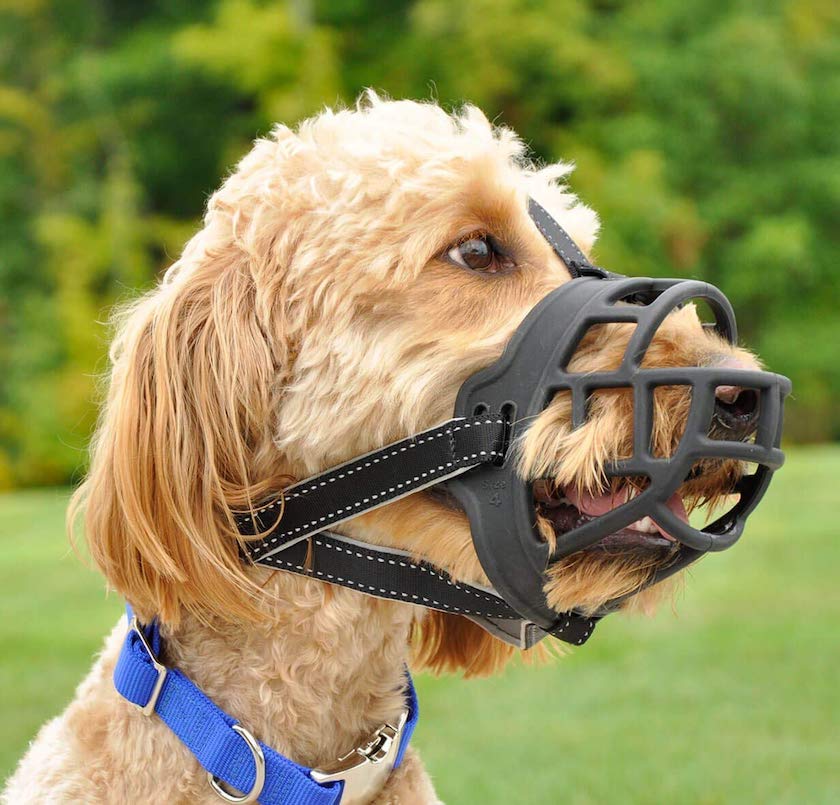 The purpose of a muzzle is to prevent a dog from doing damage to itself, others, or property. That consideration is on full display when it comes to the Soft Basket Silicon Muzzle from Barkless. There is even a quality guarantee to back up the muzzle.
The Soft Basket Silicon Muzzle provides all-around coverage. Thanks to a spacious yet sturdy basket, your dog should not be able to lick wounds, eat garbage, or most important, chew valuable items. There is also a forehead strap and a behind-the-ears strap to ensure that the muzzle always remains in place.
A collar attachment is easily accessible if you consider your dog a risk to slip the muzzle. The padded cotton straps protect your dog's skin with a comfortable consistency. A highly reflective stripe provides for high visibility during the night. Check price here.
Wintchuk Soft Dog Muzzle Cover with Dog Hook & Loop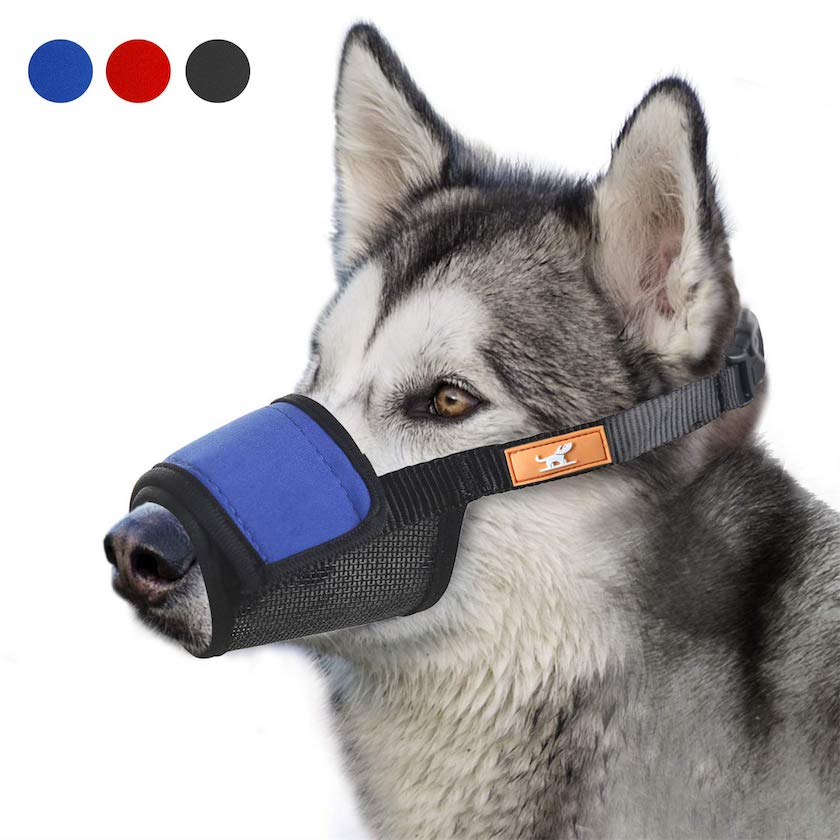 This muzzle is deceptively simple. The Soft Dog Muzzle Cover features a Velcro adjustment, a mesh bottom, and nylon neck strap with a plastic buckle. That's it. The important thing is that it works.
The Velcro adjustment around the snout gives you the ability to attach the muzzle without making it too tight. The breathable mesh material and minimalist design enhance the comfort and breathability of the experience. The muzzle is secured in the back with a buckle, which can be tightened or loosed as needed.
The muzzle comes in five different sizes you can choose to fit the circumference of your dog's snout. If your dog is between two sizes, the larger one is recommended. If you are looking for an easy-to-use muzzle that is a snap to put on and take off, the Soft Dog Muzzle Cover is worth a look. Check price here.
What Are the Causes of Dog Chewing?
There are several ways to correct a destructive chewing habit. These can range from muzzles to larger diets. But before you attempt to solve the issue, it can be helpful to understand why your dog does what it does.
There are many reasons dogs chew on things. Puppies use it as a way to relieve pain from incoming teeth. Older dogs chew to keep their teeth clean and their jaw muscles strong.
Chewing can also be a source of stimulation in other scenarios. Some dogs might chew if they feel separation anxiety. Chewing is a way for them to relieve stress when they are left alone.
If their environment is not stimulating enough, dogs may chew out of boredom. Similarly, dogs that are underfed may chew on objects that smell like food or resemble it. If your dog has a destructive chewing habit, consider the source of the habit. Reducing their stress or adding stimulants to their environment can often eliminate their chewing.
Can a Muzzle Stop a Dog From Chewing?
In the short term, yes. A muzzle serves as a restraint when your dog wants to chew, bark, or bite. It can also prevent chewing in special situations, such as when you need to leave your dog alone in the car.
But an owner should not rely on a muzzle as something more than a useful training tool. Ideally, a muzzle will give you time to figure out the root cause of the chewing habit. Using a muzzle will not change the underlying habits in the same way that eliminating stressors will.
The Bottom Line
There are a lot of possible reasons why your dog may be destructively chewing. A muzzle gives you time to figure out the answers. While it should be seen as a long-term solution, there are plenty of great options available when it comes to tamping down on the chewing habit.