Introduction
Does your dog love to play tug?
But you don't want to spend hours playing and exercising?
Then the Tether Tug might be the solution. It's a dog toy specifically for playing tug. And you don't need to have your arm pulled out. A dog can play with it fully automatically, or you can choose to join.
Durability
This product is billed as being unbreakable, but a lot of people have had problems with broken toys.
In almost every case this was due to matching the wrong size dog with the toy.
We tested the Tether Tug X Large with our 57 lbs Labrador. And he wasn't able to destroy it after 2 weeks of intense tug war.
So it's best to stay on the low end of the weight range when you select your Tether Tug size. But if you do, you are sure to get a durable dog toy. At least as durable as dog toys can get, because pretty much anything can get destroyed.
Sizes
Tether tug comes in 3 different sizes. It's important to choose one that is strong enough. So make sure to get the correct size.
Small: Less than 15lbs
Indoor: Less than 30lbs
Medium: 15-34lbs
Large: 35-59lbs
XL: 60 – 99lbs
Uber: 100+lbs
Installation
Putting this into the ground is as easy as pie.
You will not need any fancy, difficult tools or anything to install this. It is also as easy to remove as it is to put in. This is useful if you need to mow or something else that requires the yard to be free of all obstructions.
Bear in mind that you have to plant this firmly into the ground or your dog will easily pull it out when they are tugging. The base that is included with the product certainly helps this remain in place.
Flexibility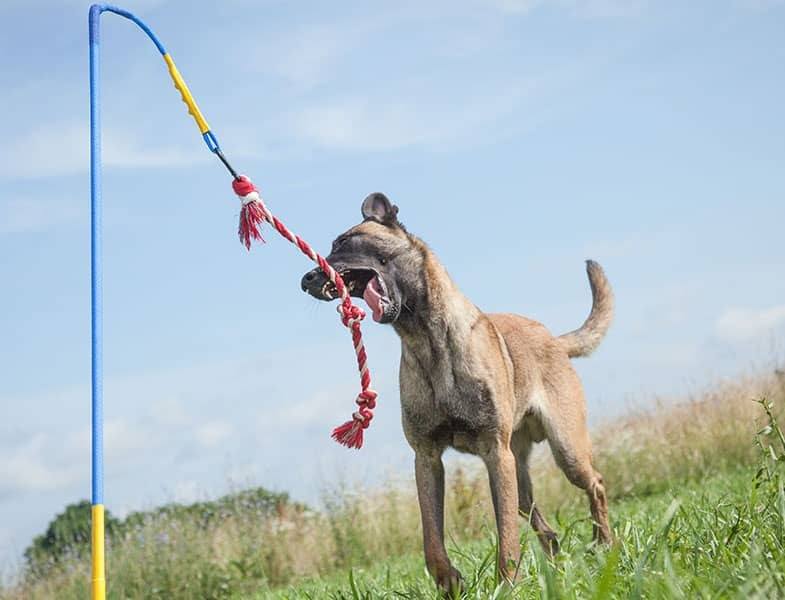 With a product that is deemed extremely durable, you have to wonder how much fun your dog can have when tugging.
This product is so flexible that your dog will be as excited as they are when playing tug with you. The toy can bend, turn and stretch as your dog plays, so they will not get bored because they are stuck in the same position all of the time.
With that said, the pole is made of metal, so that part of the product does not bend.
Videos
Accessories and Parts
As you were told earlier, it is possible to buy more toys when the one that was included in the original purchase is worn out. This is important since your dog will not be too happy using the same damaged toy for too long. Not only can you buy the basic toy, buy there are several types available that will provide even more fun times for your pooch.
For instance, they have one with a tennis ball on end, as well as an option that is fitted with a squeaking toy. The more you change the toys, the more fun your dog will have. They will not get bored from doing the same thing all of the time.
Now that you have a good idea of the pros and cons of this product, it is up to you to decide whether or not this is a great option. At this price point, it is worth it to give it a shot and see how your dog feels about it.