Everybody loves a Frenchie with their distinctive flat faces and snuffling noises. What's not to love? These tiny, loveable dogs are full of personality, bounce, and stubbornness.
French Bulldogs love nothing more than spending time with their humans, and they make sure you know it. Finding the best toys for French Bulldogs can be an excellent way to show your crazy little companion how much you love them.
The love of companionship can leave them prone to loneliness and frustration when they're by themselves. They take their frustration out on your shoes or favorite piece of furniture. Some of the best toys for French Bulldogs alleviate this problem by promoting self-directed play, reducing boredom, and discouraging destructive behavior.
Toys for Frenchies
If you're wondering about the best toys for French Bulldogs, consider how they play and explore your own Frenchie's personality. The unconventional flat face needs consideration when buying French Bulldog chew toys. Toys should interfere as little as possible with their breathing, for example.
1.Busy Buddy Bristle Bone Dog Toy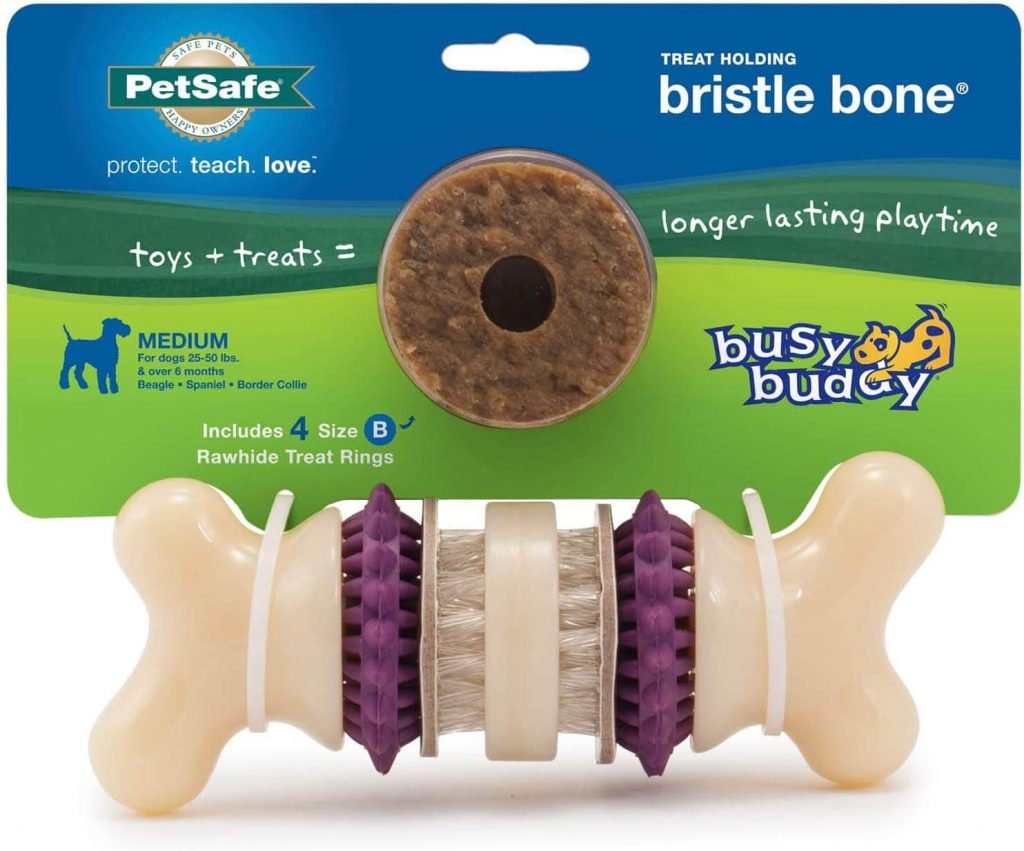 Available from XS to Large, the toy is suitable for dogs of all sizes and perfect for your flat-faced pet. Its distinctive bone shape makes it easier for your Frenchie to get his jaw around it without interfering with breathing.
The nylon bristles and rubber nubs around the middle add texture and interest, stimulating the gums to remove plaque and tartar. Inside the Busy Buddy Bristle toy is a space to hide a natural rawhide treat to help motivate your dog.
Pros
Durable nylon and rubber
Four all-natural rawhide treats included
Bristles and nubs clean plaque and tartar
Four sizes
Cons
Replacement bristles are unavailable and tend to wear down quicker than the rest of the toy
2.Chuckit Ball Breathe Right Fetch Ball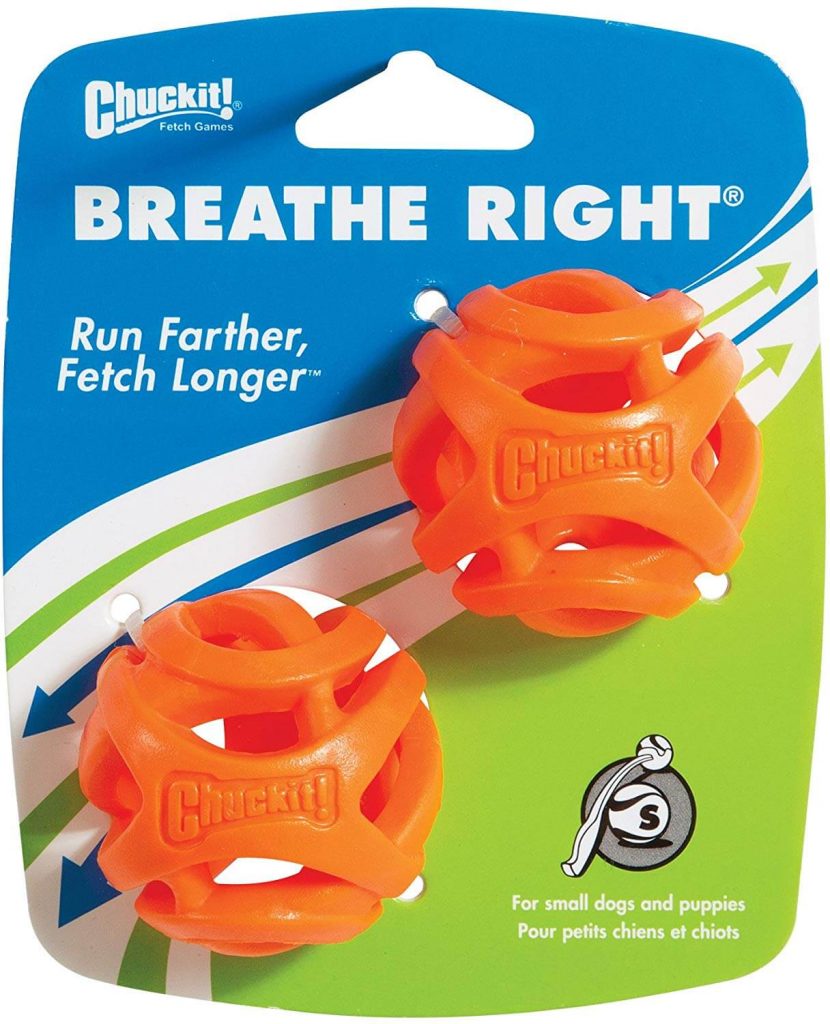 It is designed with Frenchies in mind, and this fun toy is manufactured with a hollow mesh design. It allows continuous airflow and won't interfere with your pet's breathing during playtime.
The ball is lightweight, durable, and suitable to use on land or in water. It means more fun and a tired, happy dog at the end of the day.
Pros
The mesh design allows continuous airflow
Suitable to use on land or in water
Cons
Too lightweight for throwing, but you can offer help and pitch it a few extra yards for them.
Difficult to grasp in water and buoyant
3.KONG Floppy Knots Dog Toy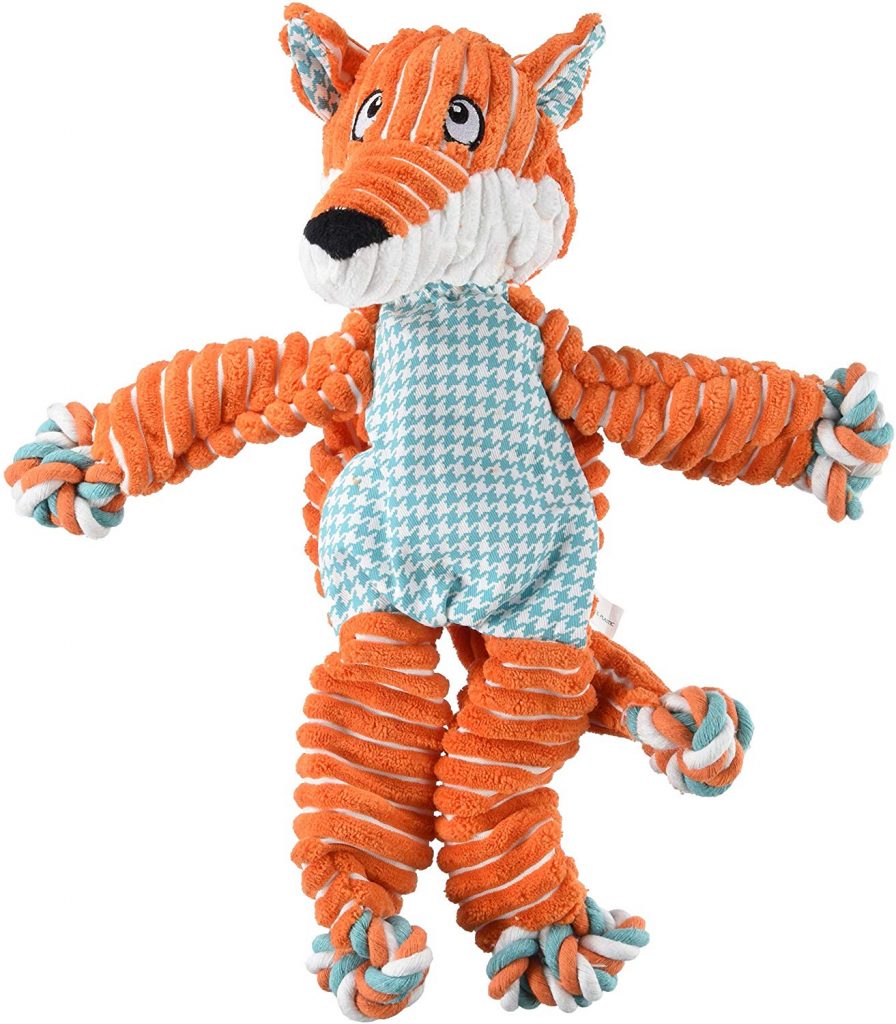 A cute, quirky toy is available as a fox or a bunny, depending on your Frenchie's preferences. Its cheerful colors and textures will be sure to entice your dog away from your shoes, while the squeaker keeps them entertained.
The floppy shape works well for Bulldogs as it doesn't' interfere with breathing. Its internal knotted rope gives it texture and creates extra chewiness. Let your Frenchie take out all his chewing, drooling frustrations on this toy instead of your furniture.
Pros
The floppy design supports breathing
Internal ropes lend a chewy texture
Available as a fox or a bunny
Cons
Not machine washable, so eventually consumed by drool
Squeaker can be annoying for the grown-ups, but your Frenchie will be having fun
4. Cassidy Labs Foxtail Fetch – Foxtail Ball for Dogs

Achieve impressive throwing distances with minimal effort with Cassidy's intelligent design. Engineered with rip-stop nylon and a heavy rubber ball, you can achieve throwing distances of up to 50 yards or more in the park. Your pooch will think you're amazing!
Get your Frenchie out for a run with a long-distance game of fetch. Then, convert it to a game of tug-of-war as they tire themselves out. Go here to check out the Cassidy Labs Foxtail.
Pros
Designed to enable long-distance throws and encourage physical activity
Perfect for tug-of-war
Brightly colored
Cons
Other dogs in the park might want to join in
A clumsy pooch may trip over the nylon attachment when fetching it
5. Jute Tug Toy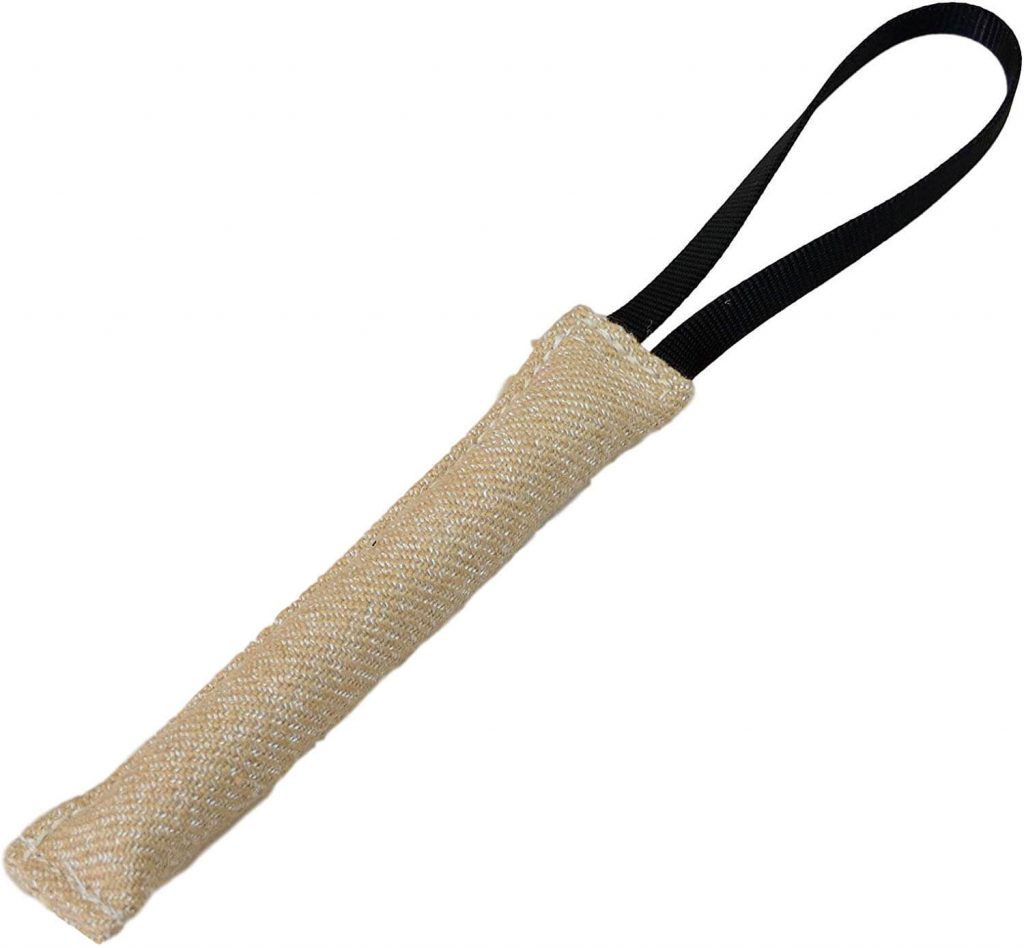 Every Frenchie Bulldog loves a good game of tug-of-war. Invest in the Jute Tug Toy to encourage some great skills in the tugging department.
Constructed with robust Jute with a one-inch nylon handle, it is double-sewn for extra durability. It is also easy to hide in your pocket until playtime, so your pooch will be delighted when he sees his reward.
Thankfully, this toy is easier to clean than an old-fashioned slobbery tug-of-war rope. It's also easier on your grip, with a handle large enough to put your hand through. Designed for human-to-pooch interaction, it fosters activity to build strength in your Frenchie and burn up extra energy.
Pros
Designed specifically for tug-of-war
Good handle for gripping
Strong
Pocket-sized and easy to carry around
Cons
Not suitable as an unsupervised chew toy