More and more dog owners are using smart cameras to stay in touch while they are away. Furbo is one of the options available at the moment.
​The current model is an improved version of last year's. The main improvements are​ a better camera, night vision, and AI.
​We got to try it ​with our dog Kylo. ​​​In this review you will find out:
​How Kylo gets along with Furbo,
​How we trained him to get over his initial fear,
​The pros and cons of this device.
Meet Kylo. This adorable two year old rescue, Border Collie – Lab mutt is the little bundle of joy me and my girlfriend, Hayley, love to spoil.
Kylo brings an immense amount of joy in our lives –a sentiment that dog lovers are certainly no stranger to. Another sentiment dog lovers are no stranger to is the inevitable separation from our pets.
Both my girlfriend and I work full time jobs. Kylo spends most of the day alone in our apartment, idling time away by playing with our cat, Ms Beasley, and lounging in our couch among other activities. We certainly miss him throughout the course of the day and would like to check up on him every so often.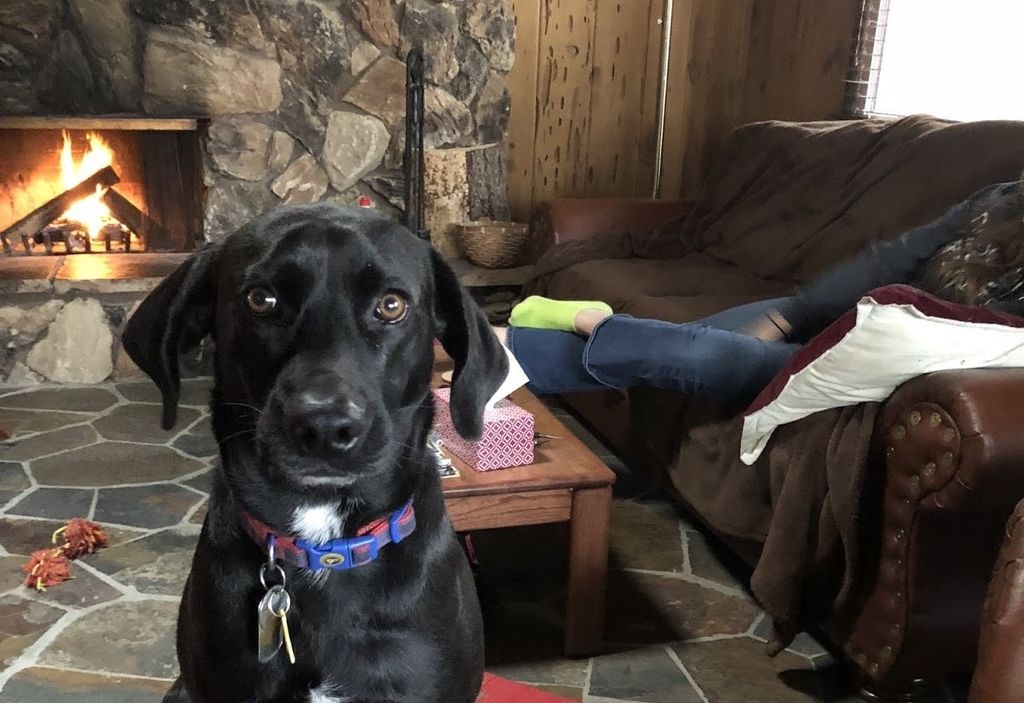 That's when Furbo comes in. I'd like to think of ​it as my instant gateway to interact with Kylo anytime, anywhere.
It is essentially a camera that tosses treats and is equipped with a two-way audio. It is ridiculously easy to use. Plug it in, download the app and it is ready for use. Set up time takes as long as you reading the paragraph above.
My girlfriend and I share a Furbo account and we both have the app downloaded in our smart phones. Through the app, we are able to activate the camera to see what Kylo is up to.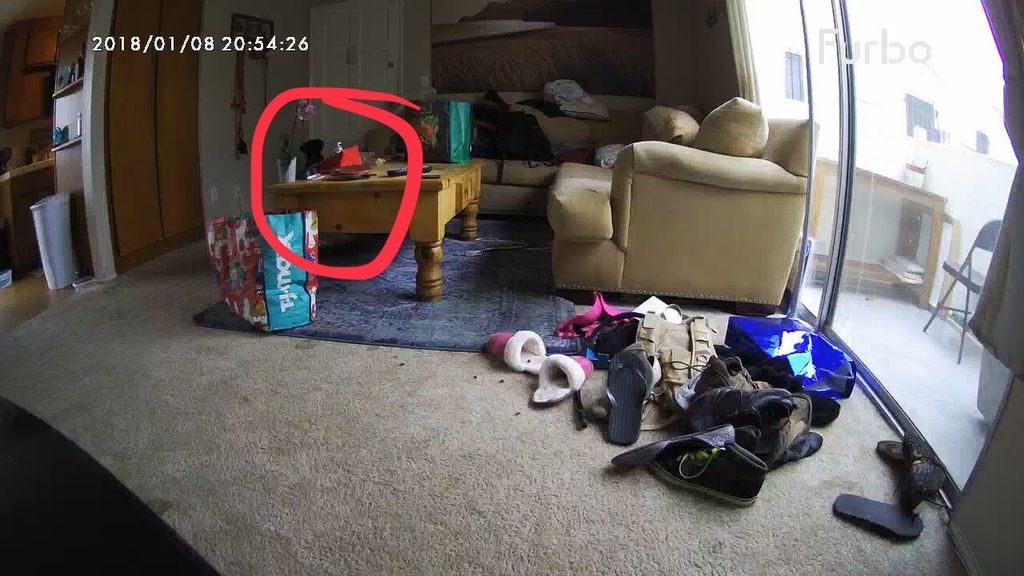 Introducing The Furbo Dog Camera To Kylo
​As you can imagine, Furbo was not an instant hit with Kylo. The first few times I used ​the dog camera to call to my pup, he lovingly made his way to the door…
He would patiently wait by the door despite my calls. That evening, I made it a point to really train Kylo to associate ​the dog camera with my voice and tasty treats.
The biggest threshold for him seemed to be the whirring noise ​from the treat dispenser. Kylo was initially scared of th​at noise.
After a combination of training sessions with us throwing treats beside the the device and using the remote feature through our smart phones, Kylo began to really trust Furbo and recognize our voice through the device. Within a week, he would ​come running upon hearing our voice.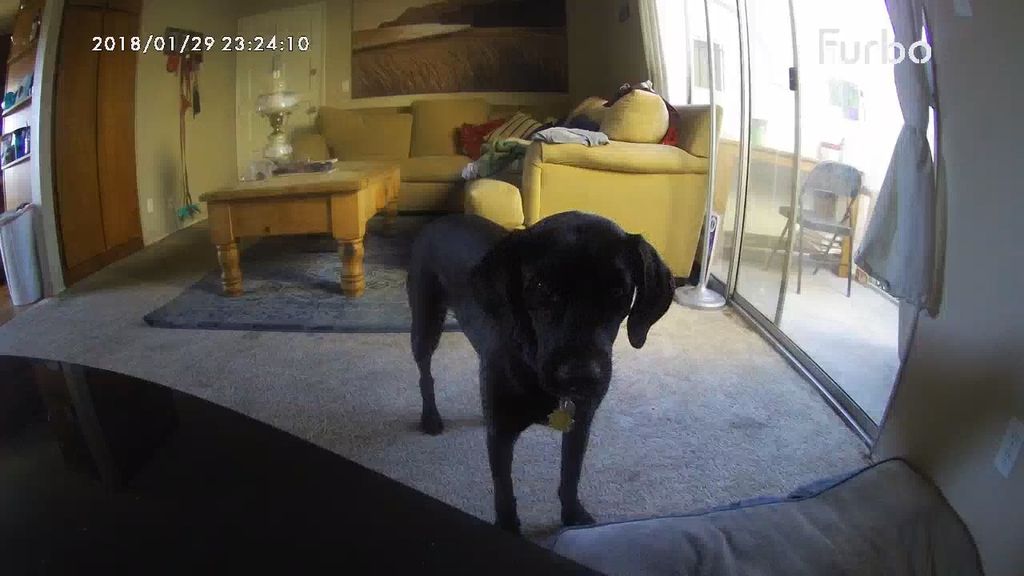 My girlfriend and I both have hectic jobs so we can only ​check in twice a day at most. Unless he is napping, the familiar sound of his dog collar tags ringing would follow my call. Kylo loves his Furbo dog camera!
There is actually an option to record a short audio clip prior to tossing treats to your pup. We elected not to use this option and just default to Furbo's beep prior to tossing treats. Why? Just not our style.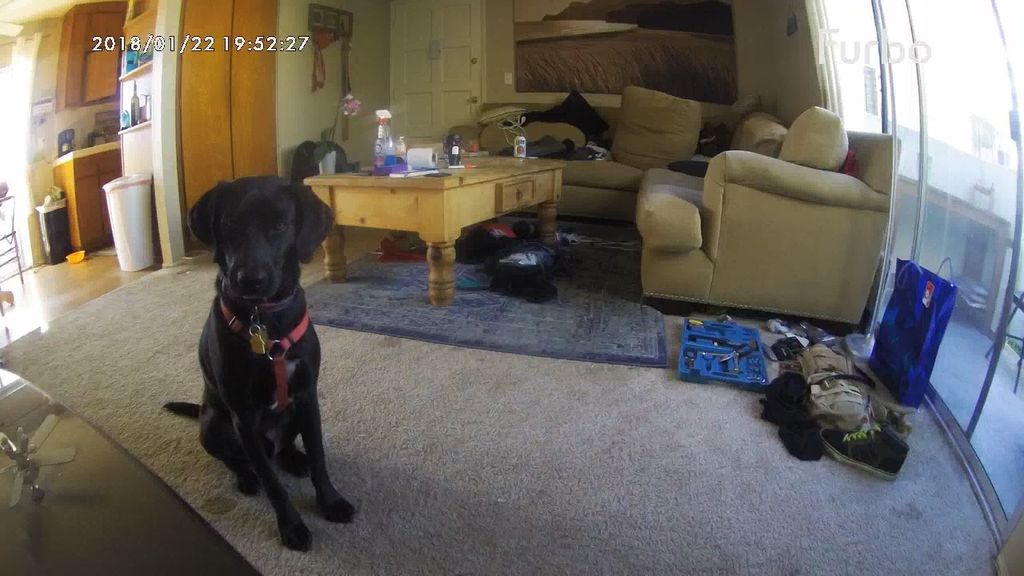 He even learned to follow the command "sit" before receiving tasty treats from us! As you can see, that adorable look of curiosity with the head tilt was directed at Furbo's crisp camera.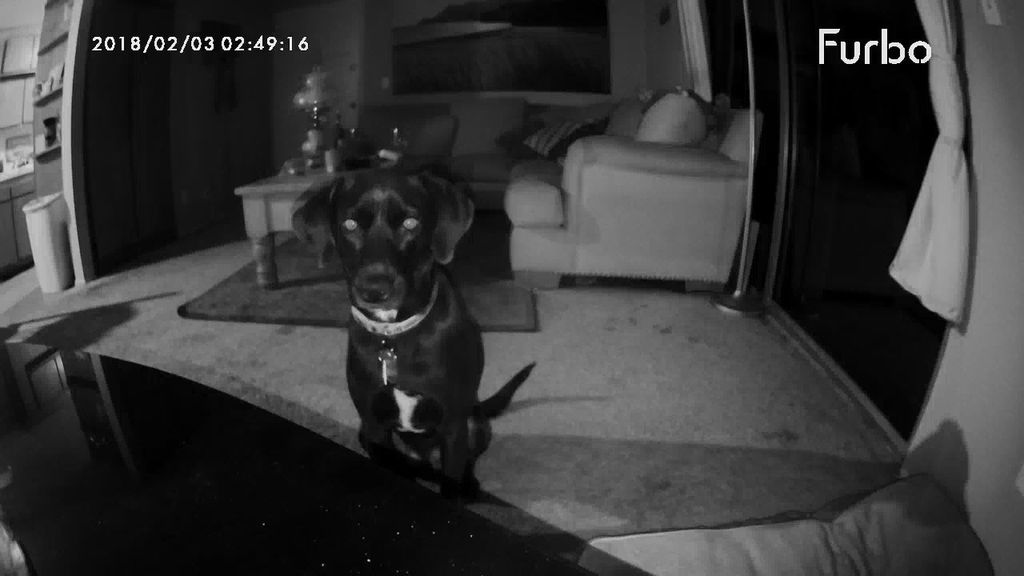 ​​Furbo's camera lends itself well to darker conditions. Kylo was quick to follow the sound of our voices and ​come over… standing by for a treat like a good boy!
​​​Bark And Intruder Alert
​Furbo dog camera also has some passive features that sends you notifications when it detects movement from your dog, barking, or if it spots a person through its camera.
Now Kylo is not a barker so we grew suspicious with the frequency of barking alerts. As it turns out, Furbo is not that great in discriminating barking noises from other noises. A simple sneeze or a cough can be interpreted as barking. I'd be curious to know how ​it works with dogs that are consistent barkers.
At any rate, this notification is easily silenced with a simple swipe. Where it fails in identifying sounds, ​it makes up for ​with it's camera ID technology. ​The dog camera effectively alerts you when it spots movement from a person or your dog.
Whenever your dog is getting active, Furbo sends you an alert so you can play with your furball. We have certainly used ​it to communicate with Kylo throughout the course of a day. Also, Furbo's camera is consistently adept in identifying when a person is within sight. This incidental security benefit can come in handy as well.
CONCLUSION
​All in all, we have had Furbo for four months now and we love it! For us, it breaks the monotony of a work day and allows us to somehow interact with our beloved Kylo. It keeps him engaged throughout the day through random little bits of play and treats. The past two decades have seen some tremendous breakthroughs in communication and has made our world a smaller, more interconnected place. Furbo brings that technology to life in our interaction with our pets –both us and Kylo are certainly happy to be a part of it!
But let's be realistic. No amount of technology beats just having your pet snuggle on you after a long day of separation…