Teething can be as challenging for puppies as for their owners. Items from kitchen placemats and remote controls to your favorite pair of hiking boots can become collateral damage. Finding the best toy for Lab puppy teething can stop destructive habits from forming.
There's no doubt that Lab puppies are full of boundless energy and mischief. The best toys for Lab puppies can turn chewing into a positive experience with hours of fun and bonding. The toys are not a substitute for time and active play spent with their humans, but they can protect your shoes and kitchen-wear from slobbery destruction when you need to leave your puppy alone for a while.
Types of Toys
Puppies love activity and the chance to play fetch or tug-of-war. They thrive on a variety of activities, and you'll need to keep changing the approach to keep them interested. Squeaky toys, chewing pieces, and anything they can clamp down on will keep them happy and out of mischief.
Here are the Seven Best Toys for Lab Puppies: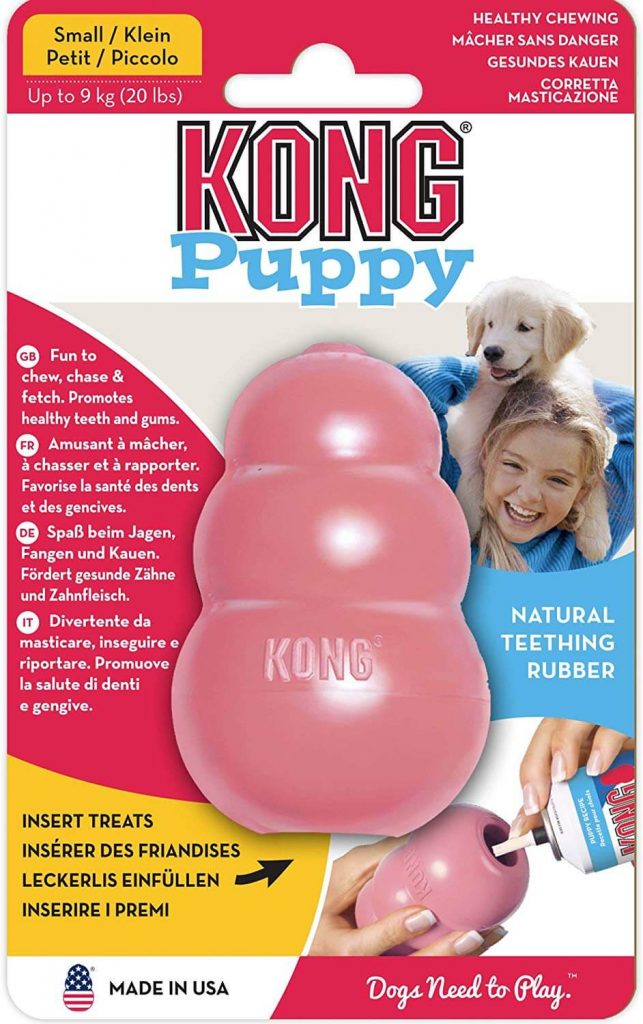 KONG is an excellent way to teach appropriate chewing behavior without building negative associations. Chewing is a natural behavior and an important part of your puppy's development. The KONG is one of the best toys for Lab puppies to prove that chewing can be a fun and positive experience.
It has an all-natural rubber formula, gentle on your puppy's growing teeth. Stuff the KONG with peanut butter, kibble, or whatever your puppy finds tasty, and they'll play with it for hours
Pros
Designed for soothing gums
Made in the USA from globally sourced materials
Promotes long-lasting, independent play
Full of bounce
Available in a variety of colors
Cons
Unsuitable for puppies over nine months old
It is difficult to wash out peanut butter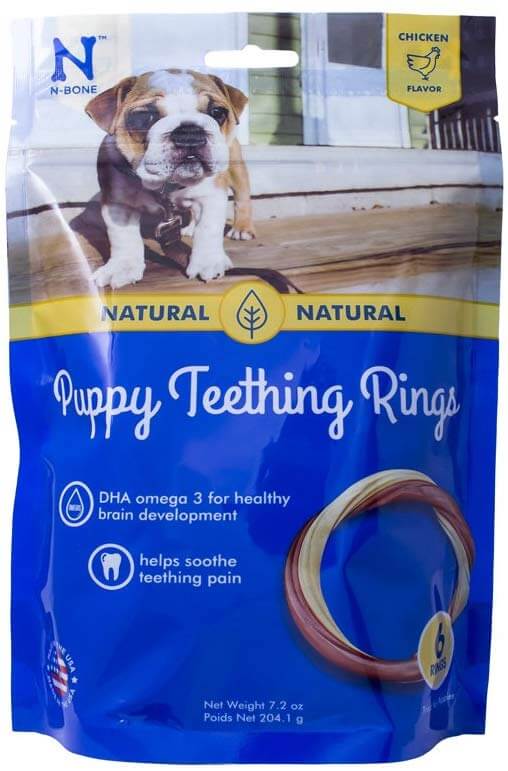 Chicken-flavored teething rings are awesome treats for your furry baby. The shape suits puppies that are learning to chew, and it's made from a fully digestible formula so that you won't need to worry about the accidental ingestion of plastic.
Fortified with calcium to support healthy bone growth, it's a toy and a nutritious snack in one.
Pros
Made in the USA
Excludes corn, wheat, and soy
Fortified with DHA and fatty acids to promote brain, skin, and coat health
Free from any plastic, nylon, and rubber
Fully digestible
Cons
Becomes sticky when stored too long
Only lasts an hour or two (not as long as some other chew treats)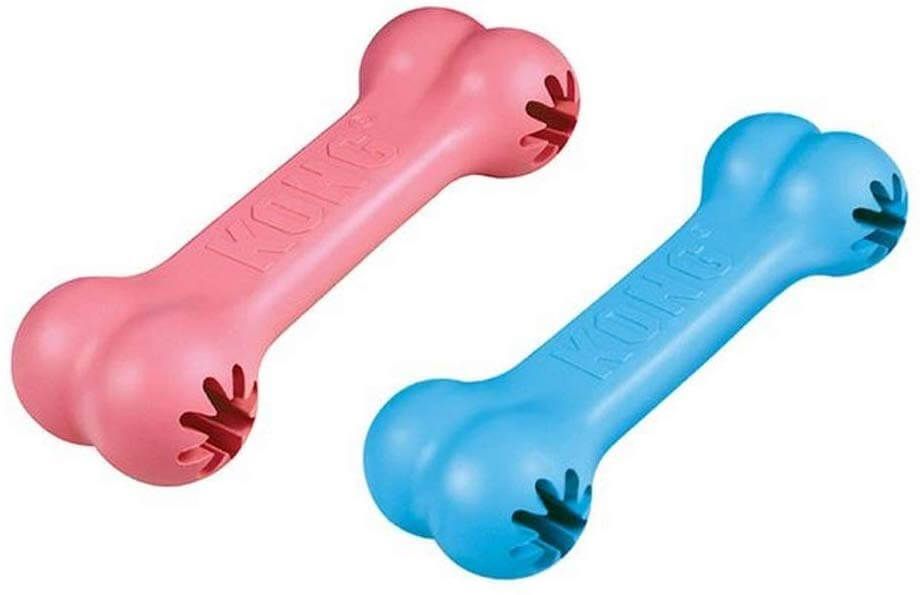 Back to KONG for another of the best toys for Lab puppies. The bone dog toy goes one step further, offering an element of interactive play by filling the Goodie Grippers with puppy snacks. It promotes mental stimulation while your puppy plays, enhancing intellectual development.
Pros
Available in blue or pink
Designed for puppies
Interactive play for mental stimulation
Available in different sizes
Cons
Unsuitable for dogs over nine months
Difficult to find treats to fit
Sizing is important as larger dogs will chew through it quickly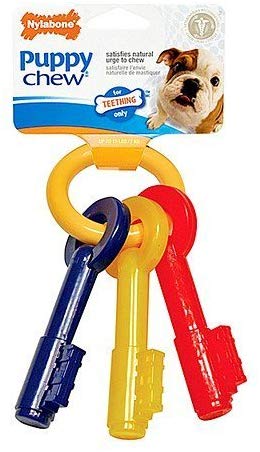 Manufactured from a soft, thermoplastic polymer, it is designed to be safe for teething puppies. Recommended by vets, the raised bristles stimulate the mouth. This toy can clean your puppy's teeth, reduce plaque and tartar, and freshen their breath while they play.
Pros
Clever ridges and nubs help to clean teeth and promote proper oral hygiene
Vet-recommended
Brightly colored
Cons
Not designed for powerful chewers (only puppies with no permanent teeth)
The plastic teeth on the keys wear down faster, so you'll need to look out for damage.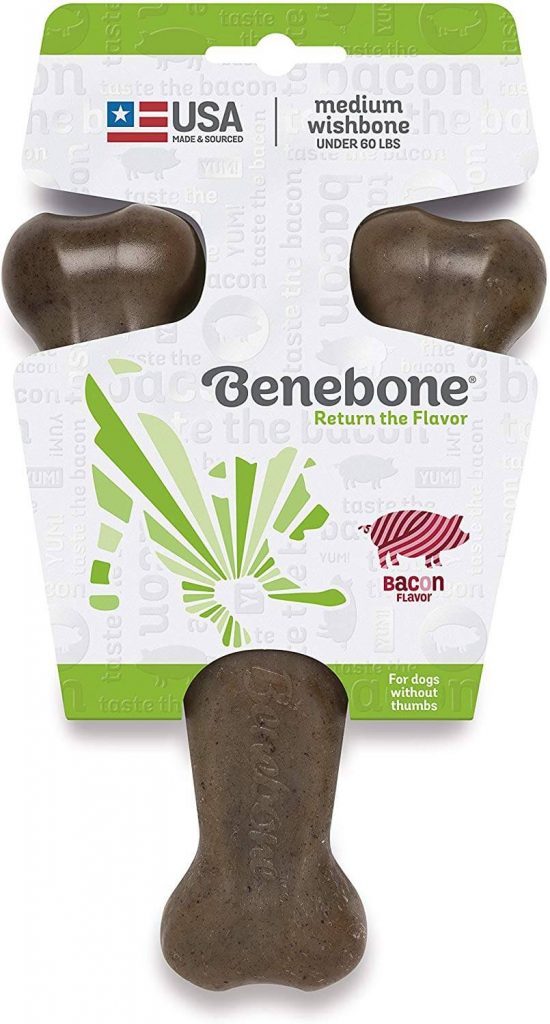 The product has the edge—it is made using real bacon, combined with super strong nylon. Deep grooves and texturing allow your puppy a powerful grip and a chance to sink their teeth into a bacon-flavored toy. It is one of the best toys for Lab puppies that combines real food flavors with extra chewiness.
Purchases of this toy also support animal welfare nationwide. The toy is not mean to be eaten, though, and is not designed for dogs over seventy pounds.
Pros
Real bacon
Deep grooves for a firm grip
No artificial flavors
Cons
Unsuitable for larger dogs or aggressive chewers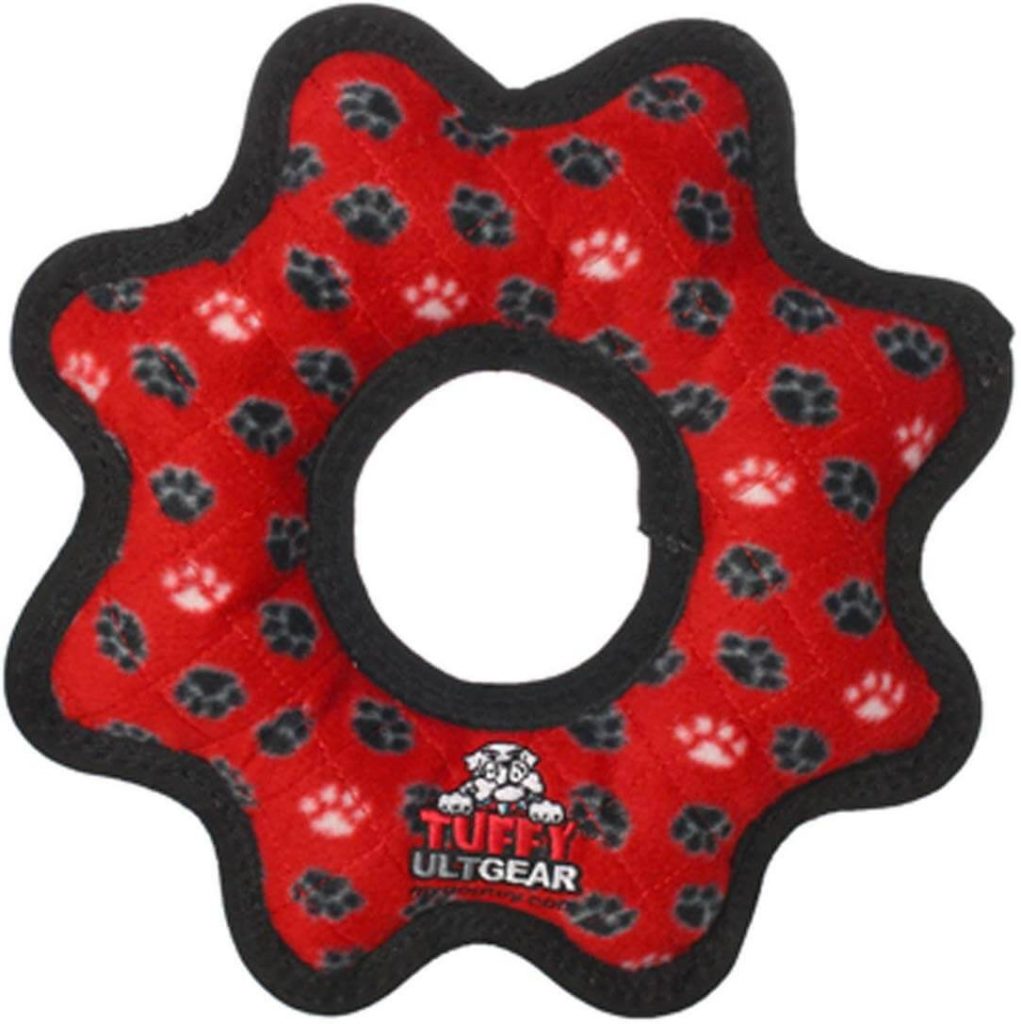 It is a fun and colorful toy with four squeakers designed for puppies. It feels heavy in hand, an excellent tool for tossing and playing fetch. The toy is water-resistant and floats, too, so it doesn't get lost in the bath or the pond.
It's available in a variety of fantastic colors, including Red Paws, Camo Blue, Pink Leopard, and Yellow Bones.
Pros
Multiple layers for extra durability
Squeakers are sewn into an inner safety pocket for an added layer of security
Floats
Machine washable
Soft edges are gentle on the puppy's gums
Cons
Doesn't stand up to aggressive chewers who rip out the stuffing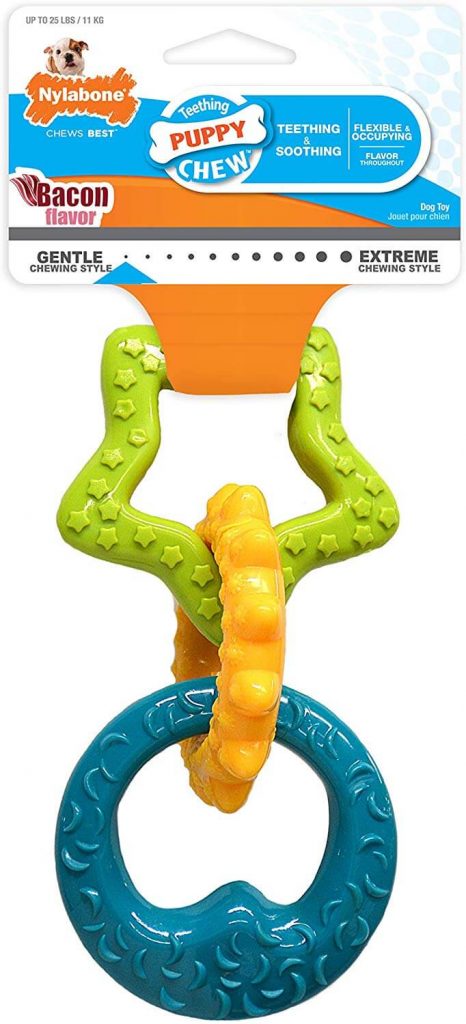 Help your puppy soothe their teething pain while engaging in a gentle game of tug-of-war. Nylabone teething rings promote oral hygiene and encourage positive chewing habits. The bright colors and different textures keep puppies engaged while the chewing activity soothes their teething pain.
Pros
Bright colors and different textures
Vet-recommended
Promotes oral care
Cons
The ring can be too hard for tiny puppies