A sleek and compact pet camera ​that ​is controlled by your smartphone. The 1080P camera records ​crisp video and photos. Setup is straightforward and takes less than 5 minutes. ​Laser is fun but control takes some getting used to. Cloud service is useful but expensive.
​Welcome to our review of the Petcube Play. ​You might have heard of the original Petcube Camera. ​
The concept is: a cube with camera, 2-way audio, and laser. ​It's designed to connect people with their home-bound pets through a smartphone app.
Let's find out what it's all about.
​The Look And Feel
​It's easy to see that how the design of the Petcube Play is based on the original Camera. And that is a good thing.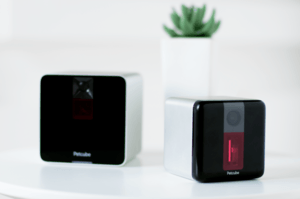 ​It's a little cube made of aluminum with a black front. The black front houses the camera and laser, the back a power connector The cube measures 3″ x 3″ x 3″ and weighs just 2,5 ounces. ​It requires very little space on a table or shelf.
​For a clear view and good laser performance, place it between 3 and 6 feet high.
​​The bottom the Petcube Play ​has a connection for a tripod. ​We liked to use a Gorilla Pod, for secure placement in almost any location.
​Setting It Up
Setup was fast and easy, even though we are not the most "tech savy" people.​In less than 5 minutes we had it connected to our Wifi. ​After that we could adjust it to our preferences with the app.
​Video Quality
​Petcube Play has a much better camera than the earlier version. With a resolution of 1080P and strong night vision, you get a clear image of your pet and room in all conditions.The infrared LED that creates the night vision is very bright and can easily light up a ​large room in the pitch black.Animals don't care about the infrared light, so you can spy on your cat or dog in all conditions.
​The camera is ​the best of current pet cameras, together with the Petchatz HD. But that that costs almost twice as much. ​Tip: If you are looking for a pet camera, always ​get one with night vision. ​It's frustrating when you can't use it anytime it's a bit darker.
Sound Quality
​Petcube Play ​comes with a microphone and loudspeaker.
With these you can clearly hear a dog bark or yelp and a cat meow. The speaker is loud enough to ​correct a naughty pet ​and interrupt their mischief.
​Tip: ​We liked connecting headphones to our phone. It's easier to hear when in a loud environment.
Smartphone App and interface
​​The app is a crucial part of using this device. So you want to make sure it's easy to use, stable, and can be modified to your needs.
The Petcube was first introduced in 2014. In the beginning it certainly had some bugs. Over the years, all the user feedback has led to a stable and intuitive app.
​All the main functions (camera, screenshots, audio, laser, and alerts) are easy to control. The app never crashed and the connection is very stable.
​Petcube has a very interesting feature: Your account allows you to access public cameras. Most of these are running inside animal shelter, and you can use them to pick out a new adoption pet. Thousands of people have used this feature to follow a cat or dog before adoption. ​It's better for the environment than driving around, plus you get to play with as many dogs or cats as you want. The app can connect with Facebook and Youtube and let's you make live broadcasts of your dog. Now this might not be for everyone. ​But it's a great way to make your dog famous.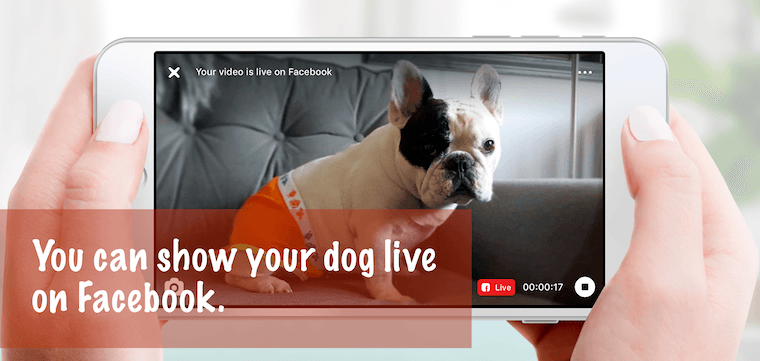 ​People have already used this feature to create ​viral videos. Dog's respond differently to the Petcube than when you are physically there. ​The result can be very funny on video.
​The current system is limited to one device per app. If you'd like to have multiple cameras set throughout your house, this is a problem. It might be added soon, as other people have been mentioning this in fora and social media. But currently, it's not possible.
The Laser Pointer
​The laser pointer is what set the original Petcube apart, and has been copied a lot.For us, this is still our favorite feature!
​It works by just tapping the smartphone screen and moving a finger across it. We had a lot of fun with this during our commutes and work-breaks. (And also outside of the breaks:)The laser has a little bit of a lag behind the video image. It is noticeable but doesn't interfere with the game at all. Currently, all pet cameras with laser pointer have at least some lag. There are simply too many connections between the smartphone and the device.The responsiveness of the Petcube Play is the quickest of any we have seen so far.
​Petcube's Cloud Storage Service
​Petcube offers a cloud storage service to store the streamed video from any of their cameras.By recording all day, you can always go back and see what happened. Or play an accelerated video in the evening to check for any problems your pet might have.For $10 per month, they store ten full days of video. Then it's always possible to look back ten days in time.Another feature that can help to keep track of things is the alerts and auto-recording. There are three modes to respond to activity near the camera:
Record clip and send notification
Record clip and don't send notification
Don't record clips or send notification
Note: We don't really like how Petcube positions their Cloud service. At $10 per month it's not cheap. Yet, some features of the Petcube Play can only be used when you have the service.
Petcube Play Conclusion
​A sleek and compact pet camera ​that ​is controlled by your smartphone. The 1080P camera records ​crisp video and photos. Setup is straightforward and takes less than 5 minutes. ​Laser is fun but control takes some getting used to. Cloud service is useful but expensive.
The Good Stuff
​Crisp and High quality camera
​Responsive laser
​Small and easy to place
​Fast setup
​Stable and reliable app
​Lots of social sharing functions
The ​Bad Stuff
​High data usage for smartphone (2-3 GB per month)
​Cloud service is expensive yet ​necessary for some functionality